Commentary
Grapevine stuns Marcus at Nolan Showcase
Updated:
November 29, 2009, 8:58 PM ET
By
Sheldon Shealer
| ESPNRISE.com
FORT WORTH, Texas -- The Grapevine (Texas) girls' soccer team reinforced its reputation as giant killers Thursday in opening-day action at the Red Bull/Nolan Showcase.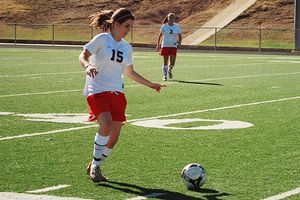 Sheldon ShealerLaura Fitz, a defender for Marcus, took on Grapevine attackers Thursday.
Grapevine knocked off FAB 50 No. 2 Marcus (Flower Mound, Texas) 2-1 on a late goal by senior Courtney Heimlich at Nolan Catholic High School (Fort Worth, Texas).
In other key first-round matches, the grass at Texas Christian University's Garvey-Rosenthal slowed Coppell's attack as No. 50 Heritage (Colleyville, Texas) edged No. 10 Coppell (Texas) 2-1. Plano West (Plano, Texas) and St. Thomas More (Lafayette, La.) played to a scoreless draw. At Nolan Catholic, No. 7 Nolan Catholic beat No. 15 Carroll (Southlake, Texas); McKinney Boyd (McKinney, Texas) jumped out to a 4-0 lead before finishing a 4-1 victory over Tyler Lee (Tyler, Texas); Ursuline Academy (Dallas) scored four unanswered goals for a 5-1 win over Mayfair (Lakewood, Calif.).
Last year Grapevine opened the showcase with a 3-2 win over then-No. 1 Coppell. The Mustangs used that victory to vault into a FAB 50 ranking and ultimately a 20-5-0 season that ended with a playoff loss to eventual state champion Southlake Carroll.
"We come in expecting this," second-year coach Ryan Davis said. "We believe we can play with anybody."
"This is a real confidence boast for us, this sets the tone," said Heimlich, who added that the Mustangs struggled through preseason play.
Shayna Kindsvater gave Grapevine a 1-0 lead with an assist from Kelsey Shimmick. Marcus tied the match on a first-half goal by senior standout Dani Pressley.
Marcus had the better of play in the second half until Grapevine capitalized on its only chance in the last 40 minutes.
Jade Dapaah dropped a pass off to Heimlich, who half-volleyed the attempt from 25 yards out. The knuckle-balling, dipping shot eluded the extended arms of the Marcus keeper and sneaked beneath the goalpost with 9:40 left to play.
"I was hoping it was going to go," said Heimlich. "Before that I was thinking we were going to tie or lose. We had one lucky chance and we took care of it."
Grapevine does not receive any break on the second day of the event. The Mustangs open with No. 26 Ursuline in the Friday morning match before facing Mayfair (Calif.) in the afternoon.
The night's featured match pitted Nolan Catholic, last year's private school state runner-up, against Southlake Carroll, the defending Texas Class 5A state champs.
The only goal in Nolan's 1-0 victory came in a counterattack. Southlake Carroll's Emily Jenkins crossed the ball to Taylor Schneider, who volleyed it on goal, but right to the Nolan keeper. The keeper played the ball to Nolan defender Chelsea Heimann, who launched a 60-yard pass toward forward Morgan Ullman. The perfectly placed ball bounced over Ullman and in front of the Southlake Carroll keeper. Ullman reached the ball first, made one touch to her right to elude the keeper and finished the play with 19 minutes, 15 seconds left in the match.
Southlake Carroll pressured Nolan's goal in the final five minutes, but the team's best scoring chance -- as a result of a corner kick taken by Leslie Shurtleff -- was cleared with less than a minute to play.
All 27 teams in the three-day event will play twice Friday. The key matchups include Colleyville Heritage playing host to McKinney Boyd, and Marcus taking on Ursuline at TCU.
Following are Thursday's results from the Red Bull/Nolan Showcase girls soccer tournament in Fort Worth, Texas:
Martin 4, Hockaday 1 -- M: Natasha Anasi (Mandy Burgardt), Anasi (Courtney Sarrett), Burgardt (Anasi), Anasi (Katy Reamer); H: Hannah Lucus (Hannah Fobare).
Grapevine 2, Marcus 1 -- G: Shayna Kindsvater (Kelsey Shimmick), Courtney Heimlich (Jade Dapaah); M: Dani Pressley.
McKinney Boyd 4, Tyler Lee 1 -- MB: Meghan Streight, Emily Reid, Kelly Monogue, Lindsey Jones; TL: Traci Lee.
Ursuline 5, Mayfair 1 -- U: Sophie Campise, Emily Hoffend, Juliann Jeffrey, Campise, Erin Ahmed; M: Cassidy Vandermolen.
Flower Mound 2, Keller 2 -- FM: Jessica Disabella, own goal; K: Karlee Summey, Karissa Olson.
Colleyville Heritage 2, Coppell 1 -- CH: Laura Kelly, Brittney Thomas. C: Allison Guderian (Chioma Ubogagu).
Lake Highlands 2, Klein Oak 0 -- LH: Madison Vessel, Glory Williams.
St. Stephen's 3, Midland 0 -- SS: Avery Blasi, Rebecca Hinds, own goal.
Nolan Catholic 1, Southlake Carroll 0 -- NC: Morgan Ullman (Chelsea Heimann).
Plano West 0, St. Thomas More 0.
Standings
Teams listed with win-loss-tie record, followed by points earned (based on a six-point win, three-point tie, one point for each goal up to three and one point for a shutout).
Invitational
Group A
Lake Highlands 1-0-0, 9; Nolan Catholic 1-0-0, 8; Southlake Carroll 0-1-0, 0; Klein Oak 0-1-0, 0.
Group B
St. Stephen's Episcopal 1-0-0, 10; Martin 1-0-0, 9; Hockaday School 0-1-0, 1; Midland 0-1-0, 0.
Group C
Ursuline Academy 1-0-0, 9; Grapevine 1-0-0, 8; Marcus 0-1-0, 1; Mayfair 0-1-0, 1.
Group D
Keller 0-0-1, 5; Flower Mound 0-0-1, 5; Plano West 0-0-1, 4; St. Thomas More 0-0-1, 4.
Group E
McKinney Boyd 1-0-0, 9; Colleyville Heritage 1-0-0, 8; Coppell 0-1-0, 1; Tyler Lee 0-1-0, 1.
SPRING BOYS' SOCCER RANKINGS