Commentary
Dedication dives Cantrell, Ursuline
Updated:
November 29, 2009, 8:14 PM ET
By
Sheldon Shealer
| ESPNRISE.com
FORT WORTH, Texas -- "Keep your composure," commanded Jamie Cantrell, the girls' soccer coach at Ursuline Academy (Dallas).
[+] Enlarge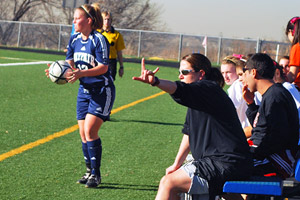 Sheldon Shealer Jamie Cantrell is still coaching Ursuline at 37.5 weeks pregnant.
Without hesitation, and without so much as a glance at the bench, Cantrell bellowed: "Emily Bryan, warm up."
The usually boisterous coach seemed to be in fine form Thursday at the Red Bull/Nolan Showcase, but one thing was different. Instead of pacing the sideline, Cantrell was guiding the team from a sitting position -- part of doctor's orders.
Cantrell is 37 1/2 weeks pregnant.
"My doctor's not real happy with me," Cantrell said with a laugh, referring to her insistence on coaching up to the very last second.
On the first day of the Nolan Showcase in 2007, Cantrell gave birth to her first child -- marking the only match she has missed in six years as Ursuline's coach. This season, she again is taking several precautions. First, she is driven to matches in order to avoid the bumpy school bus rides and there's always a vehicle handy for a quick escape to the hospital. Second, assistant Charles Grado has been assigned to handle the team for what she expects will be a five-day leave of absence.
"I think it keeps her from yelling at us," senior Sophie Campise said of Cantrell's pregnancy. "I think we're getting more freedom."
That might have been hard to notice during Ursuline's 5-1 victory over Mayfair (Calif.) on Thursday. Cantrell made her intentions known throughout the match, and even popped up from the bench a few times to react to her players' performances.
"I'm going to coach as long as I can," Cantrell said.
News and Notes
Player of the Day: Natasha Anasi, Martin. Anasi, a junior, netted a hat trick and assisted on the team's fourth goal as Martin rolled to a 4-1 victory over Hockaday School. She plays club soccer for the Dallas Texans.
Freshman of the Day: Lissi Lonsberry, Southlake Carroll. Last year's Nolan Showcase was the coming-out party for then-freshman Clarissa Wedemeyer of Grapevine and Chioma Ubogagu of Coppell. Wedemeyer scored twice in her first match, and with a goal in her first outing, Ubogagu made quite an impression in 2008. Ubogagu is considered by some college coaches to be the No. 1 recruit in the Class of 2011. Although she did not factor in any scoring as Carroll lost 1-0 to Nolan Catholic, Lonsberry showed the athleticism and skill to be a top recruit in three years.
Play of the Day: Less than 30 seconds after Southlake Carroll saw a golden scoring chance become a routine save for Nolan Catholic's keeper, Nolan's Chelsea Heimann played a long ball out of the back and onto the foot of teammate Morgan Ullman, who took one touch to elude the keeper and then scored into an empty net in a 1-0 victory in a battle of FAB 50 Top 25 teams.
Close Call: St. Stephen's Episcopal showed up at Texas Christian University so close to match time that the team barely had time to warm up. It did not seem to bother the Spartans as they won 3-0 over Midland, which was playing without six starters who were suspended for school violations, according to Midland's coach.
SPRING BOYS' SOCCER RANKINGS