Commentary
Rellas returns from two ACL injuries to start for Plano West
Updated:
January 13, 2009, 5:07 PM ET
By
Joe Trost
| Special to ESPN RISE.com
Victoria Rellas could've quit, and many in her position would have.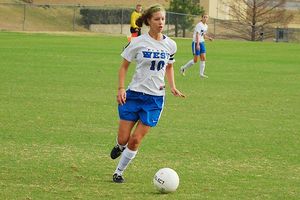 Sheldon Shealer for ESPNRISE.comRice-bound Victoria Rellas has battled back from two ACL injuries to start for Plano West.
But each time Rellas went down with an ACL tear -- one time in her left knee and one time in her right knee -- she shed numerous tears but never quit.
"I was not going to give up," said Rellas, now a senior at Plano West (Texas). "I knew I had to get back on the field and I would."
And she has.
For the first time, the 5-foot-8 midfielder entered a high school season without any health issues. With her rehab behind her, Rellas is now able to turn her focus to the field 100 percent of the time.
"It is amazing to finally see Victoria on the field," Plano West coach Jennifer Grubb said. "I am so glad she is healthy.
"Not only is she solid in the central midfield, but she is a great leader and role model to her teammates. She is a team player, who really wants the best for the team.
"Throughout all her ACL injuries she always had a smile on her face. She never got caught up in feeling sorry for herself, because she just focused on getting well and staying fit. I admire her and I am sad to see her. graduate this year. Victoria is the kind of player and person you will never forget - always willing to do whatever it takes."
Rellas, who will play at Rice next fall, is the youngest of four children. Her sister played soccer at Rice, while her two brothers played at Notre Dame.
"I'm finally 100 percent, and it just feels great," Rellas said. "Each time I tore my ACL, I knew the rehab was worth it because I wanted to play.
"It was weird going through everything. But when it happened more than once, I knew what to expect. It was hard, and I cried."
Since the age of 4, soccer has been in Rellas' blood. One of her first soccer camps she attended was at Rice, and Rellas fell in love with the school watching her sister play there.
But it also was the site of one of her ACL tears, the injury coming during the spring season in 2007.
"Anyone who has torn their ACL knows it's tough not to play soccer for six months," Rellas said. "All you can do is watch and try to be a leader off the field.
"You can't slack during your rehab either or you are just going to make it worse. If you work hard, you will rebound and come back even stronger."
Ironically, Rellas also became the "go-to person" to turn to when others suffered the same injury.
"My brother Cory tore his ACL," Rellas said. "He came to me and said, 'I don't know how you went through this twice.'
"I was determined. I wanted to come back. Even if something happens to me in college, I'll never give up until I know I can't play soccer anymore."
Joe Trost covers soccer for the Chicago Sun-Times. You can reach him by e-mail, joetrost@hotmail.com.
SPRING BOYS' SOCCER RANKINGS