Commentary
GSA, Texans out to prove their worth
Updated:
February 26, 2009, 4:09 PM ET
By
Sheldon Shealer
| ESPNRISE.com
A berth in the US Youth Soccer National Championship Series could be on the line when the under-16 boys' club soccer teams from GSA 93 Phoenix Red (Ga.) and Dallas Texans Red 93 (Texas) meet Saturday afternoon in Marietta, Ga.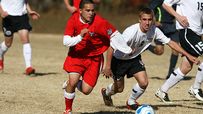 Bostwick Design The Dallas Texans won the under-16 National League last year and this year's under-16 squad is two wins away from a possible repeat.
But that's nothing new for these US Youth Soccer Region III rivals.
The last time these teams squared off, the Texans won 3-0 in the 2008 regional final to earn a spot in the national championships.
Saturday's meeting, part of the US Youth Soccer National League, is not quite as dire. In fact, regardless of the result, it is possible both teams could secure national championship spots this weekend, and if not, they still could advance through the more traditional route by winning the state and regional tournaments this summer.
The Texans and GSA are tied for first in the eight-team under-16 group, with FC Delco (Pa.) and Chicago Fire Juniors (Ill.) a close third and fourth, respectively. All eight teams play three matches this weekend to finish the National League schedule. The top two teams in the final standings receive automatic bids to the national championships.
"There's always pressure because we're the Dallas Texans and we are expected to do well," Texans coach Hassan Nazari said. The 2008 Texans under-16 squad won the National League title.
"We're very much looking forward to playing them again," GSA coach Nuno Piteira said. "It's an opportunity for both teams to qualify, but it's also a chance for us to compete with them 11 v. 11."
In the teams' most recent meeting, GSA received a red card five minutes into the match, conceded a penalty kick goal and never recovered, Piteira said.
National League play resumes Friday at Mudd Creek Soccer Complex with the Texans facing 92 CASL Elite (N.C.) and GSA taking on KCFC Rangers 92-93 (Kan.) at 5 p.m. If GSA and the Texans win Friday, the teams' Saturday meeting at 3 p.m. will secure a national championships spot for the winner.
"Every game here is competitive," Nazari said. "We can't drop points. [For the GSA match] to be meaningful, we have to win the other games."
GSA and the Texans both are 2-0-2 through four matches. FC Delco is 1-0-3, followed by the Chicago Fire Juniors at 1-1-2. The other four teams have losing records, but no team is mathematically eliminated from national championship contention.
Only four under-15 and four under-17 teams will be in action this weekend in Marietta. However, national championship berths could be determined in each age group. The Baltimore Casa Mia Bays '94 (Md.) and Grand Rapids Crew Juniors (Mich.) are undefeated in the under-15 group, with Solar Red 94 (Texas) and SCSA 93 Gold (N.C.) tied for third. If the Bays, Solar or SCSA win all three matches, it will secure a championship spot. The Dallas Texans-Houston Division '92 Red (Texas) is perfect through four matches in the under-17 age group and would clinch a national championship spot with a 2-0-1 weekend showing. The remaining under-15 and under-17 teams will conclude National League play in March.
Most of the focus will be on the under-16 group since the round-robin event will be completed this weekend. GSA and the Texans enter the weekend in unique circumstances. Both clubs are working around high school schedules for their players. Texas plays high school soccer in the winter, and the teams are nearing playoffs. Soccer is a spring sport in Georgia, and the high school squads started regular-season play two weeks ago.
"The timing is not good for us since the kids are in the middle of the high school season," Nazari said. "The kids have not been practicing [with the Texans] as much, and we have some injuries. But we understand the importance of the games coming up."
The Texans are led offensively by Chase Minter, who has two goals this season in the National League. Midfielders Edu Aranda and Aaron Simmons have played crucial roles in the Texans' first-place standing in the Dallas-area Classic League. The team boasts a pair of quality keepers in Nick Petolick and Trevor LeSueur.
GSA counters with a team that features Bosnian youth national team player Ado Junuzovic, who has three goals in GSA's first four National League matches. Dominic Bonilla, a midfielder, and Walter Zimmerman, a 6-2, athletic defender, both have spent time in the U.S. youth national team camp.
Piteira said most of the GSA players are high school sophomores who are beginning to make an impact on the varsity level.
"However, we want them to focus on [GSA]," he said. "We have a chance to go to nationals, and that's our No. 1 goal. It's the one thing we still need to do. Hopefully, we can take care of business this weekend."
Current National League Boys' Soccer Standings
SPONSORED HEADLINES
MORE BOYS' SOCCER HEADLINES
MOST SENT STORIES ON ESPN.COM
SPRING BOYS' SOCCER RANKINGS