Commentary
Dodge juggles coaching commitments
Updated:
March 5, 2009, 2:59 PM ET
By
Sheldon Shealer
| ESPNRISE.com
Coaching just got a little easier for Randy Dodge, but not by his choosing.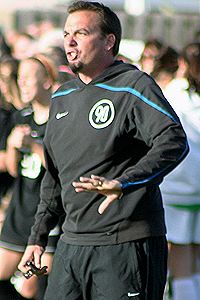 Tamara JonesRandy Dodge keeps busy by coaching six soccer teams - two in each of the high school, club and college ranks
ESPN RISE FAB 50 girls' soccer No. 5 Aliso Niguel (Aliso Viejo, Calif.) lost in the CIF-Southern Section Division I semifinals Tuesday afternoon, reducing Dodge's coaching load from five to four teams.
Dodge serves as the director of coaching and oversees the men's and women's programs at both Aliso Niguel High School and Vanguard University. He is also coaching the SoCal Blues under-12 and under-16 girls' club teams.
Each March, Dodge, who coaches soccer on the high school, club and college levels, faces this potential storm -- all going on at the same time, with the high school and club teams competing for championships.
"The days simply are not long enough," Dodge said with a laugh.
In the week leading up to the CIF girls' semifinals, Dodge was training the club teams twice a week, the college teams -- now in their spring session -- three times a week and spending six days a week with the high school girls' team. Aliso's boys' team, Dodge's sixth coaching commitment, had been eliminated a week earlier.
Dodge said the only way he has been able to juggle the coaching responsibilities has been through the help of his longtime assistants, Andrew May and Jesus Miramontes, and of his very understanding wife, Stephanie, and their four children.
May is the co-head coach with Dodge of the Aliso boys' team and the associate head coach with Vanguard's women's program. Miramontes' duties include co-head coach with Aliso's girls and associate head coach with Vanguard men's team.
Dodge has successfully handled these coaching responsibilities. Aliso's girls' team has been a FAB 50 fixture in recent years, even spending a week at national No. 1 this past season. In his 12 years at Aliso, the girls' team has reached the section semifinals four times. The boys' team has been a fringe FAB 50 program in recent years.
Dodge's club history with the SoCal Blues includes four Cal-South State Cup championships, seven Region IV finalists and two national tournament appearances.
During his seven-year stint with Vanguard, the men's team has been nationally ranked among NAIA programs the past five years, making the NAIA regional playoffs each year. The women's program, also nationally ranked, reached the regional playoffs the past three seasons.
Dodge said he has worked his family into the soccer setting.
"If I'm going to be the car for an hour and a half, I don't want to be alone," he said. "I take the kids [ages 13, 10, 5 and 8 months] with me. It's the only way for me to be 'that father.' I'm the car dad. I say, 'Let's get into the car and have family time.'"
Although Tuesday's Aliso Niguel loss (in penalty kicks to Los Alamitos) ends one commitment, Dodge still has a full plate with the college programs in addition to the under-12 club team playing in the state cup this week and the under-16 club team competing for a possible national championship berth at an event in Las Vegas.
Had Aliso Niguel won Tuesday, there would have been no fewer than six more days of high school commitments.
"[The loss] definitely freed me up, but at the same time, I'm bummed," Dodge said. "I would still like to be in that state of chaos."
SPONSORED HEADLINES
MORE BOYS' SOCCER HEADLINES
MOST SENT STORIES ON ESPN.COM
SPRING BOYS' SOCCER RANKINGS