Commentary
IWA's Iffrig battles back from injuries
Updated:
March 11, 2009, 11:13 PM ET
By
Joe Trost
| Special to ESPNRISE.com
When Meagan Iffrig rolls out of bed these days, the 18-year-old looks at life only one way.
"Positive," Iffrig said. "I just appreciate everything and realize how lucky I am."
[+] Enlarge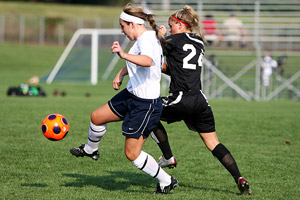 Iffrig familyAfter two mentally and physically challenging years, Meagan Iffrig is healthy and in top form as she helps Incarnate Word chase another state title
Iffrig's high school journey can be described in so many different ways: scary, unlucky or frustrating. But through it all, the senior at Incarnate Word Academy in Bel-Nor, Mo., has beat all the odds, and now seems to be having the last laugh.
"What I've gone through I wouldn't wish on anyone," Iffrig said. "I cried pretty much every day, wondering why this was happening to me. I've watch people stay healthy all their lives, and it seemed like it was just one thing after another with me to the point beyond frustration."
Wondering how frustrating it was for Iffrig the past two years? Here's the timeline:
• In the summer of 2006, the 5-foot-4 forward broke her left leg when she collided with an opposing goalie during a State Cup match.
"I had a metal rod and four screws put in," Iffrig said.
• After recovering from the left leg injury, she tore her right ACL in a freak accident during a high school game.
"I heard it pop," Iffrig said.
• Ten weeks later, she came down with a staph infection. As Iffrig learned, it's a scary situation because it can cause a multitude of diseases as a result of infection of various tissues of the body.
Staph bacteria can cause illness not only directly by infection (such as in the skin), but also indirectly by producing toxins responsible for food poisoning and toxic shock syndrome. Staph-related illness can range from mild and requiring no treatment to severe and potentially fatal.
"To this day, no one is really sure how I got it," Iffrig said. "Doctors say it didn't happen from my ACL surgery, because it happened too long after.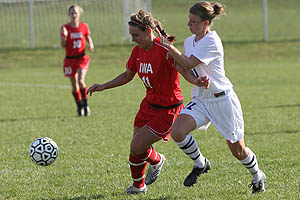 Iffrig familyMeagan Iffrig hopes to lead Incarnate Word Academy to a second straight state title
"I lost 25 pounds and missed two weeks of school. I had to go to physical therapy four to five times a week. At first, doctors weren't sure if I would ever walk normal again, let alone play soccer.
"But I was determined physically and mentally to make it back. As much as you want to give up every day, I wasn't going to."
After regaining her strength after all the injuries, she played a portion of her junior season before returning to club for State Cup last summer. Iffrig is a member of the U-18 St. Louis Scott Gallagher squad that has won five State Cup Championships: 2001, 2002, 2004, 2007 and 2008.
"After overcoming so many physical and mental obstacles over the past two years, Meagan is finally healthy this spring and is looking stronger than ever," Incarnate Word coach Annie Beekman said. "She is a very talented player who knows what it takes to succeed on and off the field."
Last summer, colleges didn't shy away from looking at Iffrig, who's known for her powerful shot, which once broke a goalie's finger. She caught the attention of a number of coaches and eventually was offered a scholarship by Memphis.
"Meagan is a natural goal scorer and just a great kid," Memphis coach Brooks Monaghan. "Goal scorers are very hard to find, but she is just one of those players that has a knack for finding the back of the net. We're hoping that Meagan can come in and score a few goals for us."
Despite the injuries, Iffrig has recorded 22 goals and seven assists throughout her high school career and helped lead the program to a state title last spring.
"She's strong on the ball, she has good skill and just has a knack for finding the back of the goal," Monaghan said.
Incarnate Word Academy is one of the most successful soccer programs in Missouri. In the past 20 years, the program has advanced to 16 final fours and captured eight state championships, which is a record for girls' soccer in Missouri.
Beekman was captain of the program's first state championship team in 1989. In her first season at the helm, she led the Red Knights to the 2008 Class 2 state championship.
This spring, 12 seniors return from last year's state title team.
"All 12 seniors will play in college next year, including five who will play at the Division I level," Beekman said.
The five players who will play for Division I programs this fall are:
Iffrig -- Memphis
Kristen Dailey -- Southern Illinois University
Kayla Doran -- Eastern Illinois
Emily Sinovich -- Alabama-Birmingham
Jenn Tucker -- Southern Illinois University

Joe Trost covers soccer for the Chicago Sun-Times.You can reach him by e-mail, joetrost@hotmail.com .
SPONSORED HEADLINES
MORE BOYS' SOCCER HEADLINES
MOST SENT STORIES ON ESPN.COM
SPRING BOYS' SOCCER RANKINGS