Commentary
Kemp takes on a leading role
Updated:
April 16, 2009, 8:41 AM ET
By
Jon Mahoney
| ESPN RISE Magazine
A few years earlier, this would have seemed impossible: Taylor Kemp representing his country as one of the nation's elite soccer players.
[+] Enlarge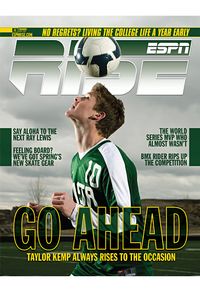 ESPN RISE Taylor Kemp is featured in the April issue of the Colorado edition of ESPN RISE Magazine. Click here for more info on
ESPN RISE Magazine
.
Back then, Kemp wasn't even in the discussion of top players in Colorado, never mind the whole nation. But last summer there he was. It began with a trip to England with the U.S. Under-20 Men's National Team, followed by a journey to Uruguay and Argentina with the U-18 squad.
Kemp soaked up every minute of it.
"It was incredible," he says. "Growing up, I never thought I'd be able to be there."
By the time Kemp returned to Mountain Vista (Highlands Ranch, Colo.) for his senior year, he had cemented his status as an elite player on the pitch. Rated the nation's No. 2 recruit in the ESPNU player rankings, the 5-foot-11, 150-pound defender has signed with 2008 NCAA champ Maryland.
But for all the skills he possessed, there was something missing he hadn't learned how to lead a team. Welcome to your final high school season, Taylor Kemp.
One of only two seniors on a Mountain Vista team featuring 12 sophomores, Kemp got a crash course in guidance and patience, something he admits he didn't have much of before.
"I had to take a bigger leadership role and learn how to make the players around me better, not worry about my own game," says Kemp, who tallied six goals and four assists on the season.
Ultimately, the Golden Eagles finished 6-8-1 in the fall and lost to Boulder, 3-0, in the first round of the Class 5A state playoffs. Kemp could've viewed it as a letdown, going from representing his country overseas to losing the only postseason game of his senior year.
Instead, he saw it as his chance to become more of a take-charge player, one who could guide his teammates both in games and in practice. Sure, there were frustrating times. But he still tried to bring an unbridled enthusiasm to each practice, seeing each day as a chance to get better.
Mountain Vista head coach Theresa Echtermeyer understood the challenge facing her star player this year and was impressed with his maturity. "He will be a great leader in every avenue he chooses in the future," she says. "Becoming a leader is a lot more difficult than becoming a good soccer player. When you can put both of them together, you've got it all."
Kemp is used to thriving when faced with challenges. A couple years ago, he was a small midfielder getting lost in the shuffle on his club team, Real Colorado. Kemp's coach, Lorne Donaldson, decided to move him to left back so he could see the entire field and utilize his long-range passing.
Though it was a new position, Kemp quickly took to it and began his road toward stardom. "I just liked the more time in space and freedom I had than I had at outside mid," says Kemp.
[+] Enlarge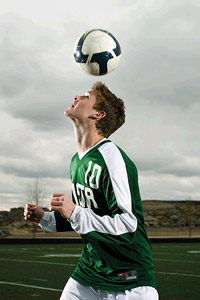 Eric Bellamy for ESPN RISE MagazineTaylor Kemp was a late arrival on the national scene, but wowed college coaches and ultimately earned a scholarship to Maryland
But while the position change paid immediate dividends, he still needed to believe in himself as a player. In June of 2007, Kemp talked with Donaldson about the colleges he was looking at, mostly low-level Division I programs. Donaldson told Kemp he was selling himself short.
"He didn't realize how good he was," says Donaldson. "I said, 'Look, you can do much better than that.'"
The conversation gave Kemp a considerable confidence boost, and by December 2007 he was proving his coach right. With some of the nation's top programs watching, he excelled at the Nike Friendlies in Bradenton, Fla., highlighted by a strong performance in a 1-0 loss to the U-17 National Team.
From there, he started hearing from the likes of Maryland and 2007 national champ Wake Forest, eventually committing to the Terrapins over the Demon Deacons in February 2008.
Kemp's future college coach can't wait for his arrival.
"After seeing him play for 30 minutes, I knew he was a player we wanted," says Maryland head coach Sasho Cirovski, who has led the Terrapins to a pair of national crowns. "He's got a lot to offer. He has the ability to involve players with his range of passes, but he can do a lot of little things, too. He just has an energizing effect on a team."
Even after Kemp committed to Maryland, Donaldson continued to push his star. Rising to the challenge, Kemp joined the U-20 National Team a few months later. But being in the spotlight didn't change his attitude. "He's one of the more well-rounded young men you'll meet nowadays," says Ian Wells, Kemp's English teacher at Mountain Vista. "He's an outstanding student and has some of the best humility I've seen in years.
"The neat part about him is it didn't faze him he didn't get any accolades. The stats and the accolades aren't important to him. If anyone deserves to be recognized, it's him."
Taylor Kemp Favorites
TV Show: "SportsCenter"
Athlete: Fernando Torres
Movie: "Good Will Hunting"
Musical Artist: Blink 182
With his commitment to Maryland already in hand, Kemp easily could have skipped his senior season to train with his club team, but he chose to enjoy his final high school campaign.
What's more, in the fall he was on track to graduate in December and enroll in college the next month. Instead, he told Maryland he changed his mind because he wanted to enjoy the second half of his senior year with his friends and also play for the U-18 Real Colorado Development Academy team.
"If I was going to go to Maryland anyway, why rush it?" he says. Kemp looks at the past year as a defining period in his soccer career and beyond. He not only validated his status as one of the nation's best players, he also emerged as a leader.
"[This year] literally changed my life," he says. "That's when so much happened."
Jon Mahoney covers high school sports for ESPN RISE Magazine.
ESPNHS.com
SPONSORED HEADLINES
MORE BOYS' SOCCER HEADLINES
MOST SENT STORIES ON ESPN.COM
SPRING BOYS' SOCCER RANKINGS