Commentary
Roos makes the right call
Updated:
April 27, 2009, 9:35 AM ET
By
Sheldon Shealer
| ESPNRISE.com
Brad Roos has a knack for making history.
He coached the Bethesda (Md.) Fury girls' soccer club to a U.S. Youth Soccer national title in 2001, the first and only national crown won by a Maryland girls' team.
[+] Enlarge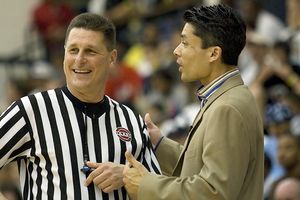 Chris Rossi for ESPN.comBrad Roos (left) shares a lighter moment with Findlay Prep coach Michael Peck during the NHSI championship game.
In early April, Roos was at it again, this time serving as an official in the inaugural National High School Invitational boys' basketball final, a national No. 1 showdown between Findlay Prep (Las Vegas) and Oak Hill (Mouth of Wilson, Va.).
Roos is best known for creating a club soccer dynasty in Bethesda, where his teams have collected a national title, three runner-up finishes, 12 Region I titles and 31 State Cup championships in the past 25 years. Bethesda Soccer Club often is listed among the nation's top girls' soccer clubs in Soccer America's annual ranking.
Less known is that Roos is a nationally renowned basketball official. His 20-year career has included officiating in eight NCAA Division II men's tournaments, twice in the Final Four. He officiates in four NCAA Division I conferences. Roos called the 2004 Division II final in which Kennesaw State ended Metro State's 30-game win streak. He also officiated LeBron James' final high school game the Jordan Capital Classic in 2003.
Roos, who lives in Frederick, Md., was not surprised to get the call to officiate the NHSI, which was held in nearby North Bethesda, Md., at Georgetown Prep. The event started with 12 officials, and half the field was eliminated on the first day of the three-day event. Following the semifinal contests, Roos was informed he had been selected to work the final.
"I was stoked," Roos said. "Those were the two best high school basketball teams I have ever seen, and there was some history there."
On the soccer field, Roos is known as an intense competitor, screaming instructions at players and often questioning officials' calls. However, when holding the whistle at basketball games, he is a soothing force on the court, often smiling and talking to coaches and players throughout the contest.
When asked about the contrast, he summed it up as a matter of respect.
"As officials, we're there to calm things down," he said. "I talk to the coaches and the players to keep things in control. Believe me, I have a lot of empathy for officials. But in soccer, the communication between coach and official is poor.
"Maybe that's the one bad thing about being a high-level [basketball] official, I have high expectations for soccer officials in terms of consistency and communication. As a coach, if some official challenges me or threatens me or tells me to shut up, that's disrespectful, and I won't let it go."
Roos had no such issue officiating one of the highest-profile boys' basketball games of the decade, which was played before a capacity crowd and shown live on ESPN. Oak Hill and Findlay Prep entered the contest with undefeated records and ranked Nos. 1 and 2 in every major national poll.
"We didn't call that game like a normal high school game," Roos said. "They're so good, they will adjust to the calls. In this game, it better be a good foul to blow the whistle."
Roos found himself in the middle of a pivotal third-quarter controversy after Oak Hill's Lamont Jones was whistled for a foul. The buzzer sounded, and the official scorer signaled that the foul was Jones' fifth. Jones looked stunned, and Oak Hill coach Steve Smith stepped toward the scorer's table to protest.
"I could tell from the reaction of the team and table that something was wrong," Roos said about his decision to halt the game and double-check the situation with the scorer and the person handling the play-by-play transcript.
"The scorebook said five [fouls], the transcript had four," he said. "The scorer had transposed the previous foul. That was an important part of the game. Oak Hill was starting to make a run. Oak Hill lost the game [74-66], but think how they would have felt if they lost the game and we made one of their best kids leave with four fouls. The game would have been tainted. I'm happy we did the right thing."
Following the game, Roos received a call from a collegiate officiating commissioner who watched the Oak Hill-Findlay game on TV.
"He said, 'Brad, I have some good news and some bad news,' Roos recalled. 'The bad news, you spent way too long at the table and you might not have advanced [if officiating a college tournament] because of the mix-up at the table. The good news, you were confident enough to know something was wrong and you took the time to work it out, and the right thing was done.'"
Roos said making the right call on the national stage was every bit as rewarding as winning a soccer championship.
Sheldon Shealer covers youth soccer for ESPNRISE.com. He can be reached at Sheldon.Shealer@espn.com.
SPONSORED HEADLINES
MORE BOYS' SOCCER HEADLINES
MOST SENT STORIES ON ESPN.COM
SPRING BOYS' SOCCER RANKINGS