Commentary
Mason re-emerges on national scene with top class
Updated:
May 8, 2009, 4:14 PM ET
By
Sheldon Shealer
| ESPNRISE.com
The sleeping giant that is George Mason University's men's soccer program appears to be waking up.
While perennial NCAA powers receive the customary and annual pat on the back for recruiting, George Mason quietly has assembled one of the best recruiting classes in the nation. This year's confirmed class includes four players who have spent time in the U.S. Soccer youth national team program.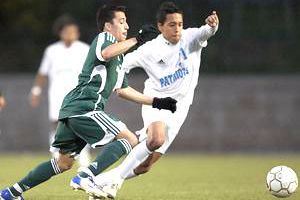 George Mason UniversityAlex Herrera is the most decorated recruit in George Mason's signing class.
Midfielder Alex Herrera is the gem of the class. The Arlington, Va., native is a former under-17 national team player who has twice been selected to the Virginia high school all-state team after being named the district's player of the year. Keeper Michael D'Arrigo of Tucson, Ariz., and defender Ryan Reichmann of Hicksville, N.Y., along with Herrera, are members of the U.S. Soccer under-18 national program. Defender Cooper Barham and junior college transfer forward Victor Freeman also have been confirmed by the school as Mason signees. Barham was part of the under-17 national youth program.
"This class is indicative of what we can do [recruiting-wise]," George Mason head coach Greg Andrulis said. "We work very hard at it and [assistant coach and recruiting coordinator] Nick Carlin-Voigt has done a phenomenal job."
Mason's resurgence on the national scene has been rather sudden under Andrulis, the former Columbus Crew head coach. The university based in Fairfax, Va., has long been considered a commuter school, but it reached the NCAA tournament two of the past three seasons under Andrulis. Mason's program today is starting to resemble the school's Colonial Athletic Association dynasty of the 1980s, when Mason made seven NCAA tournament appearances during a nine-year run, which included postseason wins over Maryland and Virginia. After 1990, Mason's program quickly vanished from the national stage, making one lone NCAA appearance until Andrulis' arrival in 2005.
When Andrulis interviewed for the Mason position in the summer of 2005, he told administrators that he wanted to make Mason a destination for national-caliber players.
"I looked at the roster and there were no youth national team guys," Andrulis said. "I thought, something's wrong; we have to fix that."
One of Andrulis' first recruits for Mason was former under-17 national team player and U.S. Residency member Richard Edgar, who joined the Mason program in 2006 and has started every match since. A year later, Eber Martinez, another youth national team player, joined the program.
Now, Mason is enjoying a run of recruits with national team experience.
Of the university-confirmed signees, Reichmann might be in position to start right away for the Patriots. The 6-foot-3 center back fills an immediate need for the program. Herrera, too, figures to receive quality minutes as a freshman. D'Arrigo, although a national team keeper, likely will need to wait his turn as Mason brings back senior keeper Sean Kelley, a projected MLS draft candidate in 2010.
Mason's recruiting class might not be finished. ESPN RISE has received confirmation of another junior college transfer and the return to the U.S. of a former national team member who spend the past year playing in Europe.
The following are recent additions to the national soccer signing/commitment list:
2009
Will Addis, Lehigh
James Clements, Bryant University
Nathan McCann, Duquesne
Ryan McDuff, Brown
Justin Smith, Xavier
Luke Spencer, Xavier

For the complete list,
click here.
2010
A.J. Corrado, Southern Methodist
Rob Lovejoy, North Carolina
Ruben Luna, Southern Methodist
Matt Wescoe, Elon

For the complete list,
click here.
SPRING BOYS' SOCCER RANKINGS