Commentary
Overachieving Jenks nets another title
Updated:
May 19, 2009, 10:00 AM ET
By
Sheldon Shealer
| ESPNRISE.com
Mike Carney has been on the sideline for every match played by the Jenks (Okla.) High School girls' soccer program.
The 26-year coaching veteran has a keen eye for which Jenks teams are title contenders in Oklahoma's competitive Class 6A, and which are long shots.
Then, there was this year's group, which Carney labeled as an overachiever.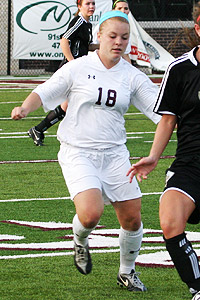 Courtesy of Jenks High SchoolEmma Blackwell was able to prevent Santa Fe's Caitlin Mooney from scoring in the state final
Jenks shut down Caitlin Mooney, Edmond Santa Fe's Maryland-bound superstar, as the Trojans claimed their seventh state title in 11 seasons (and ninth overall) with a 1-0 victory in Saturday's state final.
"Of any [Jenks] team that won a state title, this one would be in the bottom three among the ones I expected to win a title," Carney said. "These girls overachieved."
Jenks graduated 10 seniors from last year's squad, which lost in the state quarterfinals. Carney fielded a varsity team this season with mostly underclassmen in the starting lineup and four freshmen on the roster -- an extremely high number given Jenks' school enrollment of nearly 2,200 students.
Carney helped start the Jenks program as an assistant coach in 1984, a role he held until taking over as head coach in 1994. He has a 199-32-4 record in 16 seasons as head coach. Twelve of those losses have come in tournaments in St. Louis, where Carney says his teams have learned to play at a higher level.
Jenks was riding high with a 7-1 record entering this year's St. Louis Classic, only to go 0-3 for the first time at the event.
"The mission is to win, but we have historically come out of St. Louis with confidence," Carney said. Despite the lack of results, he said the experience has been valuable.
"Every team we play in St. Louis is on par or above the best teams in Oklahoma," he said. "We came out of there and knew we had some work to do."
Jenks finished the year 13-4, but 13-1 against in-state opponents, with a shootout loss to Owasso as the lone blemish.
In the state final, Jenks senior Andrea Carlson scored the match-winning goal in the closing seconds of the first half. Northwestern signee Catherine Parish helped control the midfield. However, it was a trio of underclassmen who helped secure the result.
Freshman defender Emma Blackwell man-marked Mooney, and although Mooney did get a few chances, Blackwell's play certainly slowed down the Class 6A's leading scorer. Junior twins Bradi and Brooke Hinch have been key performers all season. Bradi ended as Jenks' leading scorer with 10 goals. Brooke anchored a defense that surrendered only 10 goals in 14 matches in Oklahoma.
"We have an eighth-grade class coming that could put four or five girls on varsity," Carney said. "Jenks is looking good for the future."
And that could mean bad news for the rest of Oklahoma.
Around the country:
-- Amy Grow pushed her state goal-scoring record to 198 by converting a penalty kick in Deer Creek's 2-0 Oklahoma Class 5A state final win over Carl Albert (Midwest City). Deer Creek finished the season 14-0. Grow's 53 goals this season is the most reported by a girls' soccer player this spring, although Taylor Vanni of Sierra (Manteca, Calif.) was in the low 50s heading into last week's section tournament.
-- Speaking of state records, Hannah Langseth of Shanley (Fargo, N.D.) etched her name as the all-time leading goal scorer in North Dakota history last week during a four-goal outing in Shanley 's 8-0 victory over Devils Lake (N.D.). Langseth's career total stands at 68 goals, according to the Fargo Forum, an online news source for North Dakota. Langseth topped the previous mark of 67 established by Carissa Jahner, a 2003 graduate of Fargo North. Although Langseth's performance may be recognized as the state record, it might not hold up to National Federation of State High School Associations records standards since Langseth has been playing varsity soccer since seventh grade. The National Federation recognizes a maximum of four years of varsity competition for record-keeping purposes.
-- Sierra (Manteca, Calif.) had a spring season-best 28-match undefeated streak and a national Top 10 ranking. Whitney (Rocklin, Calif.), meanwhile, had tied more than a third of its matches. On paper, this was not supposed to be a contest. On the field, it was not a contest, either -- but in a more surprising way. Whitney routed Sierra 4-1 to capture the CIF Sac-Joaquin Section Division IV championship. Elizabeth Grover had a goal and one assist to lead Whitney, which built a 3-0 lead until Sierra ended the shutout bid.
-- St. Francis (Sacramento, Calif.) secured its sixth CIF-Sac Joaquin Division I title in seven years with a 3-1 victory over St. Mary's (Stockton, Calif.). Junior Hannah Keane scored twice and sophomore Kasey Curtis added the other goal. The victory finishes an undefeated season for St. Francis (20-0-3), which will climb into the FAB 50 Top 10 this week.
-- Alicia Blose scored three goals to lead Tamalpais (Mill Valley, Calif.) to a surprisingly easy 4-0 victory over University (San Francisco) for the program's second straight CIF-North Coast Section title. Blose ended the season with 36 goals.
Sheldon Shealer covers youth soccer for ESPNRISE.com. He can be reached at Sheldon.Shealer@espn.com.
SPRING BOYS' SOCCER RANKINGS