Commentary
Training pays off in Cox's state final win
Updated:
June 9, 2009, 9:35 PM ET
By
Sheldon Shealer
| ESPNRISE.com
The boys' soccer team at Frank W. Cox (Virginia Beach, Va.) won the Virginia Group AAA state title 2-1 over Mills Godwin (Richmond, Va.) on Sunday. Truth is, the victory was put in motion five months ago.
First-year coach Scott Mead pushed a demanding out-of-season training regiment in January that paid off Sunday as Cox played shorthanded for 67 minutes and through double overtime to earn the program's first state title since 1990.
[+] Enlarge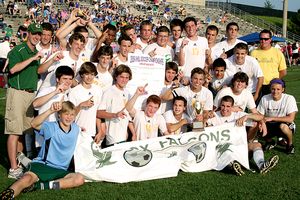 Frank SaundersThe boys' soccer team at Frank Cox (Virginia Beach, Va.) ended the region's 12-year Group AAA title drought with an overtime victory Sunday.
"Fitness and determination," Mead said, reducing the 90-minute victory to two key factors.
Cox, leading 1-0 at the time, went a man down in the 23rd minute when defender Chris Albiston was ejected for retaliation following a foul. Four minutes later, Mills Godwin scored a game-tying goal and momentum swung in Mills Godwin's favor.
"No one expects to win a game going a man down that early," Mead said. "Godwin had all the confidence in the world."
Throughout regulation, Mills Godwin had more shots and better chances, Mead said. Cox, literally, was hanging on until Neil Harrison powered a header past Virginia Commonwealth-bound keeper Jack Van Arsdale in the 83rd minute. Overtime sessions in Virginia are not sudden death, so Cox had to hang on for seven more minutes to secure the win and end the Eastern Region's 12-year title drought.
When Mead inherited the Cox program, he brought in a private trainer to work on the team's fitness.
"We started fitness training January 5," Mead said. "They ran and they worked out harder than they ever had before. & Every Monday, the boys went through an intense workout running, exercising for one to one-and-a-half hours. Monday was hell day. Wednesday was a long-run day. Thursday was quick fitness work. & The boys would find their wall and others would help them through it. When it got to the games, the boys did not perceive a wall, they just kept playing. Walls are mental."
"I didn't hate it -- it wasn't painful, but it was hard work," junior Ryan Oakes said. "In the back of my mind, I kept thinking, we need to do this to win states."
"It was very intense and every single day got harder and harder," senior Will Martin said. "It's probably the toughest thing I've ever done. But the whole season, we were the most fit team on the field. In the state final, it was hot and muggy and we were still the most fit team even with 10 men on the field."
After watching his team celebrate a state title, Mead could not help but think about next year.
Cox returns eight starters, which includes Old Dominion University commit Oakes, prospect Trey Saunders and regional Olympic Development Program participant Eric Bird.
Among the three graduating players, Cox loses forward Will Martin, who was in on five goals in the team's final three matches, and midfielder Chris Whiteside.
AROUND THE NATION: Highlands (Fort Thomas, Ky.) girls' soccer coach Nina Kearns has resigned following a successful eight-year run, according to a story published by the Cincinnati Inquirer. Kearns led Highlands to two state titles and five regional titles and compiled a record of 155-34-15. & The Melchiori family had a busy weekend with daughter Kristen, a senior, playing for the Virginia girls' soccer state title and son Matt, a sophomore, competing in the boys' lacrosse state final. The girls' soccer team defeated Mills Godwin 2-1 in the final while the boys' lacrosse team lost to Langley 4-3. & Incarnate Word Academy (St. Louis) ended the season on a 13-match win streak en route to a Class 3 girls' soccer state final win in penalty kicks over Lee's Summit North following a 1-1 draw. Incarnate Word continues St. Louis' state dominance of girls' soccer, and did so by holding the state's all-time leader in goals scoreless. Nebraska signee Morgan Marlborough entered the contest with 69 goals this season and 231 for her career.
Sheldon Shealer covers youth soccer for ESPNRISE.com. He can be reached at Sheldon.Shealer@espn.com.
SPONSORED HEADLINES
MORE BOYS' SOCCER HEADLINES
MOST SENT STORIES ON ESPN.COM
SPRING BOYS' SOCCER RANKINGS