Commentary
Kennedy, Portage Central win elusive titles
Updated:
June 16, 2009, 5:46 PM ET
By
Sheldon Shealer
| ESPNRISE.com
After years of close calls and near misses, Kennedy (Cedar Rapids, Iowa) and Portage Central (Portage, Mich.) finally won girls' soccer state championships Saturday, and with it secured ESPN RISE FAB 50 spring top-10 finishes.
[+] Enlarge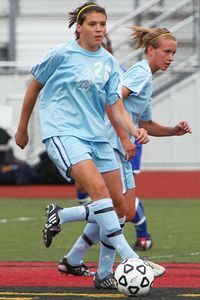 Tammy BrownTaylore Peterson, a freshman, served up the corner kick that led to the state title-winning goal for Portage Central.
However, the futures look vastly different for these programs.
Senior-heavy Kennedy capped a perfect season at 21-0-0 with a 3-1 Iowa Class 2-A state final victory over West (Iowa City, Iowa). Portage Central, with only two seniors in the starting lineup, edged Eisenhower (Shelby Township, Mich.) 3-2 in overtime to complete a 27-0-2 season and claim the Division I state crown.
Portage Central finishes at No. 5 in the spring girls' soccer FAB 50, with Kennedy at No. 6.
"I'm still on cloud nine," said Portage Central coach Pat Norman.
Portage Central was making its second consecutive state semifinal appearance, and its fourth since moving up from Division 2 in 2003.
"Oh, we've been getting close," said Norma, who coached Portage Central to a Division 2 state title in 2000. "The way we finished last season [a 1-0 loss to Ann Arbor Huron in the state semifinals], and to see Huron win 4-0 in the final, our girls were [ticked off]. I just knew they'd come back this year."
Kennedy, meanwhile, had been a program of promise that went unfulfilled until this year.
In each of the past three seasons, Kennedy lost 1-0 in the state final to West Des Moines Valley (West Des Moines, Iowa).
With Valley out of the way this year, Kennedy rolled to a state title, beating Iowa City West 3-1 in the final behind a pair of goals from state player of the year candidate Jade Grimm, one of Kennedy's four NCAA Division I signees. Grimm and teammates Katherine Lewis and Rachel Spellerberg are heading to the University of Iowa, while Kennedy's Jenny Martin signed with Loyola (Ill.).
"We stayed healthy and had great senior leadership," first-year coach Homer Screws said. "We were so dominant through the middle of the field, there really weren't any weaknesses."
Screws, who is the men's and women's coach at nearby Coe College, took over the Kennedy program this past spring largely because he was familiar with the players. Of the six seniors in the starting lineup, five played on the Olympic Development Program in Iowa, where Screws formerly coached.
The secret to the team's success, he said, was "tweaking the system a bit and then staying out of their way."
Grimm finished with 27 goals and 15 assists. Lewis, a midfielder, added 13 goals and eight assists. Jenny Snook, a senior headed to Coe College, added nine goals and eight assists. Spellerberg, a goalkeeper, allowed only five goals in 21 matches.
Screws has five returning starters for next spring, but said it will be a transition year given the amount of top-end talent the program is losing.
[+] Enlarge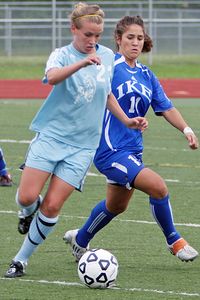 Tammy BrownCharlotte Socia scored a team-high 29 goals for Portage Central.
Portage Central went wire-to-wire as the ESPNRISE.com Michigan No. 1 team this spring, and with nine returning starters -- six of them freshmen and sophomores -- the talk is this year could be the start of a dynasty.
Shannon Bennett, the lone starting senior field player, headed in a corner kick 39 seconds into overtime as Portage Central pulled out the 3-2 state final victory. Taylore Peterson, a freshman who finished the season with eight goals and 28 assists, played the corner kick to Bennett.
The team's top all-round player, according to Norman, is Paige Wester, a sophomore who finished with 18 goals and 18 assists and is a candidate for the state's player of the year honors. Sophomore Charlotte Socia scored a team-high 29 goals and posted 16 assists. Sophomore Lindsey Arnett had 16 goals and eight assists.
Portage Central scored 124 goals this past season; 109 came from underclassmen.
Sheldon Shealer covers youth soccer for ESPNRISE.com. He can be reached at Sheldon.Shealer@espn.com.
SPONSORED HEADLINES
MORE BOYS' SOCCER HEADLINES
MOST SENT STORIES ON ESPN.COM
SPRING BOYS' SOCCER RANKINGS