Commentary
Service adds to its girls' soccer legacy
Updated:
June 18, 2009, 3:40 PM ET
By
Sheldon Shealer
| ESPNRISE.com
Editor's Note: This is the first of a two-part series on soccer in Alaska. Today, the focus is on Service High School (Anchorage, Alaska), which went undefeated and won the girls' soccer state title. Tomorrow, the focus is on how one building in Anchorage has changed the nature of soccer in Alaska and helped produce a pair of U.S. youth national pool players from a state that never before had national-caliber talent.
Robert W. Service was an author. Therefore, it seems only fitting that the girls' soccer program at the high school named in his honor is writing quite a story.
Service High School (Anchorage, Alaska) recently defeated Juneau-Douglas (Juneau, Alaska) 4-0 to cap a 22-0-1, state title-winning season. Service has a 26-match undefeated streak with back-to-back state titles, yet more importantly to coach Mark Cascolan, the program has returned to the top of Alaska soccer.
Service fielded a girls' soccer powerhouse between 1985 and 1999, winning 12 of 15 Anchorage School District state invitational titles. That success rolled right into the official state tournament, which started in 2000. Service won three of the first four titles sponsored by the Alaska School Activities Association. However, following the 2003 season, things turned cold.
"By 2004, we had been dominating. We used to have 130-plus kids try out for two teams," Cascolan said. "But we were hit hard in 2004-05 when Service split [to create South Anchorage High School]. For that one year, there was open enrollment in Anchorage to get that school started. Service was the two-time defending champs [2002 and 2003], but by 2005, we lost all the girls we used to coach [to South Anchorage]. We've been rebuilding ever since."
It was a fairly quick return to power under Cascolan, who is in his second term as the program's coach. He guided Service from 1999 through 2001 and returned in 2005.
Service failed to reach the state tournament in 2005 and 2006, but in 2007 the squad placed fifth, setting up last year's surprise run to a title. This year's team was saddled with expectations that were long associated with Service soccer -- to repeat as champions.
"We're so used to having potential, but we were not used to winning things, so this year was different," said senior Amanda Dotten, who has signed with NCAA Division I New Jersey Institute of Technology. "We were new to pressure."
"This year was a bit more stressful. We went from underdog and the school that used to be to the school that [Service] used to be," Cascolan said, stressing the end of the statement as a throwback to Service's dominant reign.
After three easy wins to start the season, Service faced rival South Anchorage, and the match ended in a scoreless tie. The result gave Service players hope that a league title was possible, yet greater challenges remained ahead -- specifically a match with Chugiak, which features two youth national team players in Kelly Cobb and Alev Kelter.
"That was our first test mentally, Dotten said. "We felt the pressure."
[+] Enlarge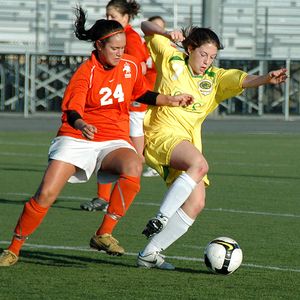 Service SoccerTricia Stonebraker, right, is one of three likely NCAA Division I signees in Service's junior class.
"We were really nervous about [playing] them," junior Tricia Stonebraker added.
Dotten and Stonebraker said the team's confidence soared after the surprisingly easy 4-1 victory. "We knew we could do it [win a state title] after that," Stonebraker said.
Service rolled through the second rotation of league matches, highlighted by Anna Cartwright's match-winning goal in a 1-0 decision over South Anchorage and a 3-1 win over Chugiak to end the regular season.
Service won three Region IV tournament matches by a combined 20-1 margin to qualify for the state playoffs. After easily dispatching Colony 7-2 in the first round, Service squeaked out a state semifinal 1-0 win over South Anchorage followed by a 4-0 thrashing of Juneau-Douglas in the final.
"It was exhausting," Cascolan said. "We didn't set out to go undefeated. Many things can happen during a season. We had two goals -- win the region and state titles and hang up two banners.
"It got to the point where the girls started to believe we could do this [go undefeated]," he said. "Now, even little games had meaning. The girls didn't want to lose. Once we got to the playoffs [undefeated] we had to win state or the season would have been a waste. Actually, it was more of a relief to win states instead of exciting."
Service's roster includes four seniors, only two who start, and both have committed to college soccer programs: Dotten to NJIT and Abby Chris to Western Oregon.
It's the junior class that is special for Service with three NCAA Division I-bound players. Stonebraker has narrowed her choices but has not made a decision. Vonnie DesJarlais, the program's second all-time leading scorer behind Dotten, and Callie Authier have committed to the University of Arkansas.
Dotten led the team with 26 goals and 13 assists, pushing her career totals to 65 and 30. Stonebraker had 21 goals and 16 assists. DesJarlais added 19 goals and 25 assists.
All 11 Service starters play elite club soccer, with most of the roster comprising the lineup of the Cook Inlet Velocity club team that is playing in the US Youth Soccer Region IV tournament this week in California.
With back-to-back state titles, a 26-match undefeated streak and nine returning starters, Cascolan knows the pressure will be even greater in 2010.
"This could be the first time a school three-peats [since the official state tournament started]," he said. "That will be a lot of pressure."
And if Service wins a third straight title, it would be quite a story.
SPRING BOYS' SOCCER RANKINGS