Commentary
Playing indoors pays off outdoors
Updated:
June 19, 2009, 5:45 PM ET
By
Sheldon Shealer
| ESPNRISE.com
Editor's Note: This is the second of a two-part series on soccer in Alaska. Today, the focus is on how one building in Anchorage has changed the nature of soccer in Alaska and helped produce a pair of U.S. youth national pool players from a state that never before had national-caliber talent.
Youth soccer players in Alaska have gone indoors to get better outdoors.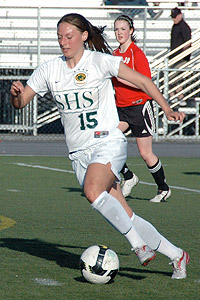 Service SoccerVonnie DesJarlais is one of three Service High School juniors who are bound for college soccer scholarships.
Players and coaches agree: The greatest step forward for soccer in the state was the creation of the Alaska Dome in Anchorage in 2007. Known locally as "The Dome," the indoor facility -- billed as the largest air-supported structure in North America -- allows for year-round soccer play on regulation fields.
"Before 'The Dome,' we had to be creative," said Mark Cascolan, who is the girls' soccer coach at Service High School (Anchorage) and with the Cook Inlet soccer club. "We only had gyms to play in, so we were big into small-sided and futsal games. Our players were good in small spaces but had problems adapting to the outdoor game [when playing regional and national club events]. Now we can play 11 v. 11 all year round."
From a player-development standpoint, it is paying off, Cascolan said. Alaska, once a non-factor in the world of high-school-aged soccer talent, now boasts a pair of U.S. Soccer youth national team players. According to the current U.S. Soccer under-20 and under-18 women's soccer national team rosters, only 10 states have more representatives than Alaska.
"We have national players now, and it's noticeable," Service junior Tricia Stonebraker said of the increased level of play in recent years. "We used to play in gyms for six or seven months a year. Now we have The Dome, and when we go down [to the lower 48 states], we're playing well."
Current high school sophomore Kelly Cobb, one of the state's youth national team players, is one of the nation's top 2011 prospects. No fewer than three of Cascolan's Service juniors are headed to NCAA Division I programs.
"We do have talent; we do have athletes," said Cascolan, who played briefly in Italy following his high school and college careers.
He likes to draw a comparison between Alaska's soccer position relative to the rest of the U.S. and Denmark's men's soccer play in Europe. "Denmark has the same weather as we do. It's a small country with long winters. Denmark does not have a lot of population, but they have quality. We can do that in Alaska."
Such thoughts might have been laughable a decade ago.
Alaska youth soccer was so far behind the rest of the U.S. Youth Soccer Far West region states that it often opted not to send its state cup champions to the region tournament.
"We hated being that state in Region IV [Far West] that would go down and lose 7-0," he said. "We'd score one goal in three matches. That sucked.
"We worked very hard to do away with the mindset [from other teams] that, 'We're playing Alaska, that's an easy win for us, so we can rest our kids.'"
This week, Alaska is competing in the Region IV championships, and while the girls' soccer results are not overwhelmingly positive, there are plenty of signs of improvement. The state's under-12 champions have reached the quarterfinals, and its under-16 champions missed out on a quarterfinal berth by coming up on the short end of the tiebreaking procedure.
Alaska girls' teams went 3-18 overall, but the positive spin is that the state actually fielded representatives in all major age groups and six of the 18 losses were one- or two-goal defeats. Alaska's under-18 representative hung with perennial national power Slammers FC out of California before losing 3-1. Although two matches were lopsided (7-0 and 6-0 losses), the state proved far more competitive than in years past.
Soccer in Alaska certainly has a unique set of challenges that Cascolan and other high school and club coaches have to deal with.
The outdoor season runs from April to October, maybe early November, and even then temperatures can dip below freezing in April and late October. During his time in Alaska, Cascolan has seen bears run across fields, moose stuck in the goal netting and flocks of geese that landed on the field, forcing a halt in play.
Then there's the transportation logistics of being in Alaska.
Cascolan said it is extremely expensive to play club soccer in Alaska because teams need to fly to all events.
"Every year we apply to five tournaments and hope to get in three, and get early answers because we need to plan and fundraise," he said.
Transportation is an issue even on the high school level. Juneau-Douglas, in the state capital, generally has to fly to its away matches since the city is not accessible by road. Next year, Juneau will host the high school state championships, meaning at least 14 school programs will have to fly to the event.
Cascolan said knowing the obstacles facing player development and the growth of soccer in Alaska was just the first step in developing a solution.
Around the U.S., players often attend camps to better their skills. Cascolan said that it is not practical to jet dozens of Alaskan players to the Lower 48, so the more cost-effective way is to have the clubs pay for elite trainers and coaches to come to Alaska and run events.
Cascolan said that the new director of coaching for the Alaska youth club system is pushing an agenda heavy on coaching education. "We're getting coaches who played and know the game coaching the kids instead of a parent coaching the team. It's making a difference."
Alaska's first breakthrough player was Carly Butcher, currently a sophomore at national power University of Southern California. In 2006, Butcher became the first player from Alaska to make the U.S. youth national pool when she played for the under-17 national team. She also was the state's first-ever Parade All-America selection.
Two years later, Alev Kelter, a hockey and soccer phenom, debuted on the national level. She turned down offers from more prominent college soccer programs to become a dual-sport athlete at the University of Wisconsin.
Kelter's high school teammate at Chugiak (Eagle River) is Cobb, who is now all the rage in Alaska.
"The young girls go crazy on Kelly Cobb," Cascolan said. "They can see her, touch her, play with her, talk to her. She's not just some name on the national team. She's right here, and the kids physically see her. So we tell the kids, "She's Alaskan and she's done it; you can do it, too."
Cascolan said future player development in Alaska will be aided by "The Dome."
The Anchorage school district has purchased Dome time to allow for the early part of the high school season to be played indoors, but on regulation outdoor-sized fields. Cascolan said club teams have worked out practice arrangements to use the facility as well.
"The Dome has helped because we have a place we can play and actually train," Stonebraker said. "Training in a gym is not the same."
Sheldon Shealer covers youth soccer for ESPNRISE.com. He can be reached at Sheldon.Shealer@espn.com .
SPONSORED HEADLINES
MORE BOYS' SOCCER HEADLINES
MOST SENT STORIES ON ESPN.COM
SPRING BOYS' SOCCER RANKINGS