Commentary
Bays, Eclipse, Texans win titles
Updated:
July 27, 2009, 3:28 PM ET
By
Sheldon Shealer
| ESPNRISE.com
LANCASTER, Mass. -- Sunday's U.S. Youth Soccer national finals featured something old and something new.
Colorado Rush Nike (Colo.), Eclipse Select (Ill.), Dallas Texans (Texas) and Casa Mia Bays (Md.) added to their legacies, while national tournament newcomer DSC 90 Green (S.C.) finished a storybook season with the South Carolina's first national crown and FC Bucks Vipers (Pa.) claimed the state's first-ever girls' crown at Citizens Bank Fields at Progin Park.
[+] Enlarge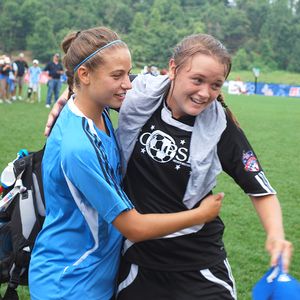 Courtesy Sheldon Shealer Eclipse Select players celebrate the club's fifth national title.
DSC Green used goals by Enzo Martinez and Juan Velasquez, both assisted by Robbie Benson, and the team's defense held up under late pressure for a 2-1 victory over Javanon SC (Ky.) in the under-18 boys' national final. The victory caps a 36-0 spring/summer for DSC coach Dom Wren, who earlier guided Northwestern High School (Rock Hill, S.C.) to a 24-0-0 season and an ESPN RISE FAB 50 national No. 1 ranking in the spring. With seven players from the high school team, DSC's winning ways continued through the state cup, region cup and national tournament -- another run of 12 straight victories.
"Right now, I can't really explain it," Wren said, shortly after getting the ceremonial postgame water dousing. "This won't sink in for a while. You see people on TV win championships and say they're speechless, and I'm sitting at home saying, 'Yeah, right.' But it's true. I'm just very proud to create history today."
"I can't believe it -- two national titles in one year, high school and club," said Martinez, who was a four-year high school player of the year and signed with the University of North Carolina. "I'm so happy. With the (club) team we've had, we've been knocking on the door, and we kept trying, and we finally got what we deserved today."
In other early finals Sunday, FC Bucks Vipers used a second-half goal by Madlyn Evans for a 1-0 victory over Ohio Elite in the under-18 girls' national final. The win marked the first girls' national crown for Pennsylvania after 15 boys' titles.
"I felt I had a lot of opportunities, and there's a joke on the team that I only make the unrealistic shot," Evans said. "So I took that shot and it ended up looking nice," she added about her 52nd minute strike that proved to be the match-winner.
"It's been a hell of a ride," added Vipers forward Kaitlyn Kerr, whose high school team, Pennington School (Pennington, N.J.), was the FAB 50 fall No. 1 last school year. "We're not a team of superstars. We only have two players with national team experience. But we fit so well together and the team unity is the best."
The most dramatic boys' soccer finish of the day took place in the under-17 boys' final between CZ Elite (Calif.) and Triangle United (N.C.). CZ Elite scored on its first three shots for a surprising 3-0 lead over favored Triangle United only 26 minutes into the match. Chad Drimer scored for Triangle in the 88th minute, and two minutes later, teammate Sebastian Garner finished a penalty kick to pull Traingle within 3-2. In stoppage time, Drimer placed a header on goal that CZ Elite keeper Adrian Garcia tipped upward. The ball hit the crossbar and eventually was cleared by a CZ Elite defender to preserve the victory.
Brandon Perez's goal in the 56th minute was enough to carry the Dallas Texans Red (Texas) to a 1-0 victory over the Hicksville Strikers (N.Y.) in the under-16 boys' final. The victory marked the Texans' sixth national boys' title, at the time matching the Casa Mia Bays for second-most ever behind the seven won by FC Delco (Pa.). Casa Mia Bays, however, later won the under-19 crown to pull into a tie with FC Delco with seven national titles.
Brendan Klebanoff scored in the 45th minute and Mark Jaskolski added an insurance marker in the 89th minute as the Casa Mia Bays captured the under-19 title with a 2-0 victory over NASA Elite (Ga.). The win was seventh U.S. Youth Soccer national title for the Bays and the eighth overall national crown. This Bays under-19 team holds three of the club's titles.
On the girls' side, De Anza Force (Calif.) shattered the title dreams of long shot Ponte Vedra Storm (Fla.) in a 1-0 finish in the under-16 final. Lorin Hom netted the deciding goal in the 42nd minute. Ponte Vedra was aiming to become the first national champion from Florida since 1995.
The Colorado Rush Nike under-19 girls repeated as national champions in dramatic fashion. The team scored three overtime goals to defeated Eclipse Select 4-2 in a match that was scoreless until the 86th minute.
The result gave the Rush a record ninth girls' soccer national title, one more than the Dallas Sting.
Danielle Foxhoven gave the Rush a 1-0 lead in the 86th minute as the team appeared headed for victory. However, Candace Ruff scored in extra time for Eclipse to send the match to overtime.
Kathryn Russell and Foxhoven scored in the first 15-minute overtime session to give Rush a 3-1 lead. Eclipse pulled within 3-2 on a Jessica Price goal, but Foxhoven responded a minute later to finish the scoring.
The under-17 girls' final featured a pair of club powerhouses in Eclipse Select and PDA Fire (N.J.). However, Eclipse made it a non-contest early in the match en route to a 4-0 victory, which made amends for last year's national runner-up finish.
"Last year we gave up a goal in the final 10 minutes and lost 3-2 in the national final," Eclipse Select coach Rory Dames recalled. "I think the disappointment from last year really drove them this year."
Vanessa Laxgang gave Eclipse a 1-0 lead in the 16th minute. Kelsey Hough pushed the advantage to 2-0 five minutes later. Samantha Scofield added a pair of second-half goals to cap the rout.
"Last year was the worst feeling ever," Eclipse defender Chelsea Grant said. "We were so much more ready for this year. I'm going to live with this feeling the rest of my life."
SPRING BOYS' SOCCER RANKINGS