Commentary
Saunders makes good on second chance
Updated:
August 5, 2009, 2:31 PM ET
By
Sheldon Shealer
| ESPNRISE.com
One phone call that led to one 90-minute soccer match changed Trey Saunders' life.
The rising senior at Frank Cox High School (Virginia Beach, Va.) went from being a mid-major college soccer prospect to a player receiving interest from some of the nation's top programs. Saunders settled the issue last week by committing to the University of Virginia.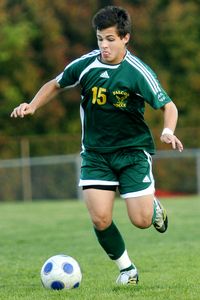 Saunders FamilyTrey Saunders recently committed to the Unviersity of Virginia, capping a wild three-month run for the rising senior.
"It all changed so fast," Saunders said. "Three months ago, I was a normal club player."
Saunders' fortunes started to change when his club coach called to tell him he had been selected as one of 36 players who would get the chance to play against the under-17 national team during the U.S. Soccer Development Academy Spring Showcase in late May in Sarasota, Fla. Saunders, a defensive midfielder, had a strong showing in the 90-minute match that led to tons of e-mail from college coaches, he said. After the showcase, he heard from Akron, Dayton, Ohio State and Virginia, programs that previously hadn't courted Saunders.
Saunders' play also earned him a trip to New Jersey in June for the under-17 national team camp. Twenty-six of the leading U.S. Soccer residency players and 14 others, including Saunders, trained for eight days. The U.S. under-17 world championship squad is likely to be pulled from this 40-man camp for the October event.
Again, the high-level training camp was fertile ground for college recruiters, and once again, more schools started to show interest in Saunders afterward. He weighed the offers and felt Virginia was the best fit, both academically and athletically.
"It's an in-state school that everybody wants to go to," he said. "It's a good academic school, and it has the program [medicine] I'm interested in, and the soccer tradition is incredible."
Saunders is now part of a five-member recruiting class that is quite cozy. Saunders has played Virginia Olympic Development Program soccer with three of the other recruits and played against the fourth.
"I know [fellow UVa commits] Calle [Brown] and Cameron [Chavira] well, I Facebooked Cobi [Span] to say 'What's up,' and Parker [Walsh] is close to my [club] teammates."
Saunders has past regional and national experience, but as he put it, he had fallen off that level of play until recently.
"I had to work my way back up the ladder," he said. "All the hard work is paying off, but it still came so fast. … I thought I could do something with this. I'm not going to waste my chances."
Sheldon Shealer is the soccer editor of ESPNRISE.com. You can reach him by e-mail, sheldon.shealer@espn.com
SPONSORED HEADLINES
MORE BOYS' SOCCER HEADLINES
MOST SENT STORIES ON ESPN.COM
SPRING BOYS' SOCCER RANKINGS