Commentary
Maryland: Bowie is still a soccer hotbed
Updated:
August 7, 2009, 1:10 PM ET
By
Sheldon Shealer
| ESPNRISE.com
While much of the Maryland high school soccer focus is placed on the Baltimore-based Maryland Independent Athletic Association featuring national power McDonogh (Owings Mills, Md.), there is a different sort of rivalry that exists 30 miles south in Prince George's County.
[+] Enlarge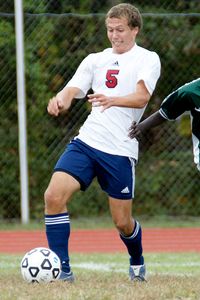 Graham FamilyBrian Graham was a first-team all-state pick as a junior while leading Bowie to an 18-0-0 record and a Class 4A state title.
In a county that is home to more than 30 high schools, one private school -- DeMatha Catholic (Hyattsville, Md.) -- and one public school -- Bowie -- stand above the rest. The two combined for a 31-0-8 record last year. Both will be ESPN RISE FAB 50 preseason fall nationally ranked teams. Bowie has six returning starters from an 18-0-0 Class 4A state title-winning team. DeMatha, as usual, is favored to win the Washington Catholic Athletic Conference following last year's 13-0-8 season and is loaded with elite club talent.
Interestingly, these two schools located less than 12 miles apart, no longer meet because of a football-related issue that dates back a decade ago. According to Bowie's soccer head coach Richard Kirkland, Bowie's current athletic director is a former football coach who had potential players recruited away by DeMatha and now does not allow any of the school programs to compete against the private school. Prior to that decision, the Bowie and DeMatha soccer teams would either scrimmage or play regular-season matches.
Kirkland says he misses the meetings with DeMatha, but the fact both programs have flourished speaks to the quality of player coming through the Bowie club system.
In sizing up this year's Maryland teams and players to watch, Bowie and DeMatha factor significantly. Maryland is home to more than 225 soccer-playing high schools and the trio of Bowie, DeMatha and McDonogh account for nine of the 25 players to watch.
In the 40 years of high school soccer state playoffs in Maryland, Bowie has qualified for the state semifinals a record 20 times -- 10 coming during Kirkland's 20-year tenure. The program has eight state titles, and they seem to come in pairs. Outside of its 1978 crown, Bowie won back-to-back titles in 1982 and 1983, 1986 and 1987, 1990 and 1991. Now, with a 2008 state title behind them, the Bulldogs are eying two in a row, yet again.
"Is it possible [to repeat], sure," Kirkland said. "But I won't be so arrogant as to say it will happen. It only takes one game, one goal to make a difference. ... Would I like to do it, without a doubt. But realistically, I don't know what I have coming together."
Bowie's top returner is UNC-Greensboro-bound forward Brian Graham, who was the Prince George's County Public School Player of the Year and a first-team All-State selection. Forward Pat Thornton returns, as does 5-foot-4 Dylan Thompson, a midfielder who scored the match-winning goal in Bowie's state final win over Perry Hall (Baltimore, Md.).
Kirkland said the Bowie club system once fed as many as 17 schools, including DeMatha and Bowie. Kirkland added that during his early years with the program entire Bowie club teams would be in tact at Bowie High School, which led to state powerhouse programs, including the 1990 and 1991 champions that featured Mark Jonas, Todd Hicks and Greg Zwibal. Jonas played 12 years of professional soccer in the U.S., a career that ended following the 2007 USL season. Hicks also played preofessionally from 1996 through 2001.
In recent years, Kirkland said, the Bowie program has witnessed a downturn in numbers for soccer, yet the quality remains high. The Bowie system no longer services 17 schools, but still plays an important role in player development for at least four schools: Bowie, DeMatha, Eleanor Roosevelt (Greenbelt, Md.) and Archbishop Spalding (Severn, Md.).
Players to Watch
(Listed with position, name, school, grade, college commitment -- if applicable)
D: Tommy Adewole, Sherwood, Sr.
D: Mayowa Alli, Bishop McNamara, Sr.
MF: Brian Alvarez, DeMatha, Sr., Dayton
D: Omar Ballou, Archbishop Curley, Sr.
MF: Geaton Caltabiano, MF, Mount St. Joseph, Sr.
D: Marquez Fernandez, McDonogh, Sr., Maryland
F: Tyler Fernadez, Broadneck, Sr.
F: Brian Graham, Bowie, Sr., UNC-Greensboro
F: Julian Griggs, McDonogh, Jr.
MF: Malcolm Harris, Good Counsel, So.
D: Joe Henke, Severna Park, Sr.
MF: Mamadou Kansaye, McDonogh, Sr., Maryland
D: Benja Makinde, McDonogh, Sr.
MF: Diego McQuestion, Gilman, Sr.
GK: Tim Peitsh, Loyola, Sr.
MF: Jeremy Raley, St. Mary's Ryken, Sr.
F: Hugh Roberts, Good Counsel, Sr.
D: Martin Sanchez, Worcester Prep, Sr., Navy
D: Matt Shinsky, McDonogh, So.
MF: Patrick Sullivan, Marriotts Ridge, Jr.
F: Jon Talbot, River Hill, Sr.
F: Pat Thornton, Bowie, Sr.
MF: Zach Wenger, Calvert Hall, Jr.
MF: Lucas Winters, McDonogh, Sr.

Teams to Watch
1. McDonogh
2. DeMatha
3. Bowie
4. Archbishop Curley
5. Sherwood

Sheldon Shealer covers youth soccer for ESPNRISE.com. He can be reached at Sheldon.Shealer@espn.com .
SPRING BOYS' SOCCER RANKINGS