Commentary
Zionsville results muddy the national chase
Updated:
September 9, 2009, 12:22 AM ET
By
Sheldon Shealer
| ESPNRISE.com
The Zionsville (Ind.) Lady Eagle Invitational was supposed to help clear up the Midwest ranking order as the top two teams from Indiana squared off against a perennial Ohio power.
Three matches later, nothing was resolved.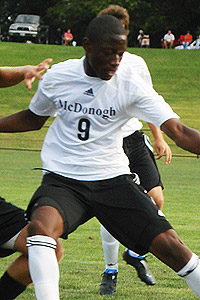 Sheldon ShealerMcDonogh (Md.), with Moses Makinde, backed its No. 2 FAB 50 ranking with victories over Top 25-ranked Germantown Academy (Pa.) and Sidwell Friends (D.C.).
Zionsville, Reitz Memorial (Evansville, Ind.) and Strongsville (Ohio) each went 1-1 in the round-robin event, and compounding the issue was the fact every match was decided by at least two goals.
The Lady Eagle Invitational was one in a series of boys' and girls' soccer tournaments played over the weekend with national ranking implications. The boys' team at McDonogh (Owings Mills, Md.) and the girls' teams from Montgomery and Maria Carrillo in Santa Rosa, Calif., and St. Ursula (Cincinnati, Ohio) were the weekend's big winners.
In Zionsville, Reitz Memorial appeared on its way to securing the state's No. 1 ranking and likely a FAB 50 Top 10 position following a 3-0 victory over previously undefeated Strongsville. Strongsville then defeated previously undefeated Zionsville 4-0. In the finale, Zionsville stunned previously undefeated Reitz Memorial 2-0.
"Good luck figuring out who goes where in your rankings," joked Zionsville coach Ramon Aguillon.
The logical solution would be to use goal differential, but that leaves Strongsville and Reitz Memorial tied at plus-1 and Zionsville third at minus-2. Focusing solely on Indiana results, Zionsville remains undefeated against Indiana teams and thus should get the nod for state No. 1 over Reitz Memorial, which it defeated. Fortunately, the Indiana state tournament will provide the final say between those programs. As for Strongsville, a 1-1-1 week last week likely will position them behind both Indiana programs for the time being. Strongsville faces Medina this week in a match that will have the state's No. 1 ranking on the line.
Adidas Classic
Archbishop Curley (Baltimore, Md.) found a way to steal the limelight from FAB 50 No. 2 McDonogh at the Adidas Classic in Owings Mills, Md.
McDonogh swept its matches, defeating FAB 50-ranked Germantown Academy (Fort Washington, Pa.) 2-0 and Sidwell Friends (Washington, D.C.) 1-0, but it was Curley's 3-2 win over Germantown that was the most noteworthy.
Curley entered the mixer ranked No. 4 in Maryland by ESPN RISE, but outside the FAB 50. Aaron Beale, who scored the lone goal in Curley's 1-1 draw with former No. 22 Sidwell Friends, netted two goals in the victory over former No. 17 Germantown Academy. Beale is one of only three seniors on Curley's roster, which also includes Loyola commit Oumar Ballo.
Curley has 11 players, all underclassmen, who are part of the Casa Mia Bays club soccer program, which makes this one-time national high school power likely to return to that level in the next few years.
McDonogh, meanwhile, also turned to underclassmen for big results at the event. Junior Lucas Winters assisted both goals in the win over Germantown Academy and sophomore Logan McHugh scored the only goal in the victory over Sidwell Friends. Seniors Jeremy Kirkwood and Mamadou Kansaye scored the McDonogh goals against Germantown Academy.
Sidwell Friends, playing its first major event, showed well with Princeton commit keeper Seth MacMillan. The team needed a penalty kick goal by Ben Critin to draw even with Curley before the 1-0 setback to McDonogh.
Alta tripped up in California
The days of Alta (Sandy, Utah) getting the better of the California teams appear over. The undisputed No. 1 girls' soccer team in Utah traveled to Santa Rosa, Calif., last week and walked away with a 1-0 loss to Montgomery and a 2-0 setback to Maria Carrillo. Alta had been averaging more than five goals a match before heading to Santa Rosa, where it had fared well in recent years.
North Central Tournament
For the second straight year, the St. Ursula (Cincinnati) girls' team went to North Central's tournament in Indianapolis, Ind., and came away with big results. Led by UNC commit Liz Burchenal, St. Ursula defeated North Central 6-1 and Snider (Fort Wayne, Ind.) 4-1. Burchenal has 10 goals in four matches.
Around the Country
Courtney Hoyes' overtime goal lifted FAB 50 No. 6 Archbishop Spalding (Severn, Md.) to a 1-0 victory over South River (Edgewater, Md.) in the girls' soccer Pioneer Classic final. South River is considered the top public school team in Anne Arundel County, which is where Spalding is located. & The Marin Catholic (Kentfield, Calif.) boys' team survived a grueling season-opening test, winning nine matches in a 10-day stretch. & Las Cruces (N.M.) handed DeMatha (Hyattsville, Md.) a 3-1 setback in New Mexico. DeMatha faces St. Pius (Albuquerque, N.M.) on Monday.
Sheldon Shealer covers youth soccer for ESPNRISE.com. He can be reached at Sheldon.Shealer@espn.com .
SPONSORED HEADLINES
MORE BOYS' SOCCER HEADLINES
MOST SENT STORIES ON ESPN.COM
SPRING BOYS' SOCCER RANKINGS