Commentary
Flores does it all on the pitch
Updated:
September 15, 2009, 12:28 PM ET
By
Lucas O'Neill
| ESPN RISE Magazine
[+] Enlarge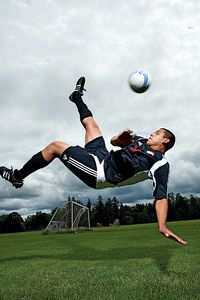 ESPN RISE MagazineJonathan Flores is Oregon's reigning Gatorade State Player of the Year.
What can't he play?
That's the question a U.S. Soccer scout watching Jonathan Flores once asked FC Portland Development Academy coach Chuck Bechtol.
Bechtol, who also coaches Flores at McMinnville (Ore.), didn't really have an answer. Can't blame him.
Now a senior, Flores is Oregon's most versatile and intriguing player. Built more like a fullback than a forward, he can keep up with the fastest players on the pitch and has the skills to play any position but goalie.
The reigning Gatorade State Player of the Year, Flores can create in the open field, leading the break and feeding teammates with precision passes. But he can also be a lockdown defender, shutting down the state's best strikers and changing the point of attack from the back.
"He can play wherever he wants to play," Bechtol says.
Or wherever Bechtol wants him to play. And just how Bechtol utilizes Flores depends on the game. Sometimes he'll start Flores in the middle and pull him back to help protect the lead if the team goes up a goal. Conversely, if the team is behind, Bechtol might send him up to spark the offense.
For Flores, who says he has no positional preference, there are benefits to each.
"When you play defense, you can't make all those runs that you'd like to at midfield," Flores says. "It limits you, but it also gives you a control you don't have in the midfield. With midfield, you have the freedom to do whatever you want."
At least if you are Jonathan Flores.
Flores came onto the scene at McMinnville as a freshman, earning a starting spot on the back line after an upperclassman went down with an injury. It was evident even then that he was a special player. That season, when former McMinnville coach Joe Crabtree was giving an interview for an ESPN RISE cover story about then-senior Frankie Lopez -- now the University of Portland's leading scorer -- he couldn't help but mention the precocious Flores.
Thanks in large part to Lopez and Flores, McMinnville won the Class 6A state crown that fall.
"It was really unbelievable, being able to play with all of our players and being able to play with Frankie," Flores says of the championship season. "It was just a lot of fun. It did a lot for me just being able to play at that level at that age."
When Flores came back for his sophomore season, however, he was one of only a few returning starters. Despite an influx of new players, the team eventually jelled and managed to make it to the state quarterfinals. It was the first year Flores began splitting time between midfield and defense, and his versatility did not go unnoticed. Thanks to his varied contributions, he was named Pacific Conference Player of the Year.
"He's very talented on the ball, tremendous power, can dribble with pace exceptionally well," Bechtol says. "In back, he keeps everything in front of him and his speed allows him to close very quickly. And when he gets [the ball], he keeps it."
Much of his skill seems to come in spite of his unique build, not because of it. At 5-foot-8 and 190 pounds, Flores is "a tank," according to Bechtol. His build resembles that of Argentine footballer Lionel Messi, his favorite player. When Flores drapes a yellow practice penny over his broad shoulders and squat frame, he looks like SpongeBob. Some of his teammates have taken to calling him Chango -- Mexican slang for monkey.
But looks can be deceiving. Despite his strength, he's not a very physical player, relying instead on his speed and skill -- much like Messi.
"He's extremely quick for his size," Bechtol says. "You look at him and you think he's gonna be slow, but he's actually the fastest kid I've got."
Bechtol, who has been coaching Flores in various capacities since he was in kindergarten, took over at McMinnville last season. Initially, Flores started up top with Bechtol's son, Jake Baker, but after a few games he returned to the back line. Many players would have a problem with the constant mixing and matching of positions, but not Flores.
"You tell him, 'I want you to run through a wall,' and he'll do everything he can to do it," Bechtol says.
On a team filled with underclassmen last year, Flores was a leader by example on the field. He developed an almost unconscious connection with Baker, his friend, classmate, and teammate since kindergarten. While Baker was the flashy finisher, Flores was the playmaker, the facilitator of much of McMinnville's offense.
"I can always create for him, and I know he can finish," Flores says. "I know he'll do what he needs to do to get the ball in goal."
The team went 6-4-5 and was eliminated in the first round of the state tournament, but Flores, who was again named PacCon Player of the Year, saw the squad make tremendous strides. And he made strides of his own.
"He's getting better at understanding the flow of play, starting to become more of a complete player," Bechtol says.
Flores also turned a corner in the classroom. He readily admits that he slacked off during the first two years of high school. Toward the end of his sophomore year, however, he talked with his teachers about what he was capable of. He wasn't close to achieving it.
"Coming into junior year, I definitely knew that I had to change that," Flores says.
And he has. Flores earned the Gatorade honor not only for his on-field ability, but for volunteering in conjunction with his youth group, coaching younger kids and keeping his grades up.
He still has work to do, however, if he wants to attend college next year. While he hasn't eliminated any options, the thought of playing for the Pilots with Lopez appeals to him.
But before then, he and a tight McMinnville senior class are intent on going out on top.
"We want to get to the playoffs and go further than we did and that's our main goal," Flores says. "Since it's going to be my last year in high school, I'd like to win state."
He'll play wherever he's needed.
Lucas O'Neill covers high school sports for ESPN RISE Magazine.
SPONSORED HEADLINES
MORE BOYS' SOCCER HEADLINES
MOST SENT STORIES ON ESPN.COM
SPRING BOYS' SOCCER RANKINGS