Commentary
Brentwood (N.Y.) seeks second straight national title
Updated:
September 17, 2009, 10:11 AM ET
By
Ryan Canner-O'Mealy
| ESPN RISE Magazine
On the first day of tryouts for the 2008 season, Brentwood (N.Y.) boys' soccer coach Ron Eden held a piece of paper in front of his prospective players.
[+] Enlarge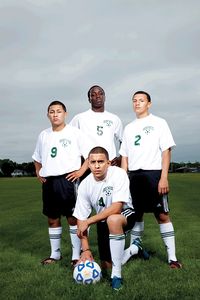 ESPN RISE MagazineBrentwood lived up to its goals by finishing last season undefeated and as national champs.
The message was short, sweet and, honestly, kind of insane.
24-0, National Champions
Talk about setting the bar high. The Indians certainly had state-title-contender talent, but a perfect season and No. 1 national ranking? This is soccer, after all, where one fluky bounce or a shot off the post can be the difference between victory and defeat.
But Eden apparently knew something no one else did. His team made him look like a prophet, ripping off a 24-0-0 season that included its first state title since 1989 and the No. 1 spot in the ESPN RISE FAB 50 and the NSCAA/adidas rankings.
"I knew we had all the pieces," says Eden, who has been coaching at Brentwood for the past 30 years, including the past 14 as head coach. "We had depth, good goalkeeping, kids who have been together a while. They've been playing together since they were 8 years old."
That piece of paper would make for a pretty cool souvenir. It would look nice framed in Eden's office or in the Indians' locker room. The only problem is Eden has no idea where it is.
"I might have it around here somewhere, but I'm not sure," the coach says.
Then again, maybe he doesn't need the paper. In addition to the memories from last season, he has 23 players returning from that squad, including four senior superstars in Joseph Lopez, Hancell Guevara, Andrew Jean-Baptiste and Marby Velasquez. Given the choice, he'll take the players.
And with good reason.
Lopez is Newsday's reigning Long Island Player of the Year, a big-time scorer who is at his best in clutch situations. The forward netted a school-record 25 goals last year, including two in the 2-1 state semifinal overtime win against Baldwinsville and two more in the 2-1 finals triumph over Clarence.
"I just like the pressure of a big game," Lopez says. "When it's a big game, I take things more seriously."
"When he has the ball in space, he's going to score," Jean-Baptiste says.
Guevara wasn't far behind Lopez. The forward scored 21 goals and added 14 assists to make Newsday's All-Long Island team. Jean-Baptiste, a midfielder, rounded out Brentwood's representation on Newsday's squad after recording three goals and 13 assists. Jean-Baptiste's biggest contributions came in ways that don't show up on the stat sheet, winning 50-50 balls and anchoring the midfield.
Velasquez, a fierce defender, didn't make Newsday's list, which was comprised solely of forwards and midfielders. Still, he was as valuable as anyone on the roster.
"He's a four-year starter and one of our better leaders," Eden says of his captain.
In addition to all the talent, the quartet has unmatched chemistry, the result of playing together for a decade. Lopez, Guevara, Jean-Baptiste and Velasquez first joined forces in Brentwood youth leagues back in elementary school.
[+] Enlarge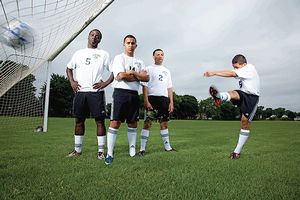 ESPN RISE MagazineThe Indians have not lost a league game in seven years.
"They have an uncanny ability to find each other," Eden says. "They can be in all kinds of traffic and make the right run to the right spot."
The coach's favorite example came last year in the pouring rain against Baldwinsville. The teams were locked in a sudden-death overtime struggle, with the winner advancing to the state championship game. If the Indians lost, their season would be over. In the final minute of the first overtime, Guevara controlled the ball and found a cutting Lopez, who evaded the charging goalkeeper and put in the game-winner.
"Someone sent me a clip of that play after the game and I still play it all the time," Eden says.
Because the players on the team are like brothers, some of the most intense competition they face is during the high-octane intra-squad scrimmages.
"Our practices are very physical," Velasquez says. "We go all out."
"I have to restrict them because they'll end up killing each other," Eden adds.
But when they turn that competitiveness on the other team, watch out. After the dramatic win over Baldwinsville, the Indians completed their perfect season with a victory over Clarence. For a team that lost in the state finals in 2006 and got bounced in a shocking upset in the county quarterfinals in 2007, winning it all was sweet redemption.
"It was unbelievable," Jean-Baptiste says. "Words can't explain it."
So the players embarked on a well-deserved celebration. They laughed. They danced. They slept.
"They were really tired," Eden says. "It was quieter than I thought it would be, but they were just content sleeping with their medals on."
Now, no one's sleeping on Brentwood. They've been a perennial Long Island power (undefeated in league play for seven consecutive seasons), but a No. 1 national ranking plus awards like FieldTurf National High School Soccer Team of the Year make for an especially big target.
"Other teams see us on their schedule, they're definitely gonna circle that game," Velasquez says. "There's going to be a lot of pressure, but that doesn't really matter. We just go out and play."
Eden, meanwhile, needed to find some new motivational words to show his team when this season started. You can't go higher than the penthouse, so how does Brentwood outdo 2008?
"The only way to top it is to do it again," says Eden, alluding to his new slogan.
Respect and Repeat
The coach says some people didn't think Brentwood deserved its No. 1 ranking, so he's using that as fuel for 2009. The second part of the team's motto is pretty self-explanatory.
And with so much talent back from last year, it doesn't seem quite so crazy this time.
Ryan Canner-O'Mealy covers high school sports for ESPN RISE Magazine.
SPRING BOYS' SOCCER RANKINGS