Commentary
Soccer star goes distance in cross country
Updated:
October 5, 2009, 11:54 AM ET
By
Christopher Parish
| ESPN RISE Magazine
Over the summer, Emily Lipari got ready for her senior cross country season at Roslyn (Roslyn Heights, N.Y.) the way she gets ready for just about every season -- she played soccer.
She competes for club teams year-round, although she does not play for her high school's soccer squad. She usually lines up at outside midfielder or forward and can even play defense in a pinch. This past summer, she helped her Syosset Rough Rider Elite club team win a regional championship to reach the US Youth Soccer National Championship Series.
[+] Enlarge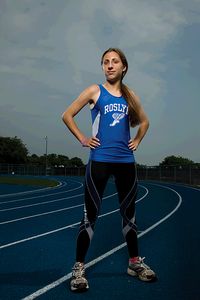 Kelly Kline\ESPN RISEThe keys to Emily Lipari's rise in soccer and cross country? "Lateral movements and quick bursts of speed. That agility really helps me."
A glance at her summer schedule would leave you with the impression that Lipari is a budding soccer star. In reality, she is one of the nation's most decorated cross country runners. A two-time Class A and Federation state champ, Lipari finished 11th at last year's Foot Locker Cross Country Championships. She was No. 5 among underclassmen at nationals, positioning her as one of the favorites to take home top honors this year. And she believes her soccer background has played a large role in her running success.
"One of my strengths in a race is to have those quick bursts of speed to improve my position," Lipari says. "In soccer, it's a lot of lateral movements and quick bursts of speed. That agility really helps me."
Lipari established an early love for soccer as a 4-year-old while playing with a local youth team. A close family friend later saw her dashing up and down the pitch with speed unlike anybody else and suggested she try her hand at track. Lipari started competing on the 4x100-meter relay team when she got to middle school, but distance running was still a foreign concept -- and soccer was still her No. 1 priority.
By eighth grade, Lipari decided she wanted to dedicate herself to both sports. She got better with each race as she continued to compete for her middle school team, and she caught the eye of Roslyn cross country and track head coach Vera Trenchfield, who encouraged her to stick with the sport in high school.
"It was very clear she had talent," Trenchfield says. "She is gifted. She just needed someone to encourage her and help tap into her own ability."
As Lipari found her stride as a cross country runner, soccer became a cross-training mechanism. Some coaches would cringe at the thought of their star runner playing such a physical sport, and Lipari admits her father is terrified she'll get hurt during soccer and jeopardize her running career. But for Trenchfield, Lipari's love of soccer was more a part of her identity than a potential crisis.
"I monitor her workouts in soccer to make sure I am not over-training her," Trenchfield says. "I make it work for her."
It's hard to argue with the results. In her sophomore season, Lipari won the Class A state cross country meet and the Federation title and qualified for the Foot Locker National Championships after placing sixth at the Northeast Regional meet. Two weeks later, Lipari finished sixth in the country. The stars seemed to be aligning for a run at a national crown one year later.
Unfortunately for Lipari, a bit of misfortune derailed her national title dream last fall when she became ill with a stomach virus at the Northeast Regional. She started the race well but didn't have her usual stamina as the event progressed. She was disappointed with her time of 18:14, but it was good enough to give her a ninth-place finish and a second consecutive berth at the national meet.
Two weeks later, she suffered a bit of a relapse as the travel, training and exhaustion from a long season started to catch up with her. "I saw her legs, her body, her shoulders slumped," Trenchfield says. "She was sick. She was done."
Lipari was upset with her 11th-place finish -- a strong result despite feeling ill -- and she intends to end this season on a better note.
"This summer is probably the hardest I've ever trained," Lipari says. "I want some redemption for last year. I know there's going to be a lot of great runners there, and anybody's capable on any given day. I just want to score in the top five."
The increased training came in the form of higher mileage, harder workouts and more cross-training, which of course included soccer but also involved bicycling and swimming. In some of her workouts, Lipari ran with the boys' team to give her an added challenge.
Running with the boys wasn't totally unfamiliar, however. In previous years, her brother, Thomas, served as both a running partner and a source of inspiration. Now a sophomore running for Division I Marist, Thomas often acted as another coach and helped his younger sister with her workouts.
"He mentored me quite a bit," Lipari says. "I'm happy to have a brother I'm so close with."
Lipari is also close with her coach, who has watched her star athlete achieve unprecedented success for the Bulldogs.
"I've had runners go out of state to compete, but she's different," Trenchfield says. "She's put Roslyn on the map."
Trenchfield is often awestruck by the way Lipari takes her success in stride. Often after races, Lipari will disappear for 20 minutes at a time. The coach will get a little nervous until eventually the harrier returns, just as bubbly as ever. "Where were you?" Trenchfield will inquire. "Oh, talking," Lipari responds. Talking to fellow runners, taking care of interview requests, all just minutes after completing another grueling race -- a race she likely won.
That's what she does best. Whether it's talking with friends or interviewers or working out for soccer or cross country, Lipari has time and passion for it all. She wouldn't have it any other way.
Christopher Parish covers high school sports for ESPN RISE Magazine.
SPONSORED HEADLINES
MORE BOYS' SOCCER HEADLINES
MOST SENT STORIES ON ESPN.COM
SPRING BOYS' SOCCER RANKINGS