Commentary
Hurricane force blows down opponents
Updated:
October 7, 2009, 2:36 PM ET
By
Sheldon Shealer
| ESPNRISE.com
Jim Dagostine knows when to leave good enough alone.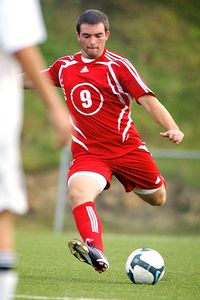 Michael Switzer Design WorksRyan McWatters has been a four-year starter for Hurricane.
Dagostine, the coach of the boys' soccer team at Hurricane (W.Va.) High School, toyed with changing the team's defensive formation. In fact, he even had Hurricane practice the flat-back four during spring practice. Then he thought better of it.
"I thought it would help with our offense," Dagostine said. "But the guys are very comfortable in what they do, so why change it if what they're doing is going OK?"
OK?
Try perfect.
Senior-dominated Hurricane has not allowed a goal in its first 16 matches this season, marking the nation's longest active shutout streak among fall boys' soccer teams.
The Redskins entered Tuesday's match 16-0-0, ranked No. 49 in the ESPN RISE FAB 50 and riding a 1,280-minute shutout streak.
Hurricane's traditional 4-4-2, stopper-sweeper setup is anchored by four seniors, including goalkeeper Noah Blackhurst, who was the West Virginia high school keeper of the year last year as a junior. Sweeper Ryan McWatters is a four-year starter. Brooks Paine, an all-state performer last year, is now playing center midfield.
"Two years ago, we had a stopper and a right back that were exceptional players," McWatters said, referring to Hurricane's 21-win, state-runner-up season in 2007. "Last year was a transition year. This year, there is so much more team unity and leadership."
Said Blackhurst, "Last year, our shape was bad. Our shape is much better and we're more solid on defense this year."
Paine feels communication is key to the team's success this year.
"We really work as a unit," Paine said. "The communication is by far the best of the past three seasons."
Through 16 matches, the closest any opponent has come to scoring was a shot that hit off the post by rival and fellow state power George Washington (Charleston) and a tricky free kick from the best player on Nitro.
McWatters vividly remembers each situation.
"We beat Nitro 2-0, but their best player set up a real fast free kick," McWatters said. "It was a great shot [that missed], and we weren't ready for it. That was our bad, and we've learned from it."
On the George Washington shot that hit the post, McWatters sprinted back to the line to clear the ball and save the shutout.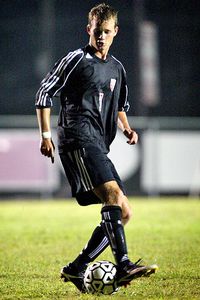 Michael Switzer Design WorksMidfielder Brooks Paine says communication is the key to Hurricane's shutout streak.
Hurricane's defense starts with the team's offense. Hurricane basically dominates play, and when it turns the ball over, usually in the opponent's attacking third, the forwards in essence become defenders, trying to pin teams and force mistakes.
"A lot of teams rarely get past the halfway line," Paine said, crediting the forwards and midfielders with helping extend the shutout run. "There have been one or two games with no shots [by the opponents]."
Meanwhile, Hurricane's offense has averaged nearly 5½ goals per match.
Paine said the team started to notice the streak once it reached seven matches. Then the streak became the focus.
"After the 10th game, the kids were getting hyped up," Paine said. "We were getting noticed, and we were beginning to get a little bit of recognition."
Blackhurst added that the longer the streak goes, the more pressure the team faces.
"We want to keep the streak going, but it's more important to win," Blackhurst said.
Blackhurst and McWatters feel the results are a tribute to the team's desire to play defense first -- defense the way Hurricane knows best.
"If we don't get scored on, we can't get beat," Blackhurst said.
"If we had changed defenses, we could still be good," McWatters said. "But it with the flat-back, it takes more than a couple practices and a couple preseason games to play it right. We know how to play the defense we run."
And opponents are finding out, as well -- one shutout at a time.
Sheldon Shealer covers youth soccer for ESPNRISE.com. He can be reached at Sheldon.Shealer@espn.com.
SPONSORED HEADLINES
MORE BOYS' SOCCER HEADLINES
MOST SENT STORIES ON ESPN.COM
SPRING BOYS' SOCCER RANKINGS