Commentary
Excellence lives on at St. Ignatius
Updated:
October 9, 2009, 1:00 AM ET
By
Lem Satterfield
| Special to ESPNRISE.com
Even as he plays his junior season as a sometime starter for Duke University's men's soccer team, goalkeeper Nicholas Tsipis always finds himself checking up on his high school alma mater, St. Ignatius of Cleveland.
[+] Enlarge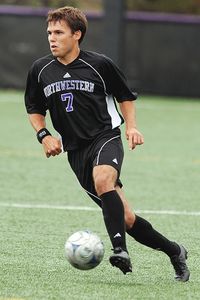 Northwestern UniversityMark Blades is one of six players from the 2005 St. Ignatius team who is now a captain for his college team.
For as a senior at St. Ignatius in 2005, Tsipis was the last line of defense for one of the best teams in that program's history, as well as one of the premiere programs in the country.
That's when Tsipis registered 16 shutouts to anchor the Wildcats to their second of three Ohio Division I large schools state championships, accomplished with a 3-1 victory over Cincinnati St. Xavier.
The Wildcats completed a mark of 23-0 for their program's first-ever undefeated season, one during which St. Ignatius outscored its opposition by a combined 97-9.
In addition, the Wildcats were named national champions by the National Soccer Coaches Association of America and co-champions in the FAB 50.
"I still think a lot about that team. It's kind of a model of cohesiveness and unity toward a common goal. I was honored to play on that team, and it was a privledge to play with those guys," said Tsipis, one of six former Wildcats who are now captains of their collegiate squads.
"Those memories will last a lifetime. I think about those guys and follow their careers even now," Tsipis said. "When you're in the middle of it, it's hard to think about anything down the line. So, as an alumnus, it's sort of incredible and, really, just awesome to see that the program still is doing so well."
This year's Wildcats appear to be on a similar path as that of the 2005 squad, having run their record to 14-0 with 11 shutouts and outscored their opposition by a combined 52-3.
Where are they now?
Mark Blades, midfielder: Northwestern University; All-American; First-Team Big 10; Herman Trophy Candidate; senior team captain; captain as a junior; will most likely be drafted in the first few rounds of the MLS draft.
Jordan Cottington, forward: Case Western University; senior captain.
Jeremy Deighton, forward: Slippery Rock University; leading goal scorer; senior captain.
Justin Morrow, midfielder: University of Notre Dame; starts at left midfield; senior team captain; hopes to play professionally after graduation.
Barry Rice, defender: University of Kentucky; All-American; Conference USA Defender Of The Year; Herman Trophy Candidate; senior team captain; captain since sophomore year; will most likely be drafted in the first few rounds of the MLS draft.
Nicholas Tsipis, goalkeeper: Duke University; junior team captain; pre-med.
St. Ignatius is led by Paul Castrigano (13 goals), Vaughn Spurrier (11) and Ryan Ivancic (seven). Goalkeeper Joe Kalt already has the school record for career shutouts with 38 -- three short of the state's career mark.
On Saturday, St. Ignatius plays local power Strongsville in a clash Tsipis called "always a fierce battle," and, "always a close game."
"Looking back, I never thought about losing. They'll have to have the mentality to take it one game at a time and not look at the big picture," Tsipis said. "It's going to be important that they don't allow rankings and outside pressure influence how they play the game."
Should the Wildcats emerge unscathed from their clash of unbeatens against Strongsville, they will retain a "solid chance of getting to the state final," according to St. Ignatius coach Mike McLaughlin.
"The 2005 team changed the mentalty of the soccer program at St. Ignatius. For many years, we had been close to the state title but couldn't get over the hump. We won our first state title in 2004 with a solid group of seniors and a special group of juniors," said McLaughlin, whose 15-year mark is 234-37-33.
"Those juniors became the core of the team that won the national title in 2005. They were an amazingly competitive and focused group of young men," McLaughlin said. "A lot of youth coaches will tell you it's hard to maintain a high level of consistency with high school age kids because they have so much going on in their lives."
A 1985 graduate of St. Ignatius, McLaughlin has taken his squads to six state final fours and earned three state titles. Inducted into the school's Athletic Hall of Fame in 2002, McLaughlin was also named the 2005 NSCAA National Private/Parochial School Coach Of The Year.
"The group of seniors from 2005 never took a day off for three months. Every day they worked hard, battled each other in practice and brought something special to the field," McLaughlin said. "The group of seniors on last year's team were freshmen in 2005 and they learned a lot from those guys -- about winning and about what it takes every day to bring your best effort."
Many members of this year's St. Ignatius squad were eighth graders who, nevertheless, "still followed the national championship team and were influenced by the older players," McLaughlin said.
Among the biggest victories of 2005 was one at Centerville, a 3-1 decision on the road when the latter was ranked ninth in the nation, and St. Ignatious, No. 1.
Goals in that game were scored by Brad Wensink, Justin Morrow and Jeremy Deighton, the latter of whom are present team captains at Notre Dame and Slippery Rock, respectively.
Another big win four years ago was over state semifinal over Brecksville, a 1-0 shutout before 4,000 fans at Cleveland State University. Steve Szendrey scored the overtime game-winner in that one.
"We began the season ranked No. 1 in the state and in the country, and were able to maintain that ranking for the entire season. That doesn't happen too often in soccer or in any sport," McLaughlin said. "We also had three All-Americans that season. Most schools are lucky to get one. Justin Morrow, Mark Blades and Barry Rice were All-Americans."
The group of 2005 players were no dumb jocks, as evidenced by its overall GPA of 3.5. This year's squad, however, has an avearage of 3.67.
"As we build the program, we stress three things -- we want good kids, good students, and good soccer players in that order," McLaughlin said. "It's nice to win games, but our real job is to help them to become young men with the hearts and minds that desire to make a difference in the world."
SPRING BOYS' SOCCER RANKINGS