Commentary
US Soccer announces U17 squad
Updated:
October 19, 2009, 6:45 PM ET
By
US Soccer
CHICAGO -- U.S. Under-17 men's national team head coach Wilmer Cabrera has announced the final 21 players who will represent the United States in the 2009 FIFA Under-17 World Cup. A combination of 17 players born in 1992 and four born in 1993 will travel to Nigeria on Tuesday, arriving five days before the team's first match.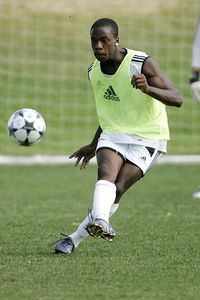 Barry Gutierrez/ESPN RISEBoyd Okwuonu was named to the 21-man roster for the U.S. under-17 squad.
The U.S. will open Group E play in Kano, Nigeria, against Spain on Oct. 26, at 7 p.m. local time (2 p.m. ET). The team will stay at Sani Abacha Stadium to play Malawi on Oct. 29 at 4 p.m. (11 a.m. ET) before moving to Ijebu-Ode and Gateway International Stadium to finish the first round against United Arab Emirates on Nov. 2 at 4 p.m. (10 a.m. ET). All three of the American's group games will be televised live on ESPNU and Galavision.
"We have been working for two years to find the right players, first for qualifying and now for the World Cup," Cabrera said. "We have made some changes over the years to overcome different challenges, but we feel that we picked the best 21 players who are ready to represent their country for this World Cup."
The U.S. squad has scored 33 goals in 2009 in 16 games against international opponents. Included in that total are 12 goals scored in three games during the CONCACAF U-17 Championship in April. The attack is led by Jack McInerney, who leads the team with nine international goals in 11 appearances this year, including five in three games at the regional championship. Juan Agudelo, Andrew Craven and Stefan Jerome were also key parts of the offensive juggernaut during qualifying.
Jerome and newcomer to U.S. Soccer's Residency Program Victor Chavez both netted twice in the team's most recent international game, a 5-0 win against fellow World Cup finalists Gambia in London. Chavez and Dominick Sarle both earned their place on the team late in the cycle, with both players traveling on the team's most recent training camps to Miami and England.
Of the players who will travel to Nigeria, only one, William Packwood, is not based full time in U.S. Soccer's Residency Program. Packwood, who trains full time with English side Birmingham City, earned his place in an experienced midfield that includes three players in Marlon Duran, Carlos Martinez and Jared Watts, who have been part of the Residency Program since the Fall 2007 semester. Fellow midfielders Nicholas Palodichuk, Luis Gil and Alex Shinsky came to Bradenton in the Spring of 2008 and have all netted key goals for the U.S. in recent games.
Defensively, Eriq Zavaleta and Perry Kitchen have both played in at least 10 international games this year as central defenders while Tyler Polak, Zachary Herold and Boyd Okwuonu will likely be looking to play as outside backs. Okwuonu is one of only four players on the roster born in 1993, along with Gil, Shinsky and Packwood.
Behind that defensive unit, which has earned seven shutouts in 16 international games this year, will be a solid trio of goalkeepers in Earl Edwards, Spencer Richey and a newcomer to Residency, Keith Cardona. Edwards has been the team's top choice goalkeeper in his two years with the Residency Program, but has been aided by the progress of Richey, who picked up shutouts in qualifying and against Gambia in September. Cardona, who joined the team this fall, is a member of the New York Red Bulls Development Academy program. In all, nine players are members of U.S. Soccer Development Academy clubs.
The U.S. is the only country to have qualified for all 12 FIFA Under-17 World Championships. In 2007, the American squad advanced to the knock out phase for the third straight time before falling to Germany in the Round of 16. The team's best finish came in 1999, when Landon Donovan, DaMarcus Beasley and Oguchi Onyewu led the Americans to the semifinals.
U.S. Under-17 Men's National Team Roster
GOALKEEPERS (3): Keith Cardona (NY Red Bulls; Glen Rock, N.J.), Earl Edwards (La Jolla Nomads; San Diego, Calif.), Spencer Richey (Crossfire Premier; Seattle, Wash.)
DEFENDERS (6): Zachary Herold (West Pines United FC, Port St. Lucie, Fla.), Perry Kitchen (Chicago Magic; Indianapolis, Ind.), Boyd Okwuonu (Celtic Green; Edmond, Okla.), Tyler Polak (CSA Legacy; Lincoln, Neb.), Jared Watts (North Meck Storm; Statesville, N.C.), Eriq Zavaleta (FC Pride; Westfield, Ind.)
MIDFIELDERS (6): Marlon Duran (Latino Americana; Ducanville, Texas), Luis Gil (Pateadores; Garden Grove, Calif.), Carlos Martinez (Wilmington Jr.; San Pedro, Calif), William Packwood (Birmingham City, Concord, Mass.), Nick Palodichuk (Washington Premier; Battleground, Wash.), Alex Shinsky (Super Nova FC; York, Pa.)
FORWARDS (6): Juan Agudelo (NY Red Bulls; Barnegat, N.J.), Victor Chavez (Real So Cal; Fontana, Calif), Andrew Craven (First Coast Kickers; St. Simons Island, Ga.), Stefan Jerome (West Pines United FC; Davie, Fla.), Jack McInerney (Cobb SC; Alpharetta, Ga.), Dominick Sarle (BW Gottschee; Huntington, N.Y.)
National Team Staff
Head Coach: Wilmer Cabrera (Lakewood Ranch, Fla.)
Assistant Coach: Paul Caffrey (Bradenton, Fla.)
Assistant Coach: Paul Grafer (Bradenton, Fla.)
Assistant Coach: Gerson Echeverry (Holmes Beach, Fla.)

SPRING BOYS' SOCCER RANKINGS