Commentary
Feener, McCoy net top honors
Updated:
October 28, 2009, 12:35 PM ET
By
Sheldon Shealer
| ESPNRISE.com
A pair of goalkeepers are this week's players of the week.
The following are this week's ESPN RISE National Soccer Players of the Week. Players are recognized for their performances from the previous week (Monday through Sunday).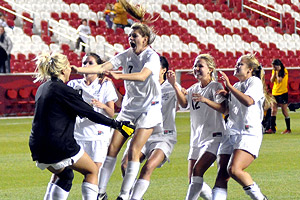 Denise Ferguson/AltaGoalkeeper Tashia Long (in black) is greeted by teammates after making the game-winning save in the Utah state final.
ESPN RISE Boys' Soccer Player of the Week
Jake Feener, Sacramento Jesuit, Senior, Goalkeeper
Feener has been rock solid in goal, posting eight straight shutouts as Jesuit enters the stretch run of regular-season play. Feener, who has committed to Seattle University, has 16 shutouts in 21 matches this year. His shutout total is the second-highest reported this fall in the nation.
Finalists
Senyonjo Mukungo, Jordan (Durham, N.C.): Mukungo, who has committed to North Carolina State, has played a key role in Jordan's 18-0 start, which includes 11 straight shutouts. Mukungo is one of the top defensive prospects coming out of North Carolina this year.
Steve Neumann, Council Rock North (Newtown, Pa.): Georgetown commit Neumann scored three of his team's five goals last week as Council Rock North remains a FAB 50 Top 25 program.
ESPN RISE Girls Soccer Player of the Week
Jocelyn McCoy, Archbishop Spalding (Severn, Md.), Junior, Keeper
McCoy recorded two more shutouts this week, bringing her season total to 14. Last week, Spalding shut out Institute of Notre Dame (5-0) and Mount de Sales (3-0). The team also had a 7-1 win over St. Vincent Pallotti. MCoy's 14 shutouts are a main reason for Spalding's 17-0-1 start and FAB 50 Top 5 ranking. Among her shutouts is a 1-0 win over current FAB 50 Top 10 team McDonogh (Owings Mills, Md.). On the season, McCoy has allowed only three goals in 18 matches with a .955 save percentage.
Finalists
Megan Giesen, Strongsville (Ohio): Giesen netted four goals as Strongsville won its first two playoff matches last week.
Tashia Long, Alta (Sandy, Utah): Even though Long was injured, she was well enough to play in the state final and she delivered with a save in the seventh round of penalty kicks to lift Alta to its fourth straight state title.
Katie Rigby, Lenape (N.J.): Rigby scored all three of Lenape's goals as the team advanced to the South Jersey Coaches Tournament final with a 1-0 win over Shawnee and a 2-1 victory over FAB 50-ranked Gloucester Catholic.
Kim Shoup, Conestoga (Berwyn, Pa.): Shoup netted three goals last week, two against perennial power Germantown Academy, as Conestoga continued to press for No. 1 in the Pennsylvania state rankings. The two-time defending state champs are currently ranked No. 2.
To submit a Player of the Week nomination, e-mail sheldon.shealer@espn.com. The player of the week is announced each Wednesday and is based on performances from the previous Monday through Sunday.
SPONSORED HEADLINES
MORE BOYS' SOCCER HEADLINES
MOST SENT STORIES ON ESPN.COM
SPRING BOYS' SOCCER RANKINGS