Commentary
adidas ESP camp in a holding pattern
Updated:
October 29, 2009, 9:44 PM ET
By
Sheldon Shealer
| ESPNRISE.com
The adidas ESP boys' soccer camp was the one-stop shop for college coaches. It was labeled as a step on the way to stardom for youth players.
Now, it has fallen victim to economics and competition -- for at least a year.
[+] Enlarge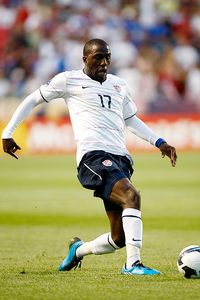 Jonathan Ferrey/Getty ImagesJozy Altidore is one of many current professionals who participated in the ESP camp as a teenager.
In a statement issued by adidas, business director Antonio Zea said, "We regret to announce that the 2010 program will be postponed."
Greg Ion, the ESP program director, did not return phone calls seeking comment.
One college coach who had attended every ESP camp said adidas was placing a lot of its resources in the 2010 World Cup, which will be taking place at the same time ESP's boys' event has been held. In addition, the coach said, since U.S. Soccer Federation Development Academy players were no longer allowed to participate in ESP, the event had taken a hit in terms of top-end talent. The ESP camp no longer featured either the current U.S. Soccer Residency or Development Academy players, which is taking away roughly 50 to 70 top prospects.
The coach further stated that it was his belief that the ESP camp would return in 2011 in some modified fashion.
The current decision by adidas brings to the end a 13-year run where the adidas ESP camp had become a fixture on the college recruiting circuit by annually showcasing 102 top prospects in a multi-day event with skill development and competition.
"It's always been one of the marquee events to see kids from all over country in a different environment," said Sasho Cirvoski, coach of defending NCAA men's champion Maryland. "We see the kids with their club teams, we see them with regional or national teams, but this was a place where you saw [them all together at one place]. It was one of the must-see events of the year."
In 2008, ESP organizers made a bold move shifting the focus to players one year younger. By bringing in rising sophomores and juniors instead of rising seniors, college coaches got a welcomed earlier look at potential prospects. However, in 2009, ESP moved back to rising juniors and seniors.
"I enjoyed [ESP] because it gave me an opportunity to show myself against much better players than I usually am [used to seeing]," said Mamadou Kansaye, a current high school senior. "Being there brought the best out of me."
Marquez Fernandez, Kansaye's high school teammate at McDonogh (Owings Mills, Md.), felt the event has prepared him for the transition to college.
"Throughout the whole year you are with one group of guys and you get this team chemistry and you build it up," he said, referring to club soccer. "But then, at ESP, there are 100 guys who are elite players and you have to find a way to create new chemistry. It's good preparation for going to college."
This past summer's event was highlighted by an appearance from former French national team player Zinedine Zidane, which led to Fernandez's favorite ESP memory.
"We were playing a small-sided game with goals," Fernandez said. "I played a thru-ball to him and he scored and gave me a thru-ball and I scored. Then we shook hands. It was very cool."
The list of former ESP campers that made it big include:
* Josmer Altidore (Generation adidas, Red Bull NY, US Men's U20 National Team)
* Michael Parkhurst (Generation adidas, NE Revolution, MLS Rookie of the Year '05)
* Brad Guzan (Generation adidas, CD Chivas USA, US Men's National Team)
* Maurice Edu (Generation adidas, '07 MLS #1 draft pick, Toronto FC)
* Chris Seitz (Generation adidas, Real Salt Lake, US Men's U20 National Team)
* Pat Noonan (NE Revolution, US Men's National Team)
* Danny Szetela (Columbus Crew, US Men's U20 National Team)
* Jonathan Spector (West Ham United, US Men's National Team)
* Kyle Martino (MLS Rookie of the Year '02)
SPRING BOYS' SOCCER RANKINGS