Commentary
Spalding adds to its legacy
Updated:
November 29, 2009, 8:06 PM ET
By
Sheldon Shealer
| ESPNRISE.com
FINKSBURG, Md. -- On a cool Sunday afternoon near Baltimore, the girls' soccer team from Archbishop Spalding (Severn, Md.) made the transition from perennial power to soccer dynasty.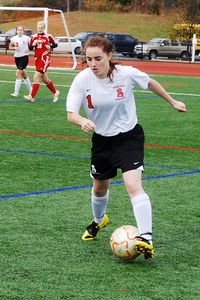 Sheldon Shealer/ESPN RISEMaggie Morrison scored a team-best 18 goals with 10 assists as Spalding put together a 20-0-1 season.
The Cavaliers captured their third Interscholastic Athletic Association of Maryland title in four years with this Sunday's 2-0 victory over Mercy (Baltimore, Md.), and the future looks even more promising.
Spalding's victory capped a 20-0-1 season and proved this program could make the change from its star-driven past to a more team-based approach. Five underclassmen started Sunday's final, with two scoring the goals and a keeper recording her 16th shutout of the season. Next fall, Spalding's varsity squad will add a group of players from this season's 15-0 junior varsity squad.
Spalding's previous IAAM titles were delivered thanks largely to the likes of national team player Christine Nairn and current Division I players Erica Page and Karen Blocker. This year's title run, though, was based on stellar defense coupled with timely scoring.
"Those past years we had a Christine Nairn, Karen Blocker, Erica Page, and this year we didn't have anybody that was known like those three were," Spalding junior Maggie Morrison said. "I think this year we played more as a team. We were depending on everybody instead of that one person, which I think is going to carry throughout the years."
Interestingly, Spalding's top two offensive performers this season -- Morrison (18 goals, 10 assists) and senior Courtney Hoyes (16 goals, six assists) -- are standouts in other sports. Morrison is being courted by Division I basketball programs and Hoyes committed to Florida for lacrosse.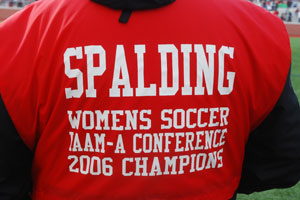 Sheldon Shealer/ESPN RISESpalding is making a habit of winning IAAM titles -- three in the past four years. Considering the school's varsity and junior varsity combined for a 35-0-1 year, the future looks promising.
Morrison put Spalding on the scoreboard early in the second half against Mercy after receiving a pass from Annie Hogan on the left wing. Morrison nutmegged the defender, regained possession of the ball and struck a right-footed low line drive that found the right netting in the 42nd minute. Mo Ostrowski, part of Spalding's talented freshman class, sealed the match by scoring her first varsity goal in the 72nd minute.
The shutout seemed fitting considering Spalding allowed a mere six goals all year while playing in Maryland's strongest conference. Mercy never really threatened as junior keeper Jocelyn McCoy collected her 16th shutout. Any time Mercy came close to mounting an attack, Ohio-bound senior sweeper Kirsten Frank and James Madison-bound senior defender Olivia Tomoff were there to clean it up.
This year's senior class wraps up its career with a four-year run of 76-3-7.
WHAT WAS THE POINT? After Montgomery (Santa Rosa, Calif.) and Maria Carrillo (Santa Rosa, Calif.) tied for the league title in girls' soccer last week, the two teams played a one-game playoff on Friday to determine the automatic section championships berth.
Fittingly, regulation ended in a 1-1 draw, but Maria Carrillo won in penalty kicks. However, when the section playoff pairings were announced on Sunday, Montgomery was awarded the No. 1 seed, with Maria Carrillo placed at No. 3. Casa Grande (Petaluma, Calif.), a league champion, is the No. 2 seed.
In retrospect, the one-game playoff seemed to carry no merit.
END OF THE ROAD: Billings West (Billings, Mont.) swept the boys' and girls' Class AA state titles Saturday, with the girls pulling off a Halloween surprise.
Bozeman (Bozeman, Mont.), the three-time defending state champ, beat Billings West earlier in the season. In the rematch, however, Danielle Muri scored her state-best 22nd goal of the season to cap the 2-1 comeback victory for Billings West.
MAN OF THE HOUR: The perfect season for the Pingry (Martinsville, N.J.) boys' team ended Saturday when West Virginia-bound keeper Travis Ives and Bridgewater-Raritan (Bridgewater, N.J.) held the New Jersey power to a 1-1 draw in the Mercer County Tournament final. Ives was named tournament MVP.
AROUND THE NATION: A slew of surprises at the Pennsylvania District 1 boys' soccer playoffs last week will have a dramatic effect on the next ESPN RISE FAB 50. The top three seeded boys' teams were all eliminated prior to the quarterfinals. & Bergen Catholic (Oradell, N.J.) edged Cliffside Park (N.J.), 2-1, in the Bergen County Tournament boys' soccer semifinals to earn a rematch with Don Bosco Prep (Ramsey, N.J.) in next week's final. Long known for football, Bergen Catholic now has a pair of soccer wins over Top 25 teams and can make a strong case for No. 1 in New Jersey. & The surprise of the week goes to the Medina (Medina, Ohio) girls' soccer team. Medina handled Strongsville (Strongsville, Ohio), 4-0, in a district final match. The fact Medina won is not as big of a surprise as the margin. Strongsville had defeated Medina earlier in the season.
Sheldon Shealer covers youth soccer for ESPNRISE.com. He can be reached at Sheldon.Shealer@espn.com.
SPONSORED HEADLINES
MORE BOYS' SOCCER HEADLINES
MOST SENT STORIES ON ESPN.COM
SPRING BOYS' SOCCER RANKINGS