Commentary
No rest for Sarah Bridges
Updated:
November 4, 2009, 10:09 AM ET
By
Brian A. Giuffra
| ESPN RISE Magazine
It was Thanksgiving afternoon 2008, and Sarah Bridges felt all alone.
[+] Enlarge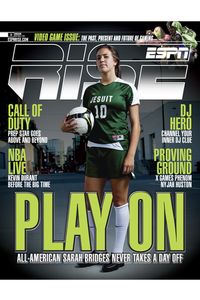 ESPN RISE MagazineAfter scoring 11 goals as a junior, Sarah Bridges was named a second team All-American.
The Jesuit (Portland, Ore.) senior was more than 2,500 miles from home with no family, no close friends and no football to watch on TV. She sat in an Embassy Suites hotel ballroom listening to a presentation about who knows what, looking down at an unappetizing plate of Thanksgiving food.
The saying "Just like grandma makes" had no meaning here.
The dry turkey, shriveled vegetables and mashed potatoes with too much butter didn't appeal to her. Neither did a sixth night of regimented hotel living, where her greatest thrills were watching a "House" marathon on television and going out to the movies once.
Yet this was where Bridges needed to be -- where she wanted to be. And no boring nights, feelings of loneliness or dry turkey dinners were going to change that.
At only 16, Bridges was taking the first step toward fulfilling her ultimate dream of playing for the U.S. National Team by attending the U.S. Youth Soccer Olympic Development Program Girls Thanksgiving Interregional in Coral Springs, Fla. The week-long event featured many of the nation's best players broken up into four regional teams.
As much as she hated being away from home at Thanksgiving, there was nowhere else she'd have rather been than in Florida chasing her dream.
"I kept thinking, 'Why am I not at home watching football with my family?'" Bridges says. "But it was a very important experience. Playing in front of the National (Team) coaches was great."
Bridges knows she will have to make sacrifices to get where she wants to go. If it means missing holidays with her family or never taking a day off from practice, so be it. She treats soccer like a full-time job, and her work is paying off.
Bridges was named to the ESPN RISE All-American second team after tallying 11 goals and six assists for Jesuit as a junior last fall. The 5-foot-8 midfielder was one of the most sought-after recruits in the country and has committed to play at collegiate powerhouse Portland.
"She lives to get better," Jesuit coach Ken Skipper says. "Our best player on the team is our hardest worker on the team by far. She's just committed to being the best she can be."
That dedication hasn't gone unnoticed. Bridges was selected to the ODP Region IV team in 2008. In 2007, she attended the Nike Premier 50, an elite-level girls' soccer camp featuring top players from around the country.
With those experiences under her belt, Bridges is continuing to work her way toward representing the Stars and Stripes. The next step would be landing a tryout for the U.S. U-18 National Team.
[+] Enlarge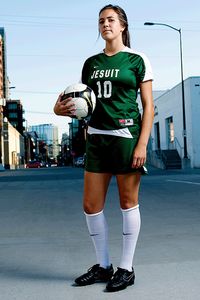 Michael Scmitt/ESPN RISE MagazineBridges is looking forward to a chance to play for the national team.
"I think she'll get her chance for the National Team this year," says Laura Schott, Bridges' ODP coach. "She has special abilities."
Perhaps Bridges' greatest attribute is her work ethic. In addition to her duties for Jesuit and the ODP team, Bridges plays for the FC Portland club team, so she rarely goes a day without kicking a soccer ball. Her longest official break from soccer during the year is two weeks off after the high school season ends. But for Bridges, time off isn't really off at all.
She refers to her two-week break as "offish." During that time, Bridges takes a two-day break to recover. That's it. On Day 3, she's running. On Day 4, she's dribbling a soccer ball and running. By Day 5, full-fledged soccer workouts are back on her schedule.
"I don't take time off," Bridges says. "The only time I've taken off that much time is…"
Bridges pauses. She can't think of it. Then she remembers she got four days off last Labor Day. But that doesn't count because two of the days were spent watching her future college teammates play in Seattle. The next day she played for Jesuit in a varsity vs. JV scrimmage, and on the fourth day she practiced by herself.
"Most soccer players aren't going to complain that they don't have time off," Bridges says. "You want to be out there every day."
Even on days when Bridges thinks she couldn't stand another practice, she always finds the motivation to take the field.
"I'll have days that I don't want to go out there and play, but once I get out there I'm glad I did," she says. "You can complain all you want, but those little things pay off."
Bridges hopes they pay off in a big way during her senior year. She leads a pack of eight Jesuit seniors who have been playing together since they were freshmen, five of whom have committed to play Division I college soccer.
The Crusaders were the nation's top-ranked team in the ESPN RISE FAB 50 as of press time, but a state title is what the team is truly chasing after losing in the Class 6A state quarterfinals last season.
"The expectation is that we should win this year," Bridges says. "I would be really disappointed if we didn't pull away with a state championship."
Of course, Bridges already has plenty of goals set for her future -- earning playing time at Portland as a freshman and getting invited to a Youth National Team training camp chief among them. And Bridges knows as well as anyone what it's going to take to achieve those goals: sacrifice.
Even if it means stomaching a few more plates of dry turkey along the way.
Brian A. Giuffra covers high school sports for ESPN RISE Magazine.
SPONSORED HEADLINES
MORE BOYS' SOCCER HEADLINES
MOST SENT STORIES ON ESPN.COM
SPRING BOYS' SOCCER RANKINGS