Commentary
Rye eyes another state title
Updated:
November 6, 2009, 10:44 AM ET
By
Lem Satterfield
| Special to ESPNRISE.com
Tatiana Saunders was a freshman goalkeeper when Rye High School (Rye, N.Y.) lost its first-ever, state title game appearance in 21 penalty kicks to Our Lady of Lourdes (Poughkeepsie, N.Y.).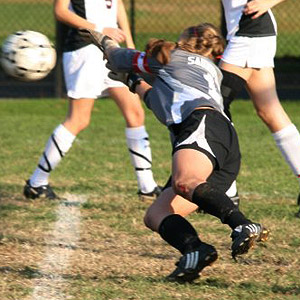 Melanie CaneTatiana Saunders returned from a stint with England's under-17 national team to keep Rye undefeated.
"In fact, we had 11 kicks against us," recalled Saunders, "and I think I saved seven out of those."
That loss served as motivation for players such as Saunders and star forward Lia Bellizzi, who are now juniors on a squad that is riding a 21-0-2 unbeaten streak during which it has outscored its rivals by a combined 57-4 with 19 shutouts.
This year's Garnet are defending Class A state champions in New York's second-highest enrollment category, and Saunders and Bellizzi are a major reason why.
"Tatiana is very tall, slender, strong, and she's the best goalie that I have ever coached or seen at the high school level by far. Once she makes a tremendous save, she can punt the ball well beyond midfield, or she can throw ball accurately, like a rocket, to midfield," coach Richie Savage said.
"Lia is short, strong and fast," said Savage, who is in his 14th season. "And she's coming off of a year when she was named an All-American as a sophomore."
Already this year, Bellizzi (17 goals, seven assists) has had a hand in the scoring of all but 17 of the Garnet's 40 goals. A member of the Under-17 U.S. National Team, Bellizzi ranks as Rye's fourth-leading scorer all-time.
Ahead of Bellizzi on all-time scoring are professional players Alex Singer and Greer Barnes, as well as Alex Rimmer, who, as a collegiate freshman, leads New York's Hamilton College with 15 goals.
When it comes to her play, Bellizzi deflects praise to her teammates.
"There's so many girls stepping up for our team, and we need that as defending state champ, because there's a big target on our backs and everyone's out to get us," Bellizzi said.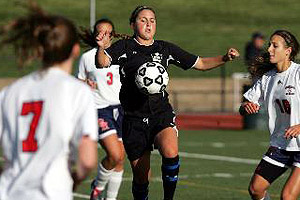 Melanie CaneLia Bellizzi has factored in all but 17 Rye goals as the squad is off to a 15-0-2 start.
"I think that that pumps us up even more when we play," Bellizzi said. "It makes us come out even stronger to play together and to play for each other."
As for Saunders, last month she played with England's Under-17 National Team in Macedonia, where she did not allow a goal in two of the three victories.
"I just got back from Macedonia, started two out of the three games, and we won two games 7-0 and 3-0," Saunders said. "I felt as if we played really well. Just the atmosphere of going up against international players -- it was a phenomenal experience."
Saunders has a career goals-against mark of .285 at Rye High, and has given up only three goals this year against 14 shutouts.
"A lot of players I know who play on excellent club teams don't have high school teams that are as good, whereas we have a great group of girls, and a great coach," said Saunders, a 5-foot-11 keeper who has made 48 saves for this year's Garnet.
"At our school, we have a very physical, talented group of girls to work with," Saunders said. "So we don't have that kind of drop in talent."
Freshman Lexi Hejazi provides a good example of that. For when Saunders missed four games playing abroad, Hejazi came up with three shutouts while yielding just one goal as her replacement.
"It's interesting that the freshman year for the juniors on this team was the first time that our girls soccer program has ever had a chance at winning a state championship," Savage said. "Before that, when they were eighth-graders, we barely made the playoffs, and we got knocked out in the first round. Before that, [Rye played spring soccer] and we had no state championships to play for."
A year ago, the Garnet took a record of 18-3-1 into their last regular-season game, which they lost 2-1 to East Chester. From there, the Garnet reeled off six consecutive victories, outscoring their rivals 17-1 with five shutouts on the way to earning the state title.
This year's Garnet have a record of 15-0-2 heading into their fourth straight playoffs, having outscored their opposition 40-3.
"Before we go out on to the field, we scream, 'Together,' because that's our motto. We do everything for each other, and we love each other. We're basically a family," Bellizzi said.
In Saturday's 4-0, first-round shutout of Sleepy Hollow, Bellizzi scored twice and assisted on a third goal, while Saunders was called upon to make just one save.
"Our first year in the fall, a lot of girls chose to play field hockey, which had won three state championships. Even with that, our soccer team still made the playoffs," Savage said. "A year after that, when we lost in the state finals in penalty kicks, that built a lot of character and fueled a fire in the girls in our program."
SPONSORED HEADLINES
MORE BOYS' SOCCER HEADLINES
MOST SENT STORIES ON ESPN.COM
SPRING BOYS' SOCCER RANKINGS