Commentary
St. Ignatius, Lincoln battle for top honors
Updated:
November 13, 2009, 8:36 PM ET
By
Sheldon Shealer
| ESPN RISE
Perhaps it's fitting that one of high school soccer's tallest players will be a focal point in the biggest game of the year.
[+] Enlarge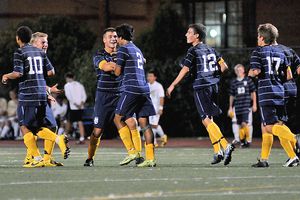 St. Ignatius soccerSt. Ignatius players celebrate one of the team's 85 goals this season on the way to a state final appearance.
ESPN RISE FAB 50 No. 1 St. Ignatius of Cleveland (22-0-0) clashes with No. 4 Gahanna Lincoln (21-0-1) at Columbus Crew Stadium on Friday at 7 p.m. for the Ohio Division I boys' soccer state championship.
St. Ignatius is the defending state champion and Lincoln features youth national team pool player Wil Trapp and 6-foot-5 goalkeeper Ryan Grimme.
The Ohio state soccer championships, including the 7 p.m. St. Ignatius-Lincoln match, will be streamed live online at ohiohssports.com.
These two teams could not be more statistically well matched. In 22 contests, St. Ignatius has scored 87 goals, given up six and posted 16 shutouts. Lincoln has netted 75 goals, given up four and recorded 18 shutouts.
St. Ignatius' offense is led by seniors Vaughn Spurrier (16 goals, 12 assists), Paul Castrigano (17, 3), Alec King (9, 7), and juniors Ryan Ivancic (9, 8), Yianni Sarris (8, 4) and Luke Blades (7, 4). Joe Kalt, the Wildcats' keeper, has allowed five goals in 22 appearances and his 16 shutouts this season gives him a state-record 44.
Lincoln counters with junior forward Chris Davis (14 goals, nine assists), seniors Sean Lipps (8, 10) and Cody Popelas (10, 9) and junior Trapp at attacking midfield. Davis, Tyler Woolum and Trapp are members of the Columbus Crew Academy club team.
St. Ignatius and Lincoln have one common opponent -- Jerome (Dublin, Ohio). St. Ignatius defeated Jerome 3-1 on Sept. 12 and 12 days later, Lincoln won 3-0.
The net effect of the FAB 50 race is simple. A victory by St. Ignatius earns this Cleveland power its second FAB 50 national title. A loss by St. Ignatius will turn the top spot over to St. Thomas Aquinas (Overland Park, Kan.), with Lincoln making a strong case for No. 2 in the rankings.
SPONSORED HEADLINES
MORE BOYS' SOCCER HEADLINES
MOST SENT STORIES ON ESPN.COM
SPRING BOYS' SOCCER RANKINGS