Commentary
Lincoln proves to be top cats
Updated:
November 29, 2009, 8:45 PM ET
By
Sheldon Shealer
| ESPN RISE
COLUMBUS, Ohio -- With a quiet confidence, Wil Trapp quickly set the ball, eyed the keeper, delivered his penalty kick into the left side of the net then made a U-turn and charged his Lincoln (Gahanna, Ohio) teammates.
[+] Enlarge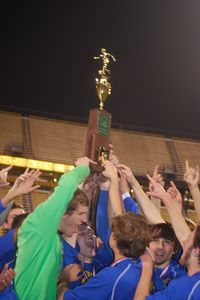 Sheldon Shealer for ESPN RISELincoln players celebrate after getting handed the state title trophy.
Trapp's conversion lifted FAB 50 No. 4 Lincoln past No. 1 St. Ignatius (Cleveland, Ohio) 4-3 in penalty kicks after a scoreless 110 minutes of regulation and overtime play in the Ohio Division I boys' final at Columbus Crew Stadium on Friday.
The result ends a six-week stay at No. 1 for the St. Ignatius Wildcats and secures the Lincoln Lions a spot among the nation's top three teams this fall. This was a statement result not only for Lincoln but also central Ohio, which swept all three boys' soccer finals. St. Frances DeSales (Columbus, Ohio) defeated Bay (Bay Village, Ohio) 1-0 in the Division II final, and Worthington Christian (Worthington, Ohio) edged Cuyahoga Valley Christian Academy (Cuyahoga Valley, Ohio) 2-1 in the Division III title match.
Trapp's kick was the last touch of high school soccer in a memorable 2009 season in Ohio. St. Ignatius' rise to No. 1 was built on a 43-match undefeated streak (31 straight wins until Friday), which stands as the second longest in state history. Lincoln welcomed the addition of youth national pool player in Trapp and rode his skills to a first-ever undefeated season.
Both teams will be hit hard by graduation, with Lincoln losing eight starters and St. Ignatius graduating seven. Lincoln, however, will return its two more dynamic offensive players in Trapp and Chris Davis.
"Finally," Lincoln senior keeper Ryan Grimme said, while catching his breath after a celebration that saw the Lincoln players leap into the student section with the trophy. "Last year we got knocked out on PKs. So this year, to win it on this stage, really means a lot to me going out that way."
Both teams had their chances to win in regulation, and even in overtime.
But considering through 44 previous matches, the two teams had surrendered a meager 11 goals, it was not surprise the game was a stalemate.
"Both teams were so dangerous at times, you would have liked to have seen this finished in regulation," St. Ignatius coach Mike McLaughlin said. "You don't want two good teams to go to PKs, but both defensives were so solid you could tell it was headed in that direction."
[+] Enlarge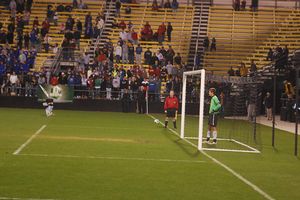 Sheldon Shealer for ESPN RISERyan Grimme's 6-foot-5 frame appears to fill up the goal.
Once it got to PKs, Grimme delivered. The 6-foot-5 keeper made diving saves of the first two St. Ignatius attempts.
"The first one, I was all pumped up. The adrenaline was going," Grimme said. "I guessed and right off his foot I could see it was coming, and I just stuck my hands out there and got a hand on it. The second save, I tried to fake one way and go the other, and I got lucky."
Meanwhile, Sean Lipps' conversion for Lincoln gave the Columbus suburb school a 1-0 lead. From that point forward, the next five players converted kicks, leaving the shootout at 3-3 with Trapp stepping to the line.
"I really wasn't too nervous," he said. "We practice PKs all the time, so I'm pretty used to a little bit of pressure. I walked up. I knew where I was I going to go, so I just hit it with the right power and put it in. ... After I hit it, I took a quick glance and saw it go in. I was automatically turning and running away."
While Grimme put Lincoln in position to win with his early saves, he credited his teammates for finishing the job, especially Trapp on the final attempt.
"Will came in this year and he's been great for us," Grimme said. "He's been our leader, our emotional leader and he always works hard in practice. So going into that [final kick], I wouldn't have rather had anyone else in that spot."
SPONSORED HEADLINES
MORE BOYS' SOCCER HEADLINES
MOST SENT STORIES ON ESPN.COM
SPRING BOYS' SOCCER RANKINGS