Commentary
If the cleats fit, wear 'em ... to bed?
Updated:
November 19, 2009, 12:37 PM ET
By
Dan Guttenplan
| ESPN RISE
This story appeared in the Minnesota edition of the November ESPN RISE Magazine.
[+] Enlarge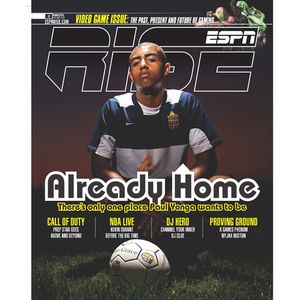 ESPN RISE MagazineFollowing in his brother's footsteps, Totino-Grace (Fridley, Minn.) senior Paul Yonga is right at home on the soccer field.
Paul Yonga's mother, Diane, was probably the first to believe her son might one day be the best high school soccer player in Minnesota. Shortly after the younger of her two sons learned to walk, he had a soccer ball at his feet. By age 3 or 4, Paul wore shin guards, soccer socks and cleats to bed every night, and his mother started to think he had a gift.
Turns out, she was right. Yonga, a senior center midfielder at Totino-Grace (Fridley, Minn.), is Minnesota's reigning Gatorade State Player of the Year. He has been the most skilled and physically imposing player on nearly every soccer field he's stepped on for as long as his family can remember. He won most of the skill competitions at summer camps even when he was going up against kids five or six years older than him.
Joe Yonga, who is five years older than Paul and concluded his collegiate soccer career as a captain of Cornell's team last fall, played on youth league teams from age 5 to 10. Baby bro Paul watched every game from the sideline, waiting to fulfill the minimum age requirement for an under-8 club squad. The moment Paul stepped on the field as a 5-year-old, his brother noticed he was "head and shoulders above the rest of the kids."
"I started to sense he'd probably be better than me one day," Joe says.
Their father, Jerry, a native of Cameroon who taught his boys the sport through training and video sessions in their concrete basement, may have been the last to come around. He coached both of his boys' teams while they were growing up and never wanted to inflate their egos. Then one day, when Paul was a freshman in high school, a neighbor knocked on the door of the Yonga household and told Jerry he had just watched Paul juggle a soccer ball for a solid hour.
"My neighbor stood there watching him juggle 1,000 times," Jerry says. "It's not exciting to watch, but it's mesmerizing to witness that focus. I knew Paul had something right there."
Right around the time of that juggling exhibition, Paul started to excel at the high school level. While he didn't start at first for Totino-Grace, coach Bill Vance couldn't resist inserting his standout freshman into the starting lineup by midseason. Paul drew tons of defensive attention, and he was fouled so hard during the state semifinals that he was knocked out of the game for good.
"Guys are always looking to take me out," Paul says. "When you have two or three guys on you, you still have to find a way to win."
Winning is one area in which his brother still has bragging rights. Joe won state titles in 2002 and 2004 at Totino-Grace, becoming the program's all-time scoring leader in the process. The record was broken in 2006 by current University of Wisconsin standout Brandon Miller, though Vance expected Paul to eclipse the scoring mark this fall.
But without a state title to his record, and with Totino-Grace's 1-0 loss to Blake School in last year's Class A state final still fresh in his mind, Paul wants a state championship to validate his high school career.
"Joe and Paul have a healthy rivalry," Vance says. "After we lost that state title game on a goal in the last minute, I heard Joe say to Paul, 'Well, I guess I'll always be able to say I won more state titles than you.'"
Joe knew those words would only motivate his younger brother.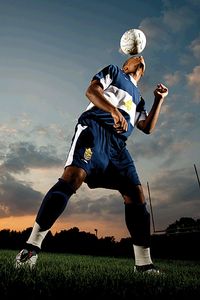 Carlos Gonzalez/ESPN RISE MagazineAfter registering 22 goals and 24 assists last season, Yonga was named Minnesota's player of the year.
"He could definitely get in my ear about his individual accolades," Joe says. "More than anything, he wants a state championship in high school. I'm sure it eats at him that I've got two, but he has done more individually. We both have things to brag about."
It's not Paul Yonga's style to brag, however. His friends often tell him if the roles were reversed, they'd tell everyone within earshot about their soccer skills. They urge Yonga to talk about the time he played on the same team as Zinedine Zidane during a scrimmage at the exclusive adidas ESP camp in Denver last summer. The French star made an unexpected appearance on the final day and played one half of a scrimmage at center midfield in front of Yonga, who pushed back to stopper.
But instead of boasting about playing with Zidane, or being selected to the adidas/NSCAA All-Region V (Midwest) team, or being recruited by schools like Wisconsin and Marquette, the 5-foot-11, 180-pounder keeps his mouth shut off the field -- even if he's what his father calls a "smooth operator" on it.
"He gets mad at me even when I brag to our family," his mom says. "He must feel pressure at times because people notice all of his accomplishments. But he's at home on the soccer field. That's where he's comfortable."
Yonga's game has not stopped evolving. After registering 13 goals and four assists as a sophomore at Totino-Grace, he vowed to improve his passing. He succeeded last fall, recording 24 assists to go with his 22 goals. And in a demonstration of his leadership, the two-year captain kicked off his senior season in August by giving a speech to the entire team, offering his cell phone number to any teammate who found himself in need of a ride -- at any time of day, regardless of location.
"I didn't ask him to communicate that," Vance says. "That speaks to his character. The hardest part about this season was telling a few kids they'd be playing JV. All of them were upset because they wanted to be able to say they played with Paul Yonga."
Totino-Grace has a long tradition of producing soccer players who succeed at the next level. Yonga's brother was one of the most recent, earning All-Ivy League honorable mention three times at Cornell. And Miller was last year's offensive MVP at Wisconsin. All signs point to Paul being the next. His father has already been approached by scouts for the U.S. National Team.
So perhaps we can expect to hear many more tales of Yonga's soccer exploits in the years to come. Just don't expect to hear them from him.
SPRING BOYS' SOCCER RANKINGS