Commentary
Coppell, El Camino Real top the charts
Updated:
November 25, 2009, 12:11 PM ET
By
Sheldon Shealer
| ESPN RISE
The girls' soccer team at Coppell (Texas) is as solid as it gets. The boys' team at El Camino Real (Woodland Hills, Calif.) is in flux. However, they start the winter high school soccer season as the FAB 50 preseason No. 1 teams.
[+] Enlarge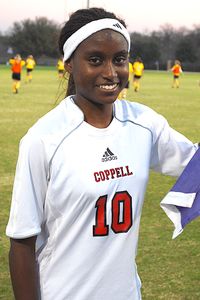 Sheldon Shealer/ESPNRISEChioma Ubogagu led Coppell to a state title last winter.
Today, we launch the preseason Top 25 teams for boys and girls winter-playing states.
On Saturday, the rest of the FAB 50 will be released. Regular-season play has started in Florida, but no results have been taken into account as the rankings were compiled in late October and early November.
Coppell is the defending Class 5A state champion in Texas. The roster includes youth national team player Chioma Ubogagu, one of the nation's top 2011 recruits, and Alyssa Diggs, a Division I commit who was the star of last year's state tournament run. The Cowgirls return 20 of 26 players from last year's 25-win team.
Meanwhile, El Camino Real is No. 1, but with a big question mark. Going by talent in the building, it's a no-brainer. In fact, the projected starting and back-up keepers have committed to Division I programs. The issue facing coach David Hussey is will the elite club players actually represent the high school team this winter? El Camino Real projected eight starters returning from last year's Southern Region championship squad. That might very quickly turn into five, Hussey said.
The battle for preseason No. 1 in girls' soccer basically comes down to two frontrunners Coppell and Melbourne (Fla.). Melbourne is the defending state champion and has national recruit Kristin Grubka returning. Grubka, a junior, has committed to Florida State. Melbourne has an easier road to an undefeated season and could end up No. 1 again. Coppell plays a far more demanding schedule that includes an appearance in the Nolan Showcase, featuring top programs from Texas and California.
In boys' soccer, there was no clear No. 1 this year. California programs seem to be in a battle of players with the Academy teams, and many of the top players are passing on high school ball. Texas was loaded with talent last year, but there does not seem to be a team on the level of Plano and Dallas Jesuit from last year. This could be the year a multiple-loss team finishes No. 1 in boys' soccer.
Here is the preseason Top 25 for the winter:
(Team capsules will be included in Saturday's complete FAB 50 release)
Boys Soccer
1. El Camino Real (Woodland Hills, Calif.)
2. Marcus (Flower Mound, Texas)
3. Plano (Texas)
4. Bellarmine College Prep (San Jose, Calif.)
5. JSerra (San Juan Capsitrano, Calif.)
6. Jesuit (New Orleans, La.)
7. Loyola (Los Angeles, Calif.)
8. Lopez (Brownsville, Texas)
9. Melbourne (Fla.)
10. Boca Raton (Fla.)
11. Servite (Anaheim, Calif.)
12. Corona del Sol (Tempe, Ariz.)
13. Varela (Miami, Fla.)
14. Dallas Jesuit (Dallas, Texas)
15. De La Salle (Concord, Calif.)
16. Bullard (Fresno, Calif.)
17. Brophy Prep (Phoenix, Ariz.)
18. Valencia (Placentia, Calif.)
19. Katy (Texas)
20. Wellington (Fla.)
21. St. Francis (La Canada, Calif.)
22. Saddleback (Santa Ana, Calif.)
23. Allen (Texas)
24. Santa Barbara (Calif.)
25. Buchanan (Clovis, Calif.)

Girls' Soccer
1. Coppell (Texas)
2. Melbourne (Fla.)
3. San Clemente (Calif.)
4. Long Beach Wilson (Long Beach, Calif.)
5. McKinney Boyd (McKinney, Texas)
6. Xavier Prep (Phoenix, Ariz.)
7. Ursuline Academy (Dallas, Texas)
8. Westview (San Diego, Calif.)
9. Santa Margarita (Rancho Santa Margarita, Calif.)
10. The Woodlands (Texas)
11. Los Alamitos (Calif.)
12. Carondelet (Concord, Calif.)
13. Castro Valley (Calif.)
14. Ponte Vedra (Fla.)
15. Nolan Catholic (Fort Worth, Texas)
16. Amador Valley (Pleasanton, Calif.)
17. Buchanan (Clovis, Calif.)
18. Torrey Pines (San Diego, Calif.)
19. St. John's Country Day (Orange Park)
20. Boca Raton (Fla.)
21. San Ramon Valley (Danville, Calif.)
22. Arlington Martin (Arlington, Texas)
23. Esperanza (Anaheim, Calif.)
24. Burlingame (Calif.)
25. George Jenkins (Lakeland, Fla.)

SPONSORED HEADLINES
MORE BOYS' SOCCER HEADLINES
MOST SENT STORIES ON ESPN.COM
SPRING BOYS' SOCCER RANKINGS