Commentary
Kicking it in California
Updated:
December 11, 2009, 10:06 AM ET
By
Sheldon Shealer
| ESPN RISE
Early December means tournament time in California high school soccer, and two important girls' events are taking place this weekend.
[+] Enlarge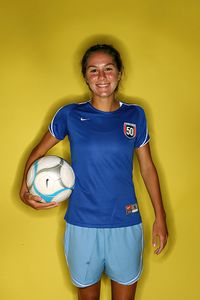 Tom HauckAlthough Kylie Bono has graduated from Esperanza, this southern California power is undefeated in the early part of the high school season.
In San Diego, top programs from the Southern part of the state will clash in the Butch Lee Tournament at Cathedral Catholic (San Diego, Calif.) and in Orange County, nearly half of the 20-team field is still alive for the Aliso Cup, hosted by Aliso Niguel (Aliso Viejo, Calif.).
The Butch Lee event started Thursday and continues today and Saturday. The Aliso Cup is spread over a week of action with third and fourth-round play taking place Saturday.
Between the two events are nine FAB 50 girls' teams, making this weekend's results important to the reshaping of next week's winter FAB 50.
Goals by Teegan Cramer and Breanna Isbell helped Aliso Niguel to a 2-1 victory over Poly (Long Beach, Calif.) in Thursday's action. A win by Aliso on Saturday against Orange Lutheran (Orange, Calif.) secures the group title and a semifinal appearance. Other teams in control of their destinies in group play are Los Osos (Calif.), Wilson (Long Beach, Calif.), Esperanza (Anaheim, Calif.) and Upland (Calif.).
The marquee showdown Saturday will pit Wilson and Esperanza. Both programs have held FAB 50 No. 1 rankings in the past two seasons. Both are 2-0 in the Aliso Cup and undefeated on the season. The winner of Saturday's clash will be in the Aliso Cup semifinals, and a tie will lead to Esperanza advancing on goal differential.
Esperanza, after graduating the likes of national recruits Kylie Bono and Natalie Garcia, have become a more balanced attack this season with by by Rylee Baisden, AB Ogiamien and Nosa Ogiamien. The Aztecs had three players score in a 3-1 victory over Ayala on Thursday, and four players have scored the team's five goals in the tournament.
Long Beach Wilson is 2-0 on the season with wins over Ayala (3-1) and Dana Hills (1-0).
Esperanza defeated Long Beach Wilson on penalty kicks in last year's Aliso Cup final.
While the Aliso Cup brings together many of the top teams from the CIF-Southern Section, it's the Butch Lee Tournament that helps size up the level of play between the Southern and San Diego sections.
The two key matches Saturday feature Torrey Pines (San Diego, Calif.) vs. San Clemente (Calif.) and Mater Dei (Santa Ana, Calif.) vs. Bishop's School (La Jolla, Calif.). All but Bishop's are in the FAB 50, but Bishop's recent play could earn it a spot in the national elite. Torrey Pines, with five players from the club national championship Surf squad, is coming off a surprisingly easy 5-0 victory over perennial San Diego frontrunner Westview (San Diego, Calif.).
Unlike the Aliso Cup, the Butch Lee Tournament is set up more as a mixer to guarantee certain matchups. The net result from this weekend of girls' soccer in southern California will be fair understanding of the top teams -- for now -- from this talent-rich region.
Sheldon Shealer covers youth soccer for ESPNRISE.com. He can be reached at Sheldon.Shealer@espn.com.
SPRING BOYS' SOCCER RANKINGS