Commentary
These three things
Updated:
January 12, 2012, 12:43 PM ET
By
Matt Remsberg
| ESPN RISE
This story appeared in the Greater Seattle edition of the December 2009 ESPN RISE Magazine.
[+] Enlarge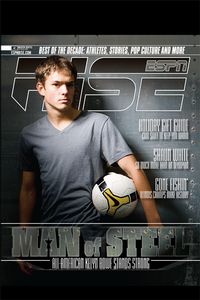 ESPN RISE MagazineFederal Way (Federal Way, Wash.) senior Kelyn Rowe will play at UCLA next year.
In the past 18 months, Federal Way (Federal Way, Wash.) senior Kelyn Rowe has played soccer on fields from coast to coast and in half a dozen countries around the world. But whether he's in Argentina or Uruguay with the U-18 Men's National Team or on a tour of Europe with a select squad of American high schoolers, there's one constant in Rowe's pre-game routine that always puts him in a familiar frame of mind as he prepares to take the field.
For as long as Rowe can remember, his dad, Scott, has offered him three pieces of advice before every game. Whether the message is delivered in person as Kelyn is running out the front door for a game in Greater Seattle or via text from halfway around the globe, the words are always the same: Have fun, be creative and don't let anyone outwork you.
"They're really good thoughts to have in your head when you're taking the field," Rowe says. "It's definitely become a tradition."
"I was a baseball and football guy growing up," adds Kelyn's father. "So I've been learning the game of soccer as we go. I think those three things are pretty applicable across all sports, though. They're all pretty fundamental, and you can't overlook the fundamentals."
Those three keys have become the foundation of Rowe's game. The 5-foot-8, 150-pound forward is relentless on the attack and can beat defenders and goalies a million different ways. A 2008 NSCAA/adidas Youth All-American, he has committed to UCLA.
Rowe led Federal Way to the state championship game as a freshman before giving up high school soccer the past two years to focus on playing with Crossfire Premier SC in the U.S. Development Academy, a national travel league for the country's top prep players. But thanks to a change in the Development Academy's schedule, Rowe will be able to return to the field for the Eagles in the spring for one last shot at state glory.
Have fun.
Rowe has grown up to be an extremely competitive player, which sometimes gives the appearance he isn't having any fun on the field. But for as long as he can remember, he's never enjoyed anything more than playing soccer.
He started playing formally around age 6 when he began taking weekly group lessons with a local coach, T.R. Stoneback, who drilled the kids repetitively on their dribbling and ball control.
"We'd just line up and do dribbling drill after dribbling drill," Rowe says. "Doing a drill perfectly or being the first to finish or leading a drill, those were the things I loved back then. I lived for those practices each week."
On the field, Rowe showed plenty of early promise. His mother, Sherri Kruzner-Rowe, recalls watching her son time and time again wait patiently for the ball to pop out from a huge crowd of players and then race all the way down the field uncontested to score.
[+] Enlarge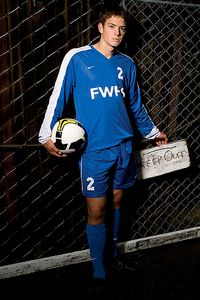 Kevin Casey\ESPN RISE MagazineRowe, a forward, garnered NSCAA/adidas Youth All-American honors in 2008.
It's possible the only thing he enjoyed more than those early games and training sessions were the one-on-one soccer battles with his older sister, Bree, who's now a junior on the Oregon women's soccer team. Their most common arena was the family's living room, where they battled with a mini soccer ball to score goals by shooting the ball off the wall below a specific window or by hitting a step on the opposite side of the room.
"We never spent time putting any furniture in the living room until a few years ago when Bree went off to college," says Kruzner-Rowe, who played college soccer at San Diego State. "But I'll give them credit, they never broke any windows, as far as I know. They learned to keep the ball low."
Be creative.
Those living room wars -- and there was more than enough shoving, diving and screaming for them to qualify as wars -- went a long way toward sharpening Rowe's creativity. He sees angles and openings on the field his opponents can't fathom. And he's not afraid to take chances.
Bernie James, Rowe's coach with Crossfire Premier SC, remembers one game in which Rowe noticed the opposing goaltender was too far out on the opening kickoff, so he promptly fired a shot from midfield that snuck under the bar as the keeper scrambled backward helplessly.
"He tries so many things that you'd never expect, and he's got such great speed that he's a nightmare to defend," James says. "He loses the ball sometimes, of course, but he hustles back and does all he can to win it back."
Don't let anyone outwork you.
While Rowe is a gifted finisher with a fantastic first touch, there's no denying his work ethic is the defining quality of his game. He runs in every game like it's a World Cup showdown, and he practices the same way.
With a mom who more than knows her way around a soccer field, Rowe takes advantage of that benefit by recruiting her regularly for practice sessions. And they're anything but leisurely.
"One thing that separates him is that he practices at game speed," his mom says. "He knows that if you aren't practicing something at full speed, it's not really going to help you during a game."
To reach the lofty goals he has set, Rowe better be practicing at high speed. He hopes to avenge the state finals loss from freshman year this spring, while at the same time leading Crossfire Premier SC deeper in the Development Academy playoffs than it's gone either of the past two years. After that, he wants to earn a starting role for UCLA as a freshman next fall and eventually play professionally overseas.
He can count on hearing a familiar pre-game mantra to help him every step of the way.
ESPNHS
Matt Remsberg is a senior editor for ESPNHS.
E-mail him
here
.
SPONSORED HEADLINES
MORE BOYS' SOCCER HEADLINES
MOST SENT STORIES ON ESPN.COM
SPRING BOYS' SOCCER RANKINGS