Commentary
Disney Showcase news and notes
Updated:
December 31, 2009, 12:29 AM ET
By
Nicholas Murray
| Special to ESPN RISE
LAKE BUENA VISTA, Fla. -- Dallas Texans defender James Hickey said he didn't see it coming.
[+] Enlarge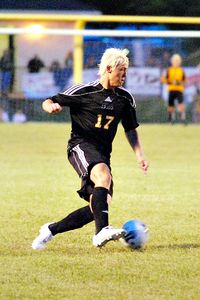 Didier Nobels Emmett Lunceford was one of the players named to the Disney Soccer Showcase All-Star team.
It's likely that none of the other members of the Disney Soccer Showcase boys' under-17 All-Star team did either, but the 17 players selected will now have something special to look forward to at the conclusion of their high school and club seasons in a trip to England to train and play at Chelsea Football Club in London.
"For my whole life, for my 13 years, I've been dreaming of this," Hickey said. "It's just an honor to be called up. All of us have been working our butts off just to get here, and we've got our chance."
Thirteen of the 24 teams represented in the Showcase division of the event were represented on the squad, with the Texans, Baltimore Bays, Concorde Fire and Solar Academy each sending two representatives. Baltimore midfielder Malcolm Harris, 15, said that as a Chelsea fan, he couldn't wait to watch players like Frank Lampard and Didier Drogba train and play.
"It means a lot," Harris said. "Just being called up to be one of the best in this tournament being younger than everybody is a good motivator."
The team will be led by Solar Academy coach Kevin Smith. Smith echoed the words of former U.S. international John Harkes, who was on hand to speak to the players after presenting them with their All-Star jerseys, that this was a great opportunity to compete and play against some of the best young talent in England.
"It's an opportunity of a lifetime to get the exposure and see how it's done," Smith said. "For these kids to have the exposure and have a chance to be seen by all these scouts and Chelsea Football Club, I mean, what a chance of a lifetime to try and catch someone's eye as well."
All-Star Roster
GOALKEEPERS (2) -- Andrew Glaeser (Foothill FC; Mountain View, Calif.); Christopher Maierle (Hicksville American SC; Hicksville, N.Y.).
DEFENDERS (5) -- James Hickey (Dallas Texans; Plano, Texas); Derek Creviston (Concorde Fire; Atlanta, Ga.); Chris Williams (Florida Rush; Ocoee, Fla.); Murphy Short (Solar Academy; Dallas, Texas); Stewart Abrahart (Alpharetta Ambush; Alpharetta, Ga.).
MIDFIELDERS (6) -- Malcolm Harris (Baltimore Bays; Baltimore, Md.); Andre Reyes (Dallas Texans; Plano, Texas); Omar Mata (Tulsa Soccer Club; Tulsa, Ok.); Emmett Lunceford (Carolina Elite; Greenville, S.C.); Brian James (Weston Academy; Weston, Fla.); Chandler Crosswait (Solar Academy; Dallas, Texas).
FORWARDS (4) -- Michael Gamble (Baltimore Bays; Baltimore, Md.); Khaliq Mckenzie (Sockers FC; Chicago, Ill.); Jonathan Salcedo (Santa Clara Sporting; Santa Clara, Calif.); Agyeman Botchway (Concorde Fire; Atlanta, Ga.).
PRESSURE AT THE TOP
The boys' soccer season has not yet kicked off for ESPN RISE Winter No.1 Marcus (Texas), but some of the school's players at the showcase were looking forward to getting under way.
"Our expectations are really high," Gino DePaoli said. "We feel like we have a good squad, we have a lot of players in the Academy league, and we've been practicing really hard during the offseason."
DePaoli was named to the All-State first team a season ago, as was ESPN Rise 2009 All-American Zach Barnes, but Barnes will miss at least a small part of the season with an ankle injury sustained in the Dallas Texans last Academy game before the holiday break. Barnes wasn't with the Texans at Disney, but Texans coach Hassan Nazari said he expected Barnes would be back on the field by the end of January at the latest.
Marcus' first big test will come early in the season at the Jesuit-Meinster tournament that begins Jan. 7. Marcus has been drawn against Dallas Skyline (Texas) in the opening round, and could meet No.7 Jesuit Prep (Texas) in the final. That is the hope of Jesuit's Mark Daus, who plays alongside DePaoli and Barnes for the Texans.
"It's always a blast playing against these guys," Daus said. "Ever since our sophomore year when we played them there's been that bitter rivalry between us, and ever since then it's been back and forth, 1-0 games, 2-1 games, it's been really close. We play them the first tournament, hopefully, in the championship game, so hopefully that will restart the rivalry before the playoffs."
INTERREGIONAL REVIEW
Appointment viewing for the majority of the college coaches in attendance was the 1993 and 1994 U.S. Youth Soccer Olympic Development Program Super Group, which held a captive audience throughout the event.
The coaches that lined the fields certainly got the attention of the players.
"You can look at the sidelines and see all the college coaches there, it really hits you," 1993 Region I captain Eric Bird said. "It's intimidating, but you've just got to push through."
Bird's Region I side finished top of its division with two wins and a draw against the other region teams, and then defeated Region IV 4-1 in a final playoff game, Region I scoring three goals in the first 19 minutes to take control of the game.
Region IV won the 1994 division with a strong all-around performance led by its defense. Goalkeepers Colin Webb and Wade Hamilton didn't concede a goal in four games for Region IV, defeating Region I 3-0 in the final through one goal by John McBean and a pair by Brian Gutierrez. Webb said the side played well defensively on the opening day, and just got better the more it played together.
"At this stage, all of our players were able to play together for a while, so I think that helped a lot," Webb said. "That's one of the reasons we were able to keep the shutouts all week."
Hamilton said the increased level of attention was interesting, but once the whistle blew it wasn't hard to focus on the game. He was also impressed with how well the entire team performed.
"The strikers put the balls away, our defense stayed compact," Hamilton said. "We talked a lot on the field, which helped us out too. "
The overriding view of all the teams, though, was how enjoyable the event was to compete in as a player.
"This is the best experience, it's as professional as you can get," Region IV 1993 captain Steve Palacios said. "We're playing with the top players in the country, so it's very fun."
SPRING BOYS' SOCCER RANKINGS