Commentary
Elite prospects are on the move
Updated:
January 6, 2010, 6:41 PM ET
By
Sheldon Shealer
| ESPN RISE
The McDonogh (Owings Mills, Md.) boys' soccer program graduates two of the nation's top high school prospects in Marquez Fernandez and Mamadou Kansaye this year.
[+] Enlarge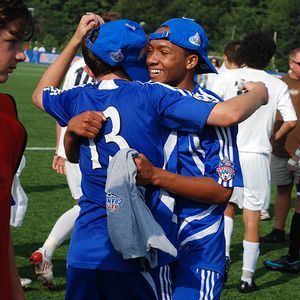 Sheldon Shealer/ESPN RISEMalcom Harris and Michael Gamble (13) led their club to a national title. Now they hope to be high school teammates in 2010.
No worries.
The Eagles likely will replace the two Maryland-bound seniors with two of the nation's top Class of 2012 prospects, McDonogh coach Steve Nichols confirmed to ESPN RISE.
Midfielder Malcolm Harris, consider by some as the nation's top 2012 prospect, and his club teammate Michael Gamble, another elite player, have applied for enrollment at McDonogh starting in the fall, Nichols said.
Harris and Gamble, currently sophomores, teamed to lead the Casa Mia Bays club squad to the US Youth Soccer under-15 national title this past summer with Gamble netting the deciding goal on a penalty kick in the final. Nichols' coaches the Bays club team.
Harris attends Good Counsel (Olney, Md.) where he had a standout sophomore season and earned Washington Post All-Met honors. Gamble, meanwhile, anticipating a transfer, sat out the fall season at Glenelg Country Day School (Ellicott City, Md.). GCD plays in the same league as McDonogh, but in a lower division. Nichols said a player must sit out a season if he transfers within the league, and Gamble met that requirement this fall to be eligible to play at McDonogh next fall.
Both players, if accepted at McDonogh, will be juniors in the fall.
McDonogh spent a week as the ESPN RISE FAB 50 No. 1 team this past fall season until having its 38-match league undefeated streak ended by league rival Mount St. Joseph (Baltimore, Md.). McDonogh finished the season 21-3 and as the league runner-up to Mount St. Joseph.
A REAL BLOW: It appears one of the nation's most prestigious high school girls' soccer tournaments is heading indoors to escape brutally cold weather this week.
Tournament director Jay Fitzgerald confirmed that the Nolan Showcase first-day matches Thursday will be moved to an indoor facility, likely at Texas Christian University. The contests will be played on a regulation-sized soccer field but the matches will be shortened to 50 minutes in order to play all 16 contests that day -- running from 8 a.m. until 11 p.m.
The high in Fort Worth on Thursday is expected to reach 30 degrees, but it's the wind factor that forced Fitzgerald to search for warmer alternatives for the event that features teams from Texas, Florida and California. With the wind chill factored in, the forecasted high in Fort Worth on Thursday is 19 degrees.
Each of the 32 teams at the Showcase is scheduled to play four matches. With the current arrangement, Fitzgerald said the Thursday matches will not count as games, nor count in the event standings. Instead, each teams' final three contests will determine the various group champions at the event.
Sheldon Shealer covers youth soccer for ESPNRISE.com. He can be reached at Sheldon.Shealer@espn.com.
SPONSORED HEADLINES
MORE BOYS' SOCCER HEADLINES
MOST SENT STORIES ON ESPN.COM
SPRING BOYS' SOCCER RANKINGS