Commentary
Counting down the winter surprises
Updated:
January 7, 2010, 3:41 AM ET
By
Sheldon Shealer
| ESPN RISE
Florida is entering the stretch run, California is starting league play and Texas is just beginning. For all intents and purposes, we have reached the middle of the winter high school season. Therefore it's time to take a look at the Top 10 surprises.
Below are 10 teams currently in the FAB 50 that have exceeded preseason prognostications.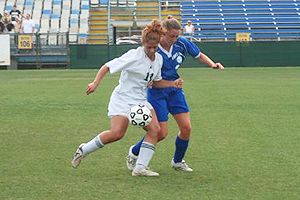 Bala FamilyTwo-time All-America selection Kayla Bala has graduated, yet George Jenkins (Lakeland, Fla.) keeps rolling.
10. Castro Valley (Calif.) girls' soccer.
Sure Castro Valley was a preseason Top 25 team, therefore its current No. 7 ranking is not a total surprise. However, what is noteworthy is the Trojans' 13-0-1 start that includes 11 matches where they have scored four or more goals.
9. St. Thomas Aquinas (Ft. Lauderdale, Fla.) girls' soccer. Is it ever a surprise St. Thomas Aquinas is ranked? Well, maybe so this year. Last year's squad went out of the playoffs in the region final, matching its second shortest postseason run since 1988. The Raiders barely finished in the FAB 50 last year. This year's squad carries a 12-0-2 record into the Nolan Showcase in Texas.
8. West Boca Raton (Fla.) girls' soccer. There's no shortage of quality teams in South Florida, but West Boca wasn't high on that list until its last three games. In between two wins over former FAB 50 Top 10 Boca Raton, West Boca also pinned a loss on perennial state title challenger American Heritage. West Boca is not a complete surprise, despite its 14-0 start since the squad did reach the region semifinals last year.
7. Jesuit (New Orleans, La.) boys' soccer. Last year's ESPN RISE FAB 50 final No. 1 graduated a stellar senior class and lost one of the nation's top juniors when Maryland commit Patrick Mullins opted to skip the high school season to graduate early. Regardless, Jesuit is a perfect 17-0 and riding one of the nation's longest current undefeated streaks.
6. George Jenkins (Lakeland, Fla.) girls' soccer. This former FAB 50 No. 1 program was a big question mark in the preseason. The Eagles returned most of its starters from last year's FAB 50-ranked team. However, superstar Kayla Bala graduated leaving concern about who would provide the offense. Issue resolved. George Jenkins has rolled to a 12-0-1 start and is averaging nearly five goals a match.
5. Ferguson (Miami, Fla.) boys' soccer. In the preseason, Varela (Miami, Fla.) was the clear favorite followed by Killian (Miami, Fla.). Now, entering the stretch run, Ferguson is the undefeated team in Miami's highly competitive Class 6A league.
4. Millennium (Goodyear, Ariz.) boys' soccer. More impressive than the team's 14-0 start is its 2-0 victory over perennial power Brophy College Prep (Phoenix, Ariz.). That result helps propel this 10-year-old school, which is making its large school debut this year, into the FAB 50 for the first time ever. There were signs Millennium would be good in 2010. After all, last year's team won six of its final eight matches.
3. Tesoro (Las Flores, Calif.) girls' soccer. This girls' soccer team wasn't even ranked among its county's Top 10 teams in the preseason and now the squad is in the FAB 50 Top 25. It should be noted that Tesoro is located in Orange County -- an area with more than its fair share of nationally ranked high school programs. Tesoro earned its lofty ranking with a runner-up finish at the prestigious Excalibur Tournament.
2. California (San Ramon, Calif.) boys' soccer. California enters league play with an undefeated record and a FAB 50 national ranking. That's a far cry from last year's squad that went 5-13-5 and won only one league contest. This team is winning with a balanced scoring attack led by Elliot Anderson.
1. Corona del Mar (Newport Beach, Calif.) boys' soccer. If Corona del Mar did not get No. 1 on this list for its play, it certainly would get it for the nickname -- the Sea Kings. Under George Larsen, who coached Mission Viejo to a pair of girls' soccer section titles and is a top coach with club power Slammers FC, Corona del Mar has risen from out of nowhere to be a national title contender. The Sea Kings have two victories over Woodbridge, a tournament final victory over Mission Viejo and the crowning moment was a 2-0 victory over former FAB 50 No. 1 El Camino Real (Woodland Hills, Calif.). The team's top scorer is Reed Williams, who has 18 goals in the Sea Kings' 11-0 start.
SPRING BOYS' SOCCER RANKINGS