Commentary
Legend of the fall
Updated:
January 12, 2010, 11:03 AM ET
By
Jon Mahoney
| ESPN RISE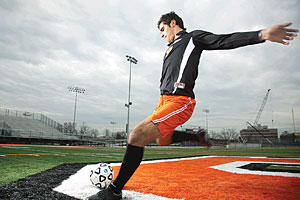 ESPN RISE MagazineDearborn (Dearborn, Mich.) senior Soony Saad set a single-season state record with 76 goals this season.
This story appeared in the Greater Detroit edition of the Jan./Feb. ESPN RISE Magazine.
Students at Dearborn (Dearborn, Mich.) always have to be on the lookout for Soony Saad. If someone has their shoes untied, shirt untucked, left their locker open or is talking in class, they're likely to get a red card from the senior soccer star.
Saad got the cards from a friend who's a youth soccer referee and often keeps them in his pocket during school. He even brought the cards with him to a Michigan football game and handed one out to a Purdue fan after the Wolverines scored.
"If the cards are in your pocket, you better use them," says Saad.
A practical joker off the field, Saad was certainly taken seriously once he stepped onto the high school pitch. The 5-foot-11, 165-pound forward faced no shortage of defensive schemes, including being man-marked or surrounded by four players during an entire game.
None of it worked. Teams were powerless to stop the Michigan-bound Saad this fall as he capped his four-year varsity career -- one of the best in state history. Rated the nation's No. 6 recruit in the ESPNU player rankings, Saad finished his senior campaign with a single-season state record for goals with 76 and also set the state career goals record with 172, breaking the previous marks of 69 and 170, respectively.
An easy choice as Michigan's Mr. Soccer, Saad left many in awe with this year's staggering goal total, which he accrued in just 22 games.
"That's an outrageous number," says junior midfielder/forward Ahmad Jawad. "I don't know anyone else who'd have the ability to do that."
"The ball just explodes off his foot," adds Lars Richters, who coached Saad for four years with the Michigan Wolves club team. "He really is the best pure goal scorer to come out of this state in my opinion."
Saad broke both marks when he tallied seven goals in an 8-0 win over Woodhaven in the district finals. He scored the final goal of his high school career the next game in a 2-1 loss to Plymouth Salem in the Division 1 regional semifinals.
"It was an amazing feeling," says Saad of his record-setting season. "I was actually really nervous. When you work so hard to achieve a goal and you're close to it, you actually start doubting whether you can achieve it."
Saad has displayed a knack for finding the back of the net since he began playing organized soccer as a 4-year-old with his brother, Hamoody, who's a year older. His brother filled the role of playmaker while Saad used his powerful right foot to beat overmatched goalies.
[+] Enlarge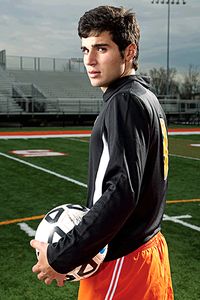 ESPN RISE MagazineSaad has played for the U-17 national team and will play his college soccer at the University of Michigan.
"He has a nose for the goal," says Hamoody, who's a freshman midfielder at Michigan. "You give him the ball, he'll score."
Saad showcased that ability from the first game of his freshman year when he scored a goal and his brother netted a pair in a 3-1 victory over state power Brother Rice. He finished the year with 24 goals and 12 assists and was an All-State honorable mention.
He followed his freshman year with a terrific summer as he guided the Michigan Wolves to the 2007 U.S. Youth Soccer National Championship in Frisco, Texas. Saad was awarded the adidas Golden Boot given to the tournament's most outstanding player and scored what proved to be the game-winner in a 3-0 win over New Jersey club team PDA Larsson.
Saad blasted a shot into the top corner of the net from roughly 40 yards out and slid on his knees in celebration.
"It was just euphoria," recalls Saad of his goal. "It was one of the happiest moments of my life."
After his sophomore year at Dearborn, Saad earned another honor in the summer of 2008 when he was selected the U-15/16 Academy Player of the Year by the U.S. Soccer Development Academy. It was based on his play that year with the Michigan club team Vardar during the inaugural Academy season and in call-ups with the U.S. Under-17 National Team.
He returned to Dearborn in the fall but played in just 11 games his junior campaign as he received an opportunity to play with the U-17 National Team for the year. The honor was bittersweet, however, as it meant he would have to miss the end of Hamoody's senior season.
"I wanted to make his senior year a memorable one," says Saad. "It was tough to leave. Not only is he my favorite teammate to play with, he's my best friend."
Saad lived in Bradenton, Fla., from October until May and studied at Bradenton Prep when he wasn't training with the National Team. He missed his family, but he understood the value of the experience.
"It helped me tremendously," he says. "What better way to improve than to play competitively every day and compete for a starting spot with the top 40 players in the country."
Saad came back to Dearborn his senior year a much improved player and leader as he provided tips to his teammates and displayed the work ethic that's made him one of the nation's elite talents. When he wasn't honing his skills, he'd watch Champions League matches for any tips he could use in games.
"He'd take his experience and transfer it to us," says Dearborn head coach Sean Gordon. "He was an extension of our coaching staff."
With his high school career now complete, Saad plans on training with the Michigan Wolves until the summer when he heads off to Michigan to reunite with his brother.
"I can't wait," says Saad. "I know my brother has a lot of potential and Michigan has a lot of potential. When I put myself in the picture, I see good things happening."
And as for his red cards, let's just say his future teammates in Ann Arbor better be on the lookout.
"You best believe I'm bringing them," he says.
ESPNHS.com
SPRING BOYS' SOCCER RANKINGS