Commentary
Where were they five years ago?
Updated:
January 18, 2010, 8:52 AM ET
By
Sheldon Shealer
| ESPN RISE
The WPS Draft took place Friday morning in Philadelphia, turning several college stars into professional athletes. ESPN RISE offers this look at the first-round selections through the lens of what they were doing exactly five years ago. In most cases, these players were high school juniors.
1. Tobin Heath, Atlanta Beat. Jan. 2005 -- Heath was a junior at Ridge (Basking Ridge, N.J.), where she had won Star-Ledger State Player of the Year honors after helping the team to a 22-2-0 season during the fall. Ridge, which won a state title a year earlier, was poised for a lofty national ranking until getting upset by Moorestown (N.J.) in the playoffs. As a senior, Heath opted to skip high school soccer in order to train with a boys' soccer team in preparation for her college career at North Carolina.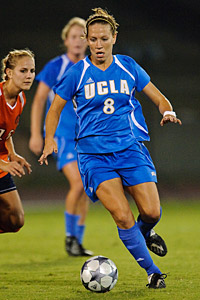 Scott Chandler Lauren Cheney was helping put Ben Davis (Indianapolis, Ind.) on the map five years ago.

2. Lauren Cheney, Boston Breakers. Jan. 2005 -- Cheney was a junior at Ben Davis (Indianapolis, Ind.) and in the midst of basketball season where she earned all-conference honors. Soccer is a fall sport in Indiana, and Cheney's junior season marked the second time she had received all-state and All-America individual honors, although her team could not break the stranglehold of local powers Carmel (Ind.) and North Central (Indianapolis, Ind.). During Cheney's senior soccer season in 2005, she helped Ben Davis make a short-lived FAB 50 appearance as the team went 19-3-1 before losing to Zionsville (Ind.) in the playoffs. Cheney was named the National Soccer Coaches Association of American High School and Youth player of the year, making her the first to sweep the awards.
3. Kelley O'Hara, FC Gold Pride. Jan. 2005 -- O'Hara was a junior at Starr's Mill (Fayetteville, Ga.) and about a month away from starting a memorable junior spring soccer season. O'Hara's team knocked off Parkview (Lilburn, Ga.), ending the powerhouse program's 41-match undefeated streak. However, Parkview won the rematch in the playoffs as Starr's Mill settled on a 16-1-2 season and a FAB 50 No. 8 final spring ranking in 2005. A year later, O'Hara had 20 goals and 16 assists to help Starr's Mill to a state title and a FAB No. 7 final ranking.
4. Whitney Engen, Chicago Red Stars. Jan 2005 -- Engen's high school soccer team was starting league play, but she was sidelined by injury during her junior season. Prior to the injury, Engen was a two-year starter at Palos Verdes Peninsula (Rolling Hills Estates, Calif.), where she graduated in 2006. She was the school's MVP as a sophomore and won the Offensive Player of the Year honors as a freshman. She opted to focus on club soccer her senior year, playing for Slammers FC. Engen first made the U.S. youth national pool in 2006.
5. Nikki Washington, Los Angeles Sol. Jan. 2005 -- Washington was halfway through her first year at Spring Creek Academy (Plano, Texas) after transferring from Greenhill School (Addison, Texas). Touted as a school for gifted, talent and highly motivated students, Spring Creek does not offer athletics but its half-day schedule accommodates elite training. Among the school's graduates is Olympic gold medal-winning gymnast Nastia Liukin. Prior to Spring Creek, Washington led Greenhill in scoring as a freshman and sophomore. During her time at Spring Creek, she focused on club soccer.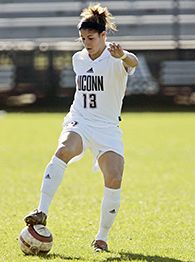 Rick Burnham/Icon SMIBrittany Taylor was the New York high school state player of the year following her senior season.

6. Brittany Taylor, Sky Blue FC. Jan. 2005 -- Taylor was a senior at Washingtonville High School (N.Y.), having already completed a stellar prep career. Taylor scored 36 goals as a senior to finish with 127 for her four-year career. She was named the New York State Player of the Year by the coaches association.
7. Nikki Marshall, Washington Freedom. Jan. 2005 -- Marshall was a junior at Skyline (Longmont, Colo.) and about to embark on a busy spring sports season. Marshall ran track and played soccer both spring sports in Colorado at Skyline. Her junior year she earned area player of the year honors for soccer and all-state mention in track as a sprinter and jumper. Marshall wrapped up her high school soccer career in 2006 with 100 career goals. Interestingly, it was high school soccer that got Marshall back into the sport after she had quit club soccer, according to her father Mike Marshall, to focus on softball. After a strong freshman high school soccer season, she returned to club soccer and ultimately gave up softball.
8. Casey Nogueira, Los Angeles Sol. Jan. 2005 -- Started a golden year for Nogueria. She had recently transferred to Broughton (Raleigh, N.C.) as a sophomore and won a state title with the Caps in the spring of 2005. Later that summer, Nogueira helped CASL Elite to the US Youth Soccer national championships, where the team placed third. The Caps repeated as high school state champs in 2006, when Nogueira -- who excellerated her studies -- graduated early. She was the championship match MVP both as a junior and senior, according to Broughton coach Izzy Hernandez.
9. Kiersten Dallstream, Los Angeles Sol. Jan. 2005 -- Dallstream was a junior at Fountain Hills (Ariz.), but never played high school soccer at the school. As a freshman, Dallstream played at West Chester East (West Chester, Pa.), where she was an all-conference second-team selection. After transferring to Fountain Hills, Dallstream focused on club soccer with Sereno SC.
10. Ali Riley, FC Gold Pride. Jan. 2005 -- Riley was a junior at Harvard-Westlake (North Hollywood, Calif.) and playing regular-season matches at this time. Riley won Mission League Player of the Year honors as a junior, but had a greater high school impact as a senior, leading the squad to a 16-3-5 record, a CIF-Southern Section Division I runner-up finish and a FAB 50 No. 15 winter final ranking.
11. Alyssa Naeher, Boston Breakers. Jan. 2005 -- Naeher was a junior at Christian Heritage School (Trumbull, Conn.) where she was in the midst of basketball season. Naeher was a two-sport star in high school, making all-league and all-state mention three times for soccer and scoring more than 2,000 career points in basketball. Christian Heritage plays fall soccer.
SPRING BOYS' SOCCER RANKINGS