Commentary
Elite teammates turn to each other after serious injury
Updated:
January 29, 2010, 6:29 PM ET
By
Matt Remsberg
| ESPN RISE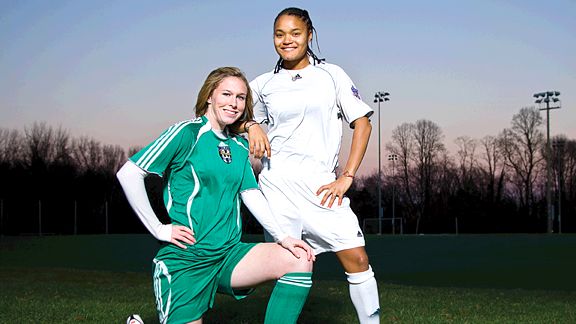 Courtesy Ned Dishman Elite 2010 recruits Jenna Richmond (left) and Briana Hovington proved they had more in common than their club team after both suffered serious knee injuries within a 12-month span.
This story appeared in the Greater D.C. edition of the Jan./Feb. ESPN RISE Magazine.
Nine months after tearing the ACL, MCL and meniscus in her right knee, Bri Hovington was getting anxious about when she would finally be able to return to competition. After suffering the injury in February of 2009, the Southern (Harwood, Md.) senior had finally begun kicking a ball around and doing some light jogging. Everything felt pretty good, but how would she know for sure if she was ready?
Hoping to find an answer to that question, she got in touch with McLean Dragons club teammate Jenna Richmond, a senior at Centreville (Clifton, Va.) who had gone through a similar rehab the year before.
"She told me, 'You'll just know,'" Hovington says. "I didn't really know what that meant, so I just kept going along the rehab schedule I had and hoped one day it would feel right."
Hovington got the go-ahead from her doctor on Dec. 1 to resume practicing, and the following week she was slated to rejoin her club teammates on the field. The night before that first practice, Hovington's mind raced. The thought of simply strapping on shin guards got her excited. But she was unnerved by the thought of how she'd react -- and how her knee would hold up -- the first time she went in for a tackle.
After a restless night, a long day of school and an interminable car ride to the field, the moment of truth finally arrived. And only a few minutes into practice, Hovington suddenly understood what Richmond was talking about.
"We were just running some warm-up laps, and the knee felt like it hadn't before it actually felt good," Hovington says. "In that instant, I knew what Jenna said was true. It was a huge relief."
Two of the nation's premier girls' soccer players from the Class of 2010, Hovington and Richmond had promising careers thrown into limbo in the past two years because of torn knee ligaments. But neither ever doubted a full recovery was possible, and both will graduate high school with Division I scholarships to their names and big dreams still in their sights.
[+] Enlarge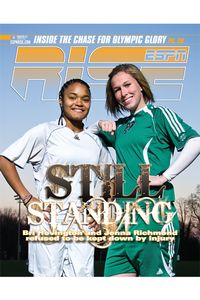 Ned Dishman Hovington is staying close to home, committing to play at Penn State. Richmond, the top-ranked recruit in the class, heads west to UCLA.
Hovington, a 5-foot-4 defender, was a two-time Washington Post All-Met selection at Eleanor Roosevelt (Greenbelt, Md.) before transferring to Southern for her senior year. A member of the player pool for the U.S. U-18 Women's National Team, she has committed to Penn State.
Richmond, a 5-foot-9 center midfielder, is rated the nation's No. 1 recruit in the ESPNU player rankings and has pledged to UCLA. The 2008-09 Gatorade Virginia Player of the Year, Richmond is a member of the U-20 National Team's player pool.
"You see so many great players go down, and it's never a sure thing that anyone can come back from it," says McLean Dragons coach Mike Calabretta. "It's a really difficult thing, and some people just don't have it in them to come back. With Bri and Jenna, their attitude was nothing was going to hold them back."
Richmond was at the top of her game when she tore the ACL and meniscus in her right knee in February of 2008 while playing in a tournament in New Zealand. In the previous summer she had led the McLean Freedom club team to a U-16 national title. And as a freshman at Centreville, she had carried the Wildcats to the Class AAA state semifinals.
Richmond was a virtual lock to earn a trip back to New Zealand for the U-17 World Cup in October 2008 with the U.S. National Team, but she was instead relegated to tracking the team's progress online. She immediately began looking ahead to the 2010 U-20 World Cup and used the frustration from missing out on the U-17 event as motivation in her rehab.
"I had missed out on one big moment," Richmond says, "but I told myself I would work as hard as possible to get back and be even better for the next one." The U-20 World Cup has also been a huge motivator for Hovington. She had a few friends on the U-17 squad, and she's used the dream of joining them in Germany for the U-20 event as inspiration.
But even with that bright light at the end of the tunnel, rehab was a frustrating day-by-day process littered with road bumps. For Hovington and Richmond, those hurdles started popping up even before they went under the knife.
In an effort to speed up their post-surgery recovery, both went through pre-hab a rigorous program to build up strength in their quad muscles to counteract the atrophy that would come from spending so much time off their feet after surgery. It was basically like trying to do leg exercises with nothing but Jell-O holding their knee together.
After surgery, there were mental hurdles to be cleared as well. Richmond remembers one point in her rehab when she felt her knee was making progress and she was actually beginning to forget she still needed to take it easy. That was until the day she started jogging up the stairs in her house, felt a twinge and suddenly realized how far she still had to go.
"It's a long process with no shortcuts," Richmond says. "You just have to do it and be thankful for the people around you that are helping you."
Hovington and Richmond both cited their parents and siblings as being vital to their rehab. From mundane tasks like replenishing ice bags to the big stuff like collecting homework, neither player could have gone it alone.
"I'm not someone who requires a lot of encouragement or needs someone to keep me focused," Hovington says. "But going through this experience, there were definitely days I felt like I needed a push, and my parents were always there for that."
Both also pointed to the never-ending stream of soccer games on Fox Soccer Channel as crucial to getting their soccer fix while laid up. Anytime they started to miss being on the field, FSC was there to supply a game from England's Premier League, Italy's Serie A or any number of other leagues worldwide. As a bonus, they picked up new moves from watching the games and began implementing them as soon as they returned to action.
The duo took new attitudes back onto the field as well. They have a renewed passion for soccer and a drive to go at every play 100 percent. Playing with fear and doubt is a recipe for disaster after going through rehab, and neither Hovington nor Richmond intends to display either emotion on the pitch.
"It's in the past," Richmond says. "All it is now is a scar and nothing more."
ESPNHS
Matt Remsberg is a senior editor for ESPNHS.
E-mail him
here
.
SPRING BOYS' SOCCER RANKINGS