Commentary
Race is on in Southern California
Updated:
January 29, 2010, 3:57 PM ET
By
Harold Abend
| Special to ESPN RISE
With 42 teams (20 girls and 22 boys) of the 100 boys and girls teams combined in the FAB 50 currently from California, it would be almost impossible to cover all the ranked squads from the Golden State.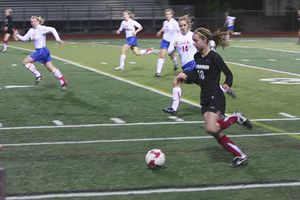 Esperanza SoccerErica Mazeau has played a major factor in keeper Esperanza among the nation's elite.
Therefore, in this first edition of California Soccer Notes will focus on three girls' teams hotly in pursuit of a Southern California Regional Championship in their respective enrollment divisions: Esperanza (Anaheim, Calif.), Buchanan (Clovis, Calif.) and The Bishop's School (La Jolla, Calif.).
For No. 6-ranked Esperanza, the girls had to sit tight for a week, after heavy rains cancelled two Sunset League matches against No. 37-ranked Los Alamitos and Fountain Valley.
The Lady Aztecs resumed action Jan. 25 and defeated Los Alamitos 2-0 in re-scheduled contest to remain undefeated at 14-0-3.
The team, which lost 11 girls to graduation from last year's Southern California Division I regional quarterfinalist squad, is led by Rylee Baisden and Katie Gallanes.
Baisden, a sophomore midfielder, is the leading scorer with 13 goals, while Gallanes, a four-year varsity player who is headed to Pepperdine, anchors a defense that returns five experienced players to the backline.
"Of our girls that graduated, nine went on to college, so this was supposed to be a down year for Esperanza," Aztecs coach John King said. "What's happened, though, is new girls came in, the chemistry has gotten good, and we now have 25 girls who can contribute.
"In fact, this is probably the best team I've had from front to back in the nine years I've been here. Now, after starting with a goal to carry on the tradition of the last four years of being ranked by ESPN RISE, the goal has become to work hard for a title but to enjoy the moment and stay humble."
In California's Central Valley, No. 7-ranked Buchanan, last year's 3-2 loser to San Clemente in the Division I title game, is also led by a sophomore striker and a senior who leads the team in assists.
The sophomore is Elise Krieghoff, who not only is playing soccer, but varsity basketball simultaneously.
In action so far this week, she had a goal and an assist in a 5-0 win over Clovis East (Clovis), and a goal in a 3-1 victory against Madera. Krieghoff now has 25 goals and eight assists for the current 19-0-1 Bears, the defending Central Section D1 champions.
"Elise is really athletic, has a strong nose for the goal, and has a ton of potential to grow. I worked it out with the basketball coach so she could play both," Buchanan coach Erik Farfan said with respect to his sophomore star that averages seven points, four rebounds, three steals and two assists a game for the 15-4 Bears girls' basketball team.
The girl getting Krieghoff the ball in scoring position on the soccer field is Cal Poly San Luis Obispo-bound senior Kacey Held. Through the Madera game, she has 19 goals and 21 assists.
"A lot of the credit for Elise's scoring goes to Kacey. They work really well together," Farfan said.
The coach also noted his backline defense and goalkeeping, anchored by four seniors -- 5-foot-11 goalkeeper Angie Neathery and defenders Emily Fernandez, Danika Robinson and Jasmine Alvarez -- has been instrumental in the team being unbeaten.
"Our defensive effort each game has kept teams out of our goal."
In San Diego, the No. 12-ranked Division IV Bishop's School has been a bit of a surprise with a current 13-2-1 record after a 6-0 victory on Jan. 25 over archrival Country Day (La Jolla), in a match rescheduled from last week due to the heavy rain that's pelted California.
Last year's senior-laden team has only two seniors playing this season, yet they have a current 10-game shutout streak with most of the wins against larger schools and ranked opponents.
During the streak Bishop's has disposed of Poway twice, 1-0 and 3-0, No. 44-ranked Flintridge Sacred Heart of La Canada, 1-0, and Rancho Bernardo of San Diego by a 3-0 margin.
Earlier in the season, the Lady Knights earned a 1-0 victory over No. 39-ranked Torrey Pines (San Diego) in the Barons Tournament.
"If you look at our schedule, we've upped the ante by playing all D1 schools," said Bishop's coach Brian Quinn, a former star player and coach of the San Diego Sockers, as well as coach of the San Jose Earthquakes, in his seventh year at the helm of the defending San Diego Section Division IV champions.
A big part of the 10-straight shutouts is the work of goalkeeper Devan Osegueda.
'She'll end up in a Division I college program. She's 5-11 and has all the tools," Quinn told ESPN RISE about his junior goalie.
Senior striker Francis Harvey leads the team in scoring with 12 goals. Another key player is fellow senior midfielder Sarah Noble, the MVP of the Cathedral Invitational in San Diego.
Other players Quinn mentions as major contributors are junior forward Kaylie Davidson (five goals) and junior defender Laura Aguilar.
"This is an interesting group," Quinn said. "The younger players have really come through and have played well and consistent. Our goal is to win league and CIF [San Diego Section] but with a young group like this we take it one game at a time."
SPRING BOYS' SOCCER RANKINGS