NFTC tour stops in Charlotte
Butler (Matthews, N.C.) trio and No. 5 recruit Lawson expected among Sunday's field
Updated:
May 4, 2012, 6:19 PM ET
By
Brandon Parker
| ESPNHS.com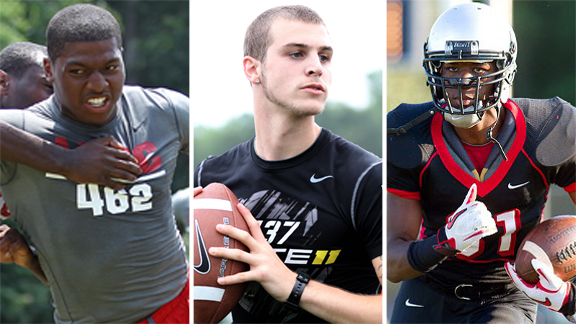 Tom Hauck, Miller Safrit/ESPN.comButler (Matthews, N.C.) teammates Peter Kalambayi, Riley Ferguson and Uriah LeMay are set to take part in Sunday's Charlotte NFTC.
After participating in two NFTC events during the past two years, Peter Kalambayi is somewhat of a veteran at these camps. But don't expect the Butler (Matthews, N.C.) junior linebacker's experience to ease his drive come Sunday, in the seventh of 12 NFTC events at Hough High School in Charlotte, N.C.
"I've got to dominate out there. I want an invite to The Opening and to just be the best," says Kalambayi, who posted 80 tackles and six sacks in just eight games last season. "I did pretty good last year, but I want to do better in the one-on-one drills."
While Kalambayi's wisdom will help, the 6-foot-2, 230-pounder certainly won't be the only one with plans to excel among a field of players loaded with talent.
Holland Fisher, the No. 117 player in the ESPN 150, is expected to join Kalambayi in the linebacker competition. The Clover Hill (Midlothian, Va.) junior already made his mark in Charlotte in March, posting a score of 89.85 at the SPARQ combine to rank among the top defensive players.
NFTC primer
Craig Haubert, national recruiting analyst for ESPN, on the Nike Football Training Camps:
Why they matter
NFTCs provide a great platform to become more informed as an evaluator, with the opportunity to see a large number of prospects go through drills and compete in one location. They can help cement a prospect's status if he's already highly rated by confirming what was seen on film. The camps can also be a good place for under-the-radar prospects to get more exposure and warrant further evaluation.
Why you should pay attention
The NFTCs attract a good number of high-profile prospects, the ones recruiting fans most want to hear and learn about. Not often in football do you get a group of top prospects in one setting and see them go through drills and compete. It helps supplement your film evaluation.
What he looks for
As an evaluator, having a large number of prospects in one place allows you to put them through the eye test to get a more accurate feel for heights and weights. It can also be helpful to see how the players compete against one another. We look at not only performance and the execution of skills, but also at who takes coaching well, who tries to take as many reps as he can and who tries to challenge himself against the best. But just because a prospect does well at the event doesn't mean that's all you need to see.
Also expected to challenge for the top linebacker award is Larenz Bryant of Vance (Charlotte. N.C.). The 6-1, 210-pound junior racked up 144 tackles, seven sacks and two interceptions this past fall.
It's competitors like that who give guys like Kalambayi even more motivation to bring their A-game.
"Competing at the NFTC helps out a lot for the upcoming season, and I have a lot of fun," Kalambayi said. "I know there will be lots of good players out there, so I'm ready for anything and to work hard."
Also expected to represent for Butler on Sunday are quarterback Riley Ferguson and wide receiver Uriah LeMay. Ferguson not only performed well at last year's NFTC but also impressed at the Atlanta Elite 11 last month, qualifying as one of seven finalists. He's ranked No. 94 in the ESPN 150.
Meanwhile, the same wealth of ability that's helped LeMay reel in 25 scholarship offers from the likes of Georgia, Auburn and South Carolina makes him one of wideouts to watch during Sunday's event. The 6-1, 205-pounder totaled 1,239 yards and 19 touchdowns as a junior.
Tramel Terry of Goose Creek (S.C.) is another wide receiver with much attention going into the Charlotte NFTC. Ranked No. 47 in the ESPN 150, Terry's speed and big-play ability gave defenders fits as he totaled 1,680 yards and 16 scores last season. But the junior's biggest weapon could be compromised after he pulled his groin recently.
"I haven't tried to run full speed on it yet, but I probably could still run a 4.6 [in the 40] right now, so it's not like I can't run," Terry said. "I just hope I can overcome that and still end up being the best wideout and get my spot in The Opening."
Nearly 50 players have snagged invites to The Opening, a prestigious four-day competition from July 5-8 in Oregon. It's anybody's guess as to how many more names will be added to the list this weekend, but don't be surprised if one of them is a defensive lineman.
Carl Lawson of Milton (Ga.) headlines this group, coming in as the nation's second-best defensive end and No. 5 player overall in the ESPN 150. The junior committed to Auburn in March after recording 80 tackles, including 31 for loss, and 15 sacks last season.
While Lewis Neal isn't rated as high as Lawson, the 6-2, 225-pound junior defensive end from Hunt (Wilson, N.C.) has a chance to open the eyes of more recruiters with his performance on Sunday. Neal recently decommitted from Ohio State, leaving the likes of LSU, Clemson and South Carolina to vie for his services.
Of course, big names and attention from big-time schools doesn't guarantee success among some of the region's best players, which adds all the more intrigue to the Charlotte NFTC.
Brandon Parker covers high school sports for ESPNHS magazine and ESPNHS.com. Follow him on Twitter @brandoncparker or email him at brandon.c.parker@espn.com.
SPONSORED HEADLINES
ESPN TOP HEADLINES
MOST SENT STORIES ON ESPN.COM
FOOTBALL RANKINGS

Rank
School (City, State)
Rec
1
Don Bosco
Ramsey, NJ
11-0
2
Armwood
Seffner, FL
15-0
3
Trinity For Boys
Louisville, KY
14-0
4
Grayson
Loganville, GA
15-0
5
Good Counsel
Olney, MD
13-0
See the full football rankings »