Baltimore is eighth NFTC stop
Plenty of ESPN 150 talent expected to compete among Saturday's field
Updated:
May 11, 2012, 3:11 PM ET
By
Christopher Parish
| ESPNHS.com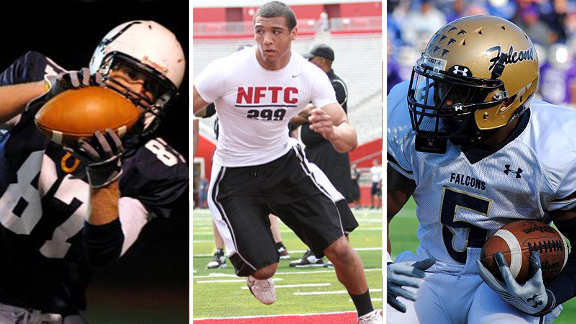 Courtesy of Samuel F. Getty DC, Tom Hauck/ESPNHS, Courtesy of Good Counsel AthleticsAdam Breneman, Tashawn Bower and Kendall Fuller are set to take part in the Baltimore Nike Football Training Camp on Saturday.
At this weekend's Nike Football Training Camps event in Baltimore, two star teammates from Good Counsel (Olney, Md.) will join forces and showcase their talents in a variety of drills and competitions.
Kendall Fuller is rated the nation's No. 27 recruit in the ESPN 150, and Dorian O'Daniel is No. 73.
Trust us when we say O'Daniel is not joining Fuller for emotional support.
NFTC primer
Craig Haubert, national recruiting analyst for ESPN, on the Nike Football Training Camps:
Why they matter
NFTCs provide a great platform to become more informed as an evaluator, with the opportunity to see a large number of prospects go through drills and compete in one location. They can help cement a prospect's status if he's already highly rated by confirming what was seen on film. The camps can also be a good place for under-the-radar prospects to get more exposure and warrant further evaluation.
Why you should pay attention
The NFTCs attract a good number of high-profile prospects, the ones recruiting fans most want to hear and learn about. Not often in football do you get a group of top prospects in one setting and see them go through drills and compete. It helps supplement your film evaluation.
What he looks for
As an evaluator, having a large number of prospects in one place allows you to put them through the eye test to get a more accurate feel for heights and weights. It can also be helpful to see how the players compete against one another. We look at not only performance and the execution of skills, but also at who takes coaching well, who tries to take as many reps as he can and who tries to challenge himself against the best. But just because a prospect does well at the event doesn't mean that's all you need to see.
"I'm going for one reason and one reason only," O'Daniel said, "and that's to get an invite to The Opening. If I can get that, I'll be satisfied."
The two enter the event with plenty of prestige. Fuller, a 5-foot-11, 185-pound defensive back, has offers from top programs such as Oklahoma, Ohio State, Notre Dame, Michigan, Miami, Florida State, Florida and Virginia Tech. He intercepted three passes last season and scored five touchdowns as a receiver. His brothers Kyle and Corey both play at Virginia Tech, while his oldest brother, Vincent, also starred for the Hokies before playing in the NFL.
O'Daniel, a 6-foot-1, 205-pound linebacker, committed to Clemson in April after receiving offers from several other top programs. He recorded 40 tackles (15.5 for loss) and five sacks to go with 897 rushing yards and 17 touchdowns last season.
The duo helped Good Counsel finish as the nation's No. 5 team in the POWERADE FAB 50 and record the first undefeated season in school history.
O'Daniel says he's looking forward to keeping the unbeaten streak alive this fall, but first he has his sights set on the NFTC.
"I'm looking forward to competing with other athletes in the region and, most importantly, getting that invite to The Opening," he said. "It would mean a lot, just to know that all of my hard work has paid off. It would truly be a blessing."
Fuller and O'Daniel aren't the only ESPN 150 recruits who are scheduled to attend Saturday's Baltimore NFTC. One of the top-rated athletes is Eli Woodard of Eastern (Voorhees, N.J.). The standout cornerback and Ohio State pledge is rated the nation's No. 12 recruit in the ESPN 150.
Also scheduled to attend is Adam Breneman of Cedar Cliff (Camp Hill, Pa.), ranked the nation's No. 1 tight end and No. 39 recruit in the ESPN 150.
The 6-foot-2, 225-pound Penn State pledge caught 72 passes for 1,120 yards and 12 touchdowns this past fall, leading his team to a 9-3 record.
The Eastern Christian Academy (Elkton, Md.) trio of defensive tackle Kenny Bigelow, quarterback David Sills and offensive guard Khaliel Rodgers plan on being in the house on Saturday. Bigelow, who's rated the nation's No. 10 recruit in the ESPN 150, has committed to USC, as has Sills, who's only a freshman. Meanwhile, Rodgers is rated the nation's No. 17 guard by ESPN and has offers from the likes of Ohio State, Rutgers, UCLA, Syracuse and West Virginia.
Running back David Williams of Imhotep Charter (Philadelphia), rated the nation's No. 118 recruit in the ESPN 150, also signed up for the event. Williams, who attended West Catholic (Philadelphia) last season, rushed for 1,936 yards and 18 touchdowns.
Tashawn Bower also will be in attendance. The 6-5, 230-pound defensive end from Immaculata (Somerville, N.J.) is the nation's No. 119 recruit in the ESPN 150.
Bower says he's looking forward to showing the competition why he's one of the nation's most feared defensive linemen.
"I get to showcase my talent [on Saturday] and prove I'm much better than projected," he said. "I'm more violent than it appears."
Like so many other competitors this weekend, Bower says he hopes to be validated with a spot in Oregon in July for The Opening.
"It would mean a lot," Bower said. "It definitely says that I have the talent and ability to compete with the other athletes who get chosen."
Plenty of the nation's top juniors will be at the camp, but a sophomore might garner the most intrigue. Da'Shawn Hand, one of the top players in the Class of 2014, is hoping to show that he can play a class ahead.
Hand, a 6-4, 250-pound defensive end from Woodbridge, Va., already holds 27 offers from some of the top college programs in the nation, and more come in every week.
"Every school that's offered me is equal so far," he said. "But it's been going well. I'm trying to keep in contact with these coaches and ask questions about the process."
Hand looks forward to showcasing his talents on a big stage this weekend.
"I think I'm most looking forward to the one-on-ones," he said. "That's something I really love doing. I want to see what their technique is, and I love going up against good offensive linemen."
Hand knows he's early in the whole recruiting process, and he's not resting on his laurels. He says he's trying to get his 40-yard dash time down to 4.4 seconds by his senior season, and he's already benching 315 pounds.
"I run all the time," he said. "I'm always working on my agility and footwork, my balance and body control."
We'll see how those skills play out on Saturday in Baltimore.
FOOTBALL RANKINGS

Rank
School (City, State)
Rec
1
Don Bosco
Ramsey, NJ
11-0
2
Armwood
Seffner, FL
15-0
3
Trinity For Boys
Louisville, KY
14-0
4
Grayson
Loganville, GA
15-0
5
Good Counsel
Olney, MD
13-0
See the full football rankings »