Stars set for Champaign NFTC
Five ESPN 150 recruits expected to compete at 11th stop on the tour
Updated:
June 1, 2012, 2:32 PM ET
By
Jon Mahoney
| ESPNHS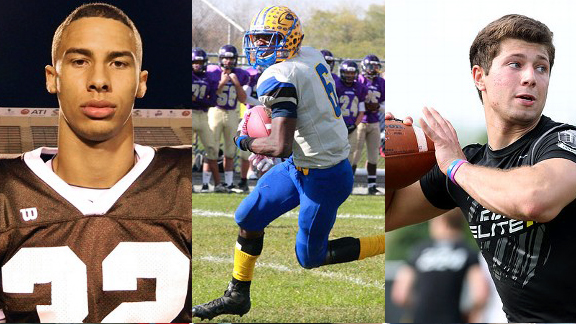 Tom VanHaaren/ESPN.com, Scott Powers/ESPNChicago.com and Tom Hauck/ESPNHS(From left to right) Ty Isaac, Laquon Treadwell and Matt Alviti are all expected to take part in the Champaign NFTC on Sunday.
Ty Isaac has already accomplished quite a bit in his high school career.
The Joliet Catholic (Joliet, Ill.) junior running back is rated the nation's No. 68 recruit in the ESPN 150, is set to play in next year's Under Armour All-America Game and committed to USC on May 15. And this past fall, he was named an ESPNHS Underclass All-American after rushing for 2,629 yards and scoring 51 total touchdowns. Isaac ran for 515 rushing yards and six scores in a loss to Montini (Lombard, Ill.) in the Class 5A state final.
So what's his motivation heading into the Nike Football Training Camp in Champaign, Ill., on Sunday?
NFTC primer
Craig Haubert, national recruiting analyst for ESPN, on the Nike Football Training Camps:
Why they matter
NFTCs provide a great platform to become more informed as an evaluator, with the opportunity to see a large number of prospects go through drills and compete in one location. They can help cement a prospect's status if he's already highly rated by confirming what was seen on film. The camps can also be a good place for under-the-radar prospects to get more exposure and warrant further evaluation.
Why you should pay attention
The NFTCs attract a good number of high-profile prospects, the ones recruiting fans most want to hear and learn about. Not often in football do you get a group of top prospects in one setting and see them go through drills and compete. It helps supplement your film evaluation.
What he looks for
As an evaluator, having a large number of prospects in one place allows you to put them through the eye test to get a more accurate feel for heights and weights. It can also be helpful to see how the players compete against one another. We look at not only performance and the execution of skills, but also at who takes coaching well, who tries to take as many reps as he can and who tries to challenge himself against the best. But just because a prospect does well at the event doesn't mean that's all you need to see.
"I want to get The Opening invite, to be honest with you," Isaac said. "It looks like a really good time. It's the guys you're going to be competing against further down the line, so it would be a good opportunity."
Isaac will have plenty of competition in Champaign for an invite to The Opening, which will take place on July 5-8 in Beaverton, Ore.
Maine South (Park Ridge, Ill.) junior quarterback Matt Alviti is one of those players. Rated the nation's No. 113 recruit in the ESPN 150, the Northwestern commit threw 29 touchdowns this past season and added 12 scores on the ground. As a sophomore, he led Maine South to a state title. Alviti shined earlier this spring at the Elite 11 regional in Columbus, Ohio.
The wide receiver corps will feature one of the nation's best at the position in Laquon Treadwell of Crete-Monee (Crete, Ill.). Rated the nation's No. 5 wideout by ESPN and the No. 42 recruit in the ESPN 150, Treadwell caught 75 passes this past season for 1,391 yards and 18 touchdowns. He has offers from top programs such as Michigan, Ohio State, Alabama, Clemson, Michigan State and Oklahoma.
Meanwhile, Cretin-Derham Hall (St. Paul, Minn.) standout James Onwualu shines at both running back and wide receiver for his high school squad. As a junior, the Notre Dame commit ran for 549 yards and eight touchdowns and caught 27 passes for 428 yards and five scores.
Cass Tech (Detroit) star Jourdan Lewis, a Michigan commit and the No. 107 recruit in the ESPN 150, will be one of the players tasked with covering the top wideouts. Lewis had eight picks this past fall while leading Cass Tech to a Division 1 state title.
"I'm trying to show I'm one of the best cover guys in the nation," said Lewis.
Another talented pass-catcher to watch is Pickerington North (Pickerington, Ohio) junior Jake Butt. The Michigan verbal had 27 receptions last year for 424 yards and seven touchdowns.
John Burroughs (St. Louis) junior running back Ezekiel Elliott should battle Isaac for top running back honors at the NFTC. The 6-foot, 200-pounder, who has committed to Ohio State, delivered a monster campaign in the fall, rushing for 1,802 yards and 34 touchdowns, catching six touchdown passes and adding two touchdowns on returns.
"I want to show that I deserve to move up in the rankings and earn an invite to The Opening," said Elliott, rated the No. 22 running back by ESPN. "I've never been to any camps, so I'm just going to go out and prove what I can do."
Looking to limit the talented group of running backs will be Warren Central (Indianapolis) junior linebacker Tim Kimbrough. Rated the nation's No. 10 inside linebacker by ESPN, Kimbrough was an ESPNHS Underclass All-American selection after tallying 155 tackles, 14 tackles for loss and 5.5 sacks.
The one-on-one battles between the offensive and defensive linemen have been the highlight of this year's NFTC tour, and the Champaign field will feature several interesting matchups.
On the offensive side of the ball there's Midland (Mich.) junior Steve Elmer. Rated the nation's No. 22 offensive tackle by ESPN, the Notre Dame commit picked up ESPNHS Underclass All-American honors this past season.
He'll have to deal with junior defensive ends Elijah Daniel of Avon (Ind.) and Chikwe Obasih of Brookfield Central (Brookfield, Wis.). Daniel is rated the nation's No. 88 recruit in the ESPN 150, while Obasih, who has committed to Wisconsin, totaled 83 tackles this past fall.
ESPNHS.com
FOOTBALL RANKINGS

Rank
School (City, State)
Rec
1
Don Bosco
Ramsey, NJ
11-0
2
Armwood
Seffner, FL
15-0
3
Trinity For Boys
Louisville, KY
14-0
4
Grayson
Loganville, GA
15-0
5
Good Counsel
Olney, MD
13-0
See the full football rankings »