Top-seeded Texas advances in a rout
Updated:
September 12, 2008, 1:33 PM ET
ESPNRISE.com
Most top-seeded teams cruise to victories in opening games of tournaments. The same was true in the first ESPN RISE Great State Debate.
In answering the question about what state in the nation has the best high school football, top-seeded Texas has rolled past No. 8 Virginia in voting that closed on Tuesday night. Texas outpolled Virginia by a margin of 85 percent to 15 percent.
It's that kind of passionate support that may be the difference for the Lone Star State in this debate -- no matter how strong of an argument those from states like Florida and California can articulate.
Florida and California have upcoming voting battles against states they should defeat (Louisiana and Georgia, respectively). Will those fans also show up en masse? It's up to you, SportsNation. Voting begins again on Monday.
[+] Enlarge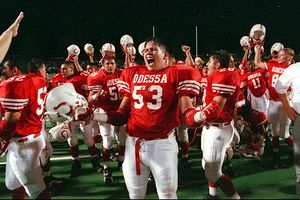 AP Photo/Odessa American/Kevin BuehlerTexas teams have reason to celebrate after their big win in the first round of the Great State Debate.
Highlights from the ESPN RISE debate:
"South Lake Carroll, Judson, Katy, Euless Trinity, Odessa, and Midland just to name a few of the greatest high school programs in the country in history, need we say more....... "
-- webbie0612
"My Garland Owls won a state title in '99, and trust me, the Texas playoffs are such a rigorous endurance test because there are so many great teams and programs. We had to beat teams like Westlake and Lufkin just to get to the championship, where we came back and dominated the second half against Katy. Some of the teams we beat early in the playoffs would have played for the state title in almost any other state, and I know even our 4A and 3A champions would compete if not win at the highest levels in most states. In my opinion, Florida is the only state that comes close to Texas, but they still have to finish second. "
-- Billybob1083
"It's Texas. The football talent is so condensed here, that even the University of Oklahoma has become a College Power house thanks to recruiting out of Texas i.e. Adrian Peterson. "
-- SWeggemann
"I was blessed enough to grow up in God's Country and play high school football as well. Texas football is far and away tops. I've been to Florida, Cali, and Ohio. The talent level, the intensity level, and the hometown PRIDE is what sets Texas apart from the rest. In Texas, it is always team first. That's why we produce more talent than any other state. A real sense of team is what you need to get to the next level. Pride in self, pride in team. NO SELFISH SHOWBOATING. That's saved for the braggin' when you get home."
-- texex04
"When a college wins a national championship look at where the players come from. More than not there will be a player or more from the State of Texas. I coach football in Texas and have also coached in Oklahoma, Kansas, and California. I all cases the kids in Texas are coached better, there are no lay coaches, they are all professional. We don't have another occupation, teaching and football is our occupation. The colleges in Texas are very supportive of the high schools effort. Not only are the athletes better they are coached better. "
-- sescott_espn
"The biggest division Virginia has is AAA where as Texas has AAAAA, so if you put up a Texas AAA against one of the Virginia schools than it would be fair. Of course football is big in Texas, but Virginia has a lot of talent. In the Elite 11 camp, the camp every summer for the top 11 quarterbacks in the nation, Virginia has sent 7 QBs in the camp's history, two every year for the past three consecutive years, more than any other state."
-- guinness187
"I have been stationed in Va. since 1993 and I can tell you that the Commonwealth plays some legitimate football. I have always heard this and that about Texas football and most of it from Texans whom seem to be biased about their state in every category. With that being said......... I believe a top Va. school could go toe to toe with a 5A Texas school."
-- jnofsker
SPONSORED HEADLINES
ESPN TOP HEADLINES
MOST SENT STORIES ON ESPN.COM
FOOTBALL RANKINGS

Rank
School (City, State)
Rec
1
Don Bosco
Ramsey, NJ
11-0
2
Armwood
Seffner, FL
15-0
3
Trinity For Boys
Louisville, KY
14-0
4
Grayson
Loganville, GA
15-0
5
Good Counsel
Olney, MD
13-0
See the full football rankings »