Quarterbacks could lift Louisiana
Originally Published:
September 8, 2008
ESPNRISE.com
Editor's note: In the second head-to-head matchup of the Great State Debate, No. 2 Florida faces a tough challenge from No. 7 Louisiana. It will take a major turnout by the Sunshine State for Florida to rival the result of last week's contest between No. 1 Texas, which received 85 percent of the vote, and No. 8 Virginia. Cast your vote for Florida or Louisiana between noon Monday and midnight Tuesday.
As the nation saw once again in the face of Hurricane Gustav last week, it's no secret that people from Louisiana are tough, courageous and don't give up easily. The state's high school football quarterbacks are like that, too.
Louisiana, in fact, has one of the nation's top quarterbacking traditions, and it's that strength that gives the state some hope against No. 2 seed Florida in this week's Great State Debate matchup.
Florida's talent in the skill positions and on both sides of the ball is phenomenal, and teams such as Lakeland and Miami Northwestern have been ranked No. 1 in the nation in the past few years.
[+] Enlarge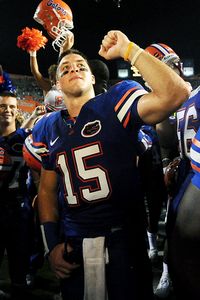 James Lang/US PresswireTim Tebow is one of just two Florida natives to win the Heisman.
For the quarterback position, however, Florida is surprisingly weak. Tim Tebow last year was just the second Florida quarterback to win the Heisman Trophy and you can quickly count the number of Floridians under center in the NFL.
That is not the case for Louisiana. The state's rich tradition of signal-callers starts with brothers Peyton and Eli Manning, who won the past two Super Bowls. Terry Bradshaw and his four Super Bowls with the Pittsburgh Steelers is among the state's legends, along with Bert Jones, Joe Ferguson and Doug Williams, the coach at Grambling.
Can a state with the advantage in such a critical position as quarterback do some damage in the Great State Debate? That's up to you.
The case for No. 2 Florida
"When most people think of Florida, they think of speed. That's the difference in the past two [BCS] national championships; LSU and Florida had speed and Ohio State didn't. Colleges are starting to catch on to that too. Purdue has four players committed from Florida already. We got the best areas of talent. You won't find a better area than Muck Country between Glades Central and Pahokee -- they have produced 48 NFL players. Florida has the most raw talent, and on any given you week you have to be prepared to bring it, or else you'll get beat."
-- Trinity Catholic QB Rob Henry, Purdue commit
State Your Case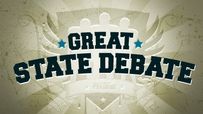 The Great State Debate poses a simple question: Which state has the best high school football? We've edited the field down to eight. This week, No. 2 seed Florida and No. 7 seed Louisiana face off. Check out our list of the top players to emerge from those states. Which state will advance? That's up to you. Join the conversation, blog about your state and vote for your favorite.
The winner of this week's matchup will be announced Wednesday.
"Basically, speed separates Florida from other states. When I talk to college coaches, they bring it up. I talked to Urban Meyer and he said he wants to have the fastest team in America. When UF played Hawaii [in Week 1], everyone saw that speed kills. Florida has more versatile athletes, like Pahokee's Nu'Keese Richardson, who is a receiver that plays quarterback and can make plays."
-- Palm Beach Central LB Jon Bostic, ESPNU 150
"In my opinion, what separates us from other states is speed. We have fast players running 4.4's consistently, like at the Nike combines. Spring ball helps in a lot of ways. We get extra conditioning and have a chance to work on new plays. The competition in Florida, particularly Miami and Ft. Lauderdale, is a big difference. You play against the best talent every week, and there's not just one or two good players --everyone is faster and ready to compete."
-- Miami Palmetto RB Jaamal Berry, ESPNU 150, Ohio State commit
"Most schools come down to Florida to find their athletes. The speed down here is like nowhere else. The college programs like FSU, Florida and Miami have won a lot, and the majority of the players on those rosters are from Florida. Another thing that separates us is the way we were raised. Most of my friends want to be the best and have a certain hunger. The way we carry ourselves and have that Florida swagger. I think it puts us No. 1 for the best high school football state."
-- Plantation DB Brandon McGee, ESPNU 150 Miami commit
"In Florida, we are too fast and we have heart no matter how big the guy is across from us. Anybody can get it!"
-- Royal Palm Beach junior WR Chris Dunkley
The case for No. 7 Louisiana
[+] Enlarge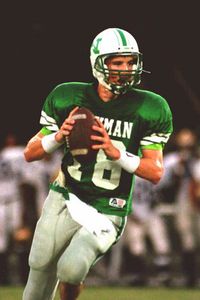 AP Photo/Ric FrancisEli Manning first starred at Newman High School before he won a Super Bowl with the Giants.
"We train in the heat -- this has a lot do with it. We're just a lot of country boys who play at high level. Another thing is the fact that LSU is very good every year and a lot of players go to their camps to get better and compete against one another. They have great coaches that want to help the kids in Louisiana."
-- Shreveport Evangel Christian DL Blake Cogswell, Louisiana-Monroe commit
"In Louisiana, we have a whole lot of speed, and I think that separates us from Texas or Alabama. New Orleans and Lake Charles have the speed, and it is a big part of why we are always good. With this, just look at LSU -- they have a lot of in-state players and are always the fastest team in the country."
-- New Orleans Jesuit RB Payten Jason, Tulane commit
"Because of the competitiveness, every year there is not one team that dominates besides John Curtis. Every year there is always different teams in the state championship games. The bottom line is that Louisiana is very balanced throughout the whole state."
-- Reserve East St. John OL Patrick Lewis, Texas A&M commit
"Because we work the hardest out of the all the states, we have a lot of dominating schools throughout the state. There are a lot players in the NFL now that came from Louisiana, and right now there are a lot of top ranked recruits [Reuben Randle, Michael Ford, Chris Davenport and Janzen Jackson] that are from Louisiana -- that is why we have the best high school football."
-- Slidell North Shore OL Chris Faulk, LSU commit
"I think Louisiana is the best state for football because we have a lot of great coaches and programs throughout the state. There have been a lot great athletes that have come out of Louisiana. Just look around the country at different colleges, Louisiana is well represented by players who played their high school ball here."
-- West Monroe DB D.J. Banks, Tulane commit
FOOTBALL RANKINGS

Rank
School (City, State)
Rec
1
Don Bosco
Ramsey, NJ
11-0
2
Armwood
Seffner, FL
15-0
3
Trinity For Boys
Louisville, KY
14-0
4
Grayson
Loganville, GA
15-0
5
Good Counsel
Olney, MD
13-0
See the full football rankings »