Georgia faces uphill battle in Golden State
Originally Published:
September 15, 2008
ESPNRISE.com
Editor's note: In the second head-to-head matchup of the Great State Debate, No. 3 seed California takes on No. 6 Georgia. Cast your vote for California or Georgia between noon Monday and midnight Tuesday.
In ESPN's search for TitleTown USA this summer, it was a surprise to many that Valdosta, Ga. -- home of the nation's winningest high school football program -- was named the winner.
Can the state of Georgia do the same in this week's Great State Debate?
After the top seeds rolled into the second round of the Great State Debate, with Texas' crushing Virginia and Florida's outpolling Louisiana, Georgia will take its cut against California.
The Golden State has an obvious lopsided population advantage over Georgia, and that advantage would be true against any state in the nation. California's football tradition also is perhaps second-to-none because more NFL players come from California than from any other state. California also boasts a collection of all-time great skill players, led by John Elway, Tom Brady, Marcus Allen, Lynn Swann, Ronnie Lott and many more.
State Your Case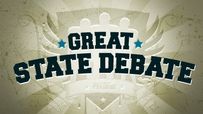 The Great State Debate poses a simple question: Which state has the best high school football? We've edited the field down to eight. This week, No. 3 seed California and No. 6 seed Georgia face off. Check out our list of the top players to emerge from those states. Which state will advance? That's up to you. Join the conversation, blog about your state and vote for your favorite.
The winner of this week's matchup will be announced Wednesday.
California also is home to possibly the greatest prep football dynasty ever -- one that is still going on at De La Salle High of Concord. From 1992 to 2005, De La Salle won a record 151 straight games, more than doubling the previous record of 72, and took home 12 California North Coast Section championships. California also is home to Long Beach Poly High, which was named Sports Illustrated's Sports School of the Century in 2005 for its accomplishments across all athletic fields. Besides producing baseball's Chase Utley, Milton Bradley and Tony Gwynn, Poly is the all-time leader in producing NFL players.
Georgia does not come to this table empty-handed. Its rich history includes not only Valdosta High but also crosstown rival Lowndes High, which is currently No. 2 in the ESPN RISE FAB 50. The state, in fact, is loaded top to bottom with intense crosstown rivalries. Games in Warner Robins, Macon, Columbus and the Atlanta suburbs are the epitome of Friday night excitement.
The Peach State's list of all-time great players includes Fran Tarkenton, Herschel Walker, the Sharpe brothers (Shannon and Sterling) and the one and only Champ Bailey.
The case for No. 3 California
"What separates California from the rest of the states is that we have more speed, strength and knowledgeable players. Not taking anything away from other states -- they have talent as well -- but there is so much talent in California, it's like a pot of gumbo."
--
Compton (Calif.) Dominguez LB Marquis Simmons (USC commit)
[+] Enlarge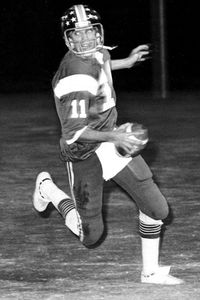 John GlynnJohn Elway leads a list of legends that hail from California.
"Cali always has the best athletes. We also have the most playmakers, and we definitely know how to put the rock into the end zone."
-- Moreno Valley (Calif.) Rancho Verde RB Daniel Jenkins
"California is definitely the cream of the crop for football. We produce athletes that are multisport athletes, and we have guys that go on and make a name for themselves not only in college but in the pros, too."
-- Walnut Creek (Calif.) Las Lomas WR Diante Jackson
"I think you can match up the Cali schools against anyone in the nation and we would do very well. I also think year after year, it seems Cali puts out at least half the top QBs in the country, so you know how strong the offenses are."
-- Danville (Calif.) San Ramon Valley QB Joe Southwick (Boise State commit)
The case for No. 6 Georgia
"I feel like Georgia works harder than most people, and the heat in the summer helps us prepare for anything. The talent is crazy, the top athletes come out of Georgia every year."
--
Warner Robins (Ga.) RB Rashad Wynes (UAB commit)
[+] Enlarge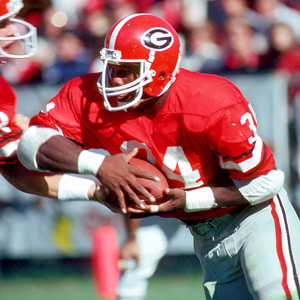 Malcolm Emmons/US PresswireHerschel Walker is among the gridiron greats who call Georgia home.
"Everyone out here is real intense, plays with a lot heart. We just get after it."
-- Conyers (Ga.) Heritage TE Justin Jones (Kentucky commit)
"One reason is every year we produce college-bound athletes every year. We have more and more athletes going into the league. If there was some sort of showcase, Georgia would definitely take it. Georgia is where to go if you're looking for great football."
-- Lilburn (Ga.) Berkmar LB Troy Davis (UCF commit)
"We are hard-nosed and get it done. The best talent in the country is in Georgia."
-- Tyrone (Ga.) Sandy Creek QB Rio Johnson (East Carolina commit)
"I think the level of competition in Georgia is one thing that sets us apart. Every team is talented, and there are no easy weeks. Second is just the pure speed. The speed throughout the South is incredible and especially here in Georgia. If you go back and look at which states produce the most NFL talent, Georgia is right up there at the top, even though our population is smaller than California's or Texas.'"
-- Watkinsville (Ga.) Oconee County QB Zach Mettenberger (Georgia commit)
SPONSORED HEADLINES
ESPN TOP HEADLINES
MOST SENT STORIES ON ESPN.COM
FOOTBALL RANKINGS

Rank
School (City, State)
Rec
1
Don Bosco
Ramsey, NJ
11-0
2
Armwood
Seffner, FL
15-0
3
Trinity For Boys
Louisville, KY
14-0
4
Grayson
Loganville, GA
15-0
5
Good Counsel
Olney, MD
13-0
See the full football rankings »