California rolls into semifinals
Originally Published:
September 17, 2008
ESPNRISE.com
As the ESPN RISE Great State Debate was in its planning stages, it was predicted that the first debate about which state has the best high school football would come down to either California, Florida, Ohio, Pennsylvania or Texas.
[+] Enlarge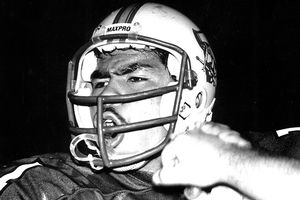 ESPN RISE California high school legend Junior Seau is one of many Golden State natives to make a name for himself in the NFL.
The winner will be one of those five states. No. 1 seed Texas started the eight state bracket-style contest with an expected triumph over Virginia, and No. 2 seed Florida followed with a similar victory over Louisiana. We reveal today that No. 3 seed California has done its part, garnering 65 percent of the vote over Georgia.
The victory for California over Georgia also sets up a terrific semifinal matchup between the Golden State and Florida. Fans from both states should start lining up their facts and figures.
Like for Louisiana, one major advantage for California is the quarterback position. Florida's best includes Heisman Trophy winners Danny Wuerffel and Tim Tebow. But California boasts even more Heisman Trophy-winning quarterbacks, such as John Huarte, Gary Beban, Jim Plunkett, Gino Torretta (who played quarterback at Miami), Carson Palmer and Matt Leinart. This list doesn't even include California natives and Pro Football Hall of Fame QBs such as John Elway, Dan Fouts, Bob Waterfield and Norm Van Brocklin.
Another strength for California is coaching. Former Carson High coach Gene Vollnogle sent more than 20 players into the NFL, while De La Salle (Concord) coach Bob Ladouceur has a phenomenal record of 333-20-1.
The next debate, which will start Monday between No. 4 seed Ohio and No. 5 seed Pennsylvania, and the rest that follow figure to be close. It's up to you to decide which is the greatest state.
Highlights from the Great State Debate
"Cali can have all the athletes they want, Georgia's got football players. There was a kid who transferred from Cali at my high school a couple of years ago, all he did was run his mouth for the first couple of weeks. Don't get me wrong, he was good, but he quieted down after he had a route through the middle."
-- takeiteasy89
"California is the best state for high school football HANDS DOWN! Georgia? Georgia? Are you serious? Florida's not even close! Texas … when all you do is football, and you're still second or third best, that's sad! California has the best ball players in ALL sports, and NO ONE comes close when you talk about football!"
-- ballhawk37
"Georgia currently has 84 players in the pros with a population of 9.6 mil. California currently has 198 players in the pros with a population of 36.5 mil. If the ratios stay the same and Georgia had the same population of California, it would have roughly 336 players in the NFL. Blows Cali out of the water."
-- jacketit
"It's not a fair competition. California has a much higher population, therefore obviously will have the most athletes in the nation. I want to see the number of athletes (quality athletes) per capita, then I can tell you who produces a better quality of player."
-- phelp1ma
SPONSORED HEADLINES
ESPN TOP HEADLINES
MOST SENT STORIES ON ESPN.COM
FOOTBALL RANKINGS

Rank
School (City, State)
Rec
1
Don Bosco
Ramsey, NJ
11-0
2
Armwood
Seffner, FL
15-0
3
Trinity For Boys
Louisville, KY
14-0
4
Grayson
Loganville, GA
15-0
5
Good Counsel
Olney, MD
13-0
See the full football rankings »