Elite 11 QBs piling up impressive numbers
Updated:
September 25, 2008, 3:25 PM ET
ESPNRISE.com
The nation's top high school quarterbacks are back in action. Each week, ESPN RISE will track the performances of the Elite 11 quarterbacks.
Results based on games through Sept. 20.
HOW THEY FARED THIS WEEK:
Tahj Boyd -- Phoebus (Hampton, Va.)
College: West Virginia

Boyd's strong right arm might not have to be counted on for much heavy lifting until playoff time, as the FAB 50 No. 27 Phantoms continue to shred the district competition. Boyd hit 7-of-14 for 146 yards and two scores in Phoebus' 48-0 smashing of Warwick.
Next game: Sept. 26 vs. Heritage
Richard Brehaut -- Los Osos (Rancho Cucamonga, Calif.)
College: UCLA
Brehaut and the Grizzlies had the weekend off to prepare for this week's trip to 3-0 Vista Murrieta. The Broncos were league champions last year and should provide another stiff test for the unbeaten Grizzlies in their nonleague schedule
Next game: Sept. 26 at Vista Murrieta
Allan Bridgford -- Mission Viejo (Mission Viejo, Calif.)
College: California

The Diablos moved up to No. 8 in the latest CalHiSports.com state rankings with an impressive 38-14 win over previously state-ranked La Costa Canyon. Bridgford was again outstanding in the win, passing for 210 yards and three scores in three quarters of work.
Next game: Sept. 26 vs. Vista
Raymond Cotton -- Meade (Fort Meade, Md.)
College: Auburn

Some fumbling issues did Meade in against Old Mill, as the Mustangs suffered four lost fumbles in a 26-12 loss and dropped to 2-1. Cotton hit 17 of 30 passes for 196 yards and two scores in the losing effort.
Next game: Sept. 26 at North County
Garrett Gilbert -- Lake Travis (Austin, Texas)
College: Texas

[+] Enlarge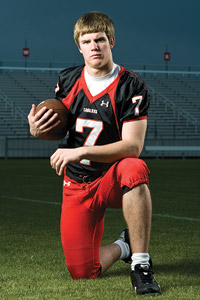 Mark Greenberg for ESPNRISEThe son of former NFL quarterback Gale Gilbert, Garrett is among the nation's top quarterbacks.
Gilbert had perhaps his best half as a high-schooler Friday, lighting up Evangel Christian of Shreveport, La., for more than 300 yards and four scores in leading the Cavs to a 39-12 halftime lead. He finished the contest 25-of-41 for a season-high 414 yards and five scores.
Next game: Sept. 26 vs. Killeen
Andrew Maxwell -- Midland (Midland, Mich.)
College: Michigan State

While Midland rolled to a 36-12 win over Saginaw this past week, Maxwell certainly did not have his sharpest outing. While he did pass for 183 yards and a touchdown, he threw a career-worst five interceptions. The MSU pledge will look to bounce back Friday against Flint Northern.
Next game: Sept. 26 at Flint Northern
A.J. McCarron -- St. Paul's Episcopal (Mobile, Ala.)
College: Alabama

The Saints improved to 2-2 with a solid 23-6 win over LeFlore. The defending Class 5A state champs got 125 passing yards and a TD from McCarron.
Next game: Sept. 26 vs. Russellville
Zach Mettenberger -- Oconee County (Watkinsville, Ga.)
College: Georgia

The 0-3 Warriors had the weekend off to prepare for the start of region play after a taxing nonregion schedule that they hope will lead to greater success later in the season.
Next game: Sept. 26 vs. Franklin County
Aaron Murray -- Plant (Tampa, Fla.)
College: Georgia

If Garrett Gilbert's first half was something to behold, Murray did him a few better Friday night, lighting up Tampa Middleton for seven first-half TD tosses before coming out of Plant's 56-14 win. He hit 18-of-26 for 392 yards in his 24 minutes of work.
Next game: Sept. 26 at Riverview
Bryn Renner -- West Springfield (Springfield, Va.)
College: North Carolina

Renner was finally able to pull back on the throttle, as he only needed 11 pass attempts to account for 143 yards and three scores in WSHS's easy 49-13 win over Hayfield. His previous low in attempts this season had been 26.
Next game: Sept. 26 at Annandale
Tom Savage -- Cardinal O'Hara (Springfield, Pa.)
College: Rutgers

Savage and the Lions moved to 4-0 with an easy 33-0 win over Monsignor Bonner, O'Hara's third shutout this season. Savage hit 12 of 17 passes for 160 yards and a touchdown while also rushing for 65 yards in the win. O'Hara hosts a talented H.D. Woodson squad from D.C. on Saturday.
Next game: Sept. 27 vs. H.D. Woodson (Washington D.C.)
Eugene Smith -- Miramar (Miramar, Fla.)
College: Undecided

An anticipated Broward County clash turned into a rout as Plantation's vaunted secondary was no match for Smith and his posse of wideouts in Miramar's 47-13 win. Smith hit 20 of his 28 passes for 283 yards and four touchdowns in the big win for the Patriots.
Next game: Sept. 26 at Piper
Season Stats

| | | | | | | | |
| --- | --- | --- | --- | --- | --- | --- | --- |
| Name | ATT | COMP | Yards | TD | INT | Record | Other |
| Tajh Boyd | 53 | 34 | 588 | 7 | 4 | 4-0 | TD rush |
| Richard Brehaut | 42 | 23 | 347 | 3 | 0 | 2-0 | 198 yards, 2 TDs rushing |
| Allan Bridgford | 70 | 46 | 688 | 12 | 1 | 3-0 | |
| Raymond Cotton | 70 | 48 | 691 | 8 | 0 | 2-1 | 2 TDs rushing |
| Garrett Gilbert | 133 | 81 | 1306 | 11 | 1 | 4-0 | 3 TDs rushing |
| Andrew Maxwell | 70 | 42 | 575 | 5 | 7 | 4-0 | |
| A.J. McCarron | 79 | 43 | 590 | 5 | 1 | 2-2 | |
| Zach Mettenberger | 97 | 45 | 436 | 2 | 1 | 0-3 | |
| Aaron Murray | 85 | 47 | 785 | 11 | 2 | 2-1 | TD rushing |
| Bryn Renner | 115 | 69 | 1008 | 11 | 2 | 2-2 | 166 yards, 2 TDs rushing |
| Tom Savage | 54 | 34 | 444 | 5 | 0 | 4-0 | |
| Eugene Smith | 55 | 35 | 476 | 4 | 1 | 2-0 | |
Other top QB performances from around the country:

Nu'Keese Richardson -- Pahokee (Pahokee, Fla.): 7-of-10 for 248 yards and 4 TDs
Matt Barkley -- Mater Dei (Santa Ana, Calif.): 23-of-45 for 422 yards and 2 TDs
Nick Bracewell ('10) -- Lafayette (Mayo, Fla.): 14-of-17 for 308 yards and 4 TDs
Josh Nunes -- Upland (Upland, Calif.): 13-of-19 for 141 yards and 3 TDs
Brian Sonneveldt -- Monroe (Monroe, Ore.): 21-of-32 for 401 yards and 5 TDs
Jack Lomax ­- Lake Oswego (Lake Oswego, Ore.): 11-of-17 for 295 yards and 5 TDs
Detchauz Wray ('10) -- East St. Louis (East St. Louis, Ill.): 12-of-16 for 252 yards and 3 TDs, rush TD
Blake Bell ('10) -­ Bishop Carroll (Wichita, Kan.): 19-of-26 for 219 yards and 4 TDs
Kevin Pantastico -­ Red Mountain (Mesa, Ariz.): 23-of-44 for 595 yards and 6 TDs
Marshyl Rothman ('10) -- Jupiter Christian (Jupiter, Fla.): 12-of-13 for 259 yards and 5 TDs
A.J. Graham -- Godby (Tallahassee, Fla.): 19-of-28 for 324 yards and 4 TDs
Chase Dodd ('10) -- Byrnes (Duncan, SC): 22-of-41 for 330 yards and 3 TDs
Dustin Lotzer -- Sisseton (Sisseton, SD): 19-of-22 for 491 yards and 9 TDs
A.J. Westendorp -- Christian (Holland, Mich.): 21-of-31 for 393 yards and 4 TDs
Jacob Morgan -- Stephen F. Austin (Austin, Texas): 21-of-29 for 269 yards and 2 TDs
SPONSORED HEADLINES
ESPN TOP HEADLINES
MOST SENT STORIES ON ESPN.COM
FOOTBALL RANKINGS

Rank
School (City, State)
Rec
1
Don Bosco
Ramsey, NJ
11-0
2
Armwood
Seffner, FL
15-0
3
Trinity For Boys
Louisville, KY
14-0
4
Grayson
Loganville, GA
15-0
5
Good Counsel
Olney, MD
13-0
See the full football rankings »